What Shifter Options Are Available For The 1999-2004 Mustang?
Give your arm a rest and upgrade to a short throw shifter. This modification will allow for faster gear changes, add firmness to shifts, and locate the shifter in a more comfortable position. There are many options when it comes to shifters, handles, and shift knobs. Everything mentioned here is very affordable so they can be acquired while on a budget. When comparing short shifters to the stock shifter in your Mustang, it's a night and day difference in feel and performance. Here's a quick guide to better assist you in finding the shifter that will work best for you.
Facts About 1999-2004 Mustang Short Throw Shifters
• Constructed of high-quality aluminum in order to be less prone to wear and tear

• Transmission Gear changes become much more predictable

• Available for automatic Mustangs

• Shifter handles can be changed for improved styling and comfort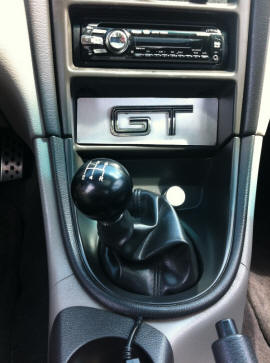 Short Throw Shifters Explained
Upgrading to a short throw shifter will be one purchase you won't regret. Some shifters such as the Steed Tri-Ax allows you to adjust the height of the shifter to assure the positioning is just right. There are also some Mustang shifters that feature a unique handle design that will allow the handle to swivel and adjust side to side to either move the shifter closer or further away from you. Almost all designs are constructed of high-quality aluminum so that they are built to last and are less prone to wearing out like the factory shifter.
How does a short throw shifter affect shifting gears?
By switching to a short throw shifter you will instantly feel the difference in shifts. The gear changes become much more predictable so forget about that occasional grind when going from 2nd to 3rd gear. Shifters are made according to the transmission it will be mounted to. The T5/ T-45 transmission use the same shifter, but the TR-3650 transmission that came in the Mach 1, 2001 Cobra, and late 01-04 GTs uses a different shifter as does the T-56 that is featured in the 03-04 Cobras so figure out which transmission you have before selecting a new shifter.
Adding a new shifter can also add some eye candy to your interior. Certain shifters feature an exposed handle that looks far better than having the factory boot cover everything up. It's another way to show that you spent the time and money upgrading your Mustang to your liking.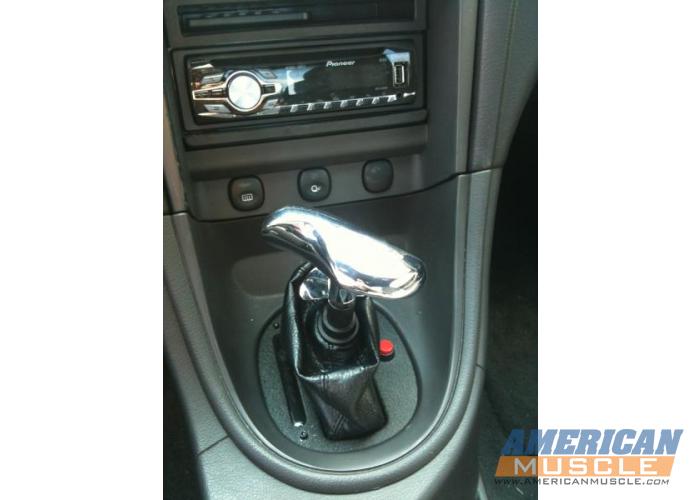 Are there shifter options for automatic Mustangs too?
Got an automatic? Don't worry, you're not left out. B&M offers a ratchet shifter for 94-04 automatic cars. It installs where your existing shifter is with no modifications. It features a lighted gear indicator as well as a reserves lockout that prevents you from shifting into neutral, reverse, and park when you're hammering through the gears.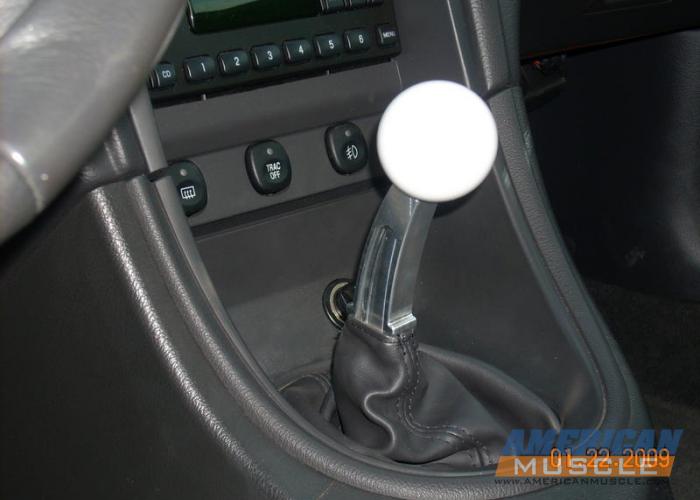 Options for changing your Mustang's shifter handle
If you don't feel like replacing the entire shifter just yet or you want to change the positioning or look of your current short throw shifter, then look into getting a new shifter handle. There are handles available that bolt right to the factory shifter and can be installed in a matter of minutes. This is also the best route to take if you are trying to save money. They are very affordable and still give you shorter, firm shifts. Steeda also offers a billet pro street handle that leaves the handle exposed and adds to that retro muscle look. The pro street handles also come with a shift in either white or black so if you're looking to change your shift knob as well than this is the perfect upgrade for you.
Shift Knobs If your current shift knob is old and worn or you just want to change the look of it then look into the huge selection of aftermarket shift knobs. They are very affordable and will give your interior a nice touch. You can select a shift knob that better fits your hand and is more comfortable when shifting. Steeda, Roush, Shelby, and Ford Racing are some of the top brands when it comes to shift knobs. If you are looking to add to that classic muscle car look there are some options out there for you as well. There is a wide variety of shift knobs and there's something out there to accommodate everyone.
FItment includes: • 1999, 2000, 2001, 2002, 2003, 2004, GT, V6, Mach 1, Bullitt, Cobra Mustangs