2005-2009 Mustang Fog Light Upgrades & Customization
Do you want to add something that you think has been missing from your V6 or Mustang? Do you want to update the front appearance of your Stang with something a bit more modern? Are you getting enough light from the front end of your ride at night? Right off the Ford assembly line, the 2005-2009 Mustang GT had a pair of fog lights positioned in the upper front grille, on either side of the Running Pony Emblem. Unfortunately, unless you purchased a V6 with the Pony Package – which came with a smaller version of the GT fogs – the standard V6 Mustang did not come equipped with any lighting in addition to the headlights. Whether you have a V6 or a GT, AmericanMuscle has some great options to give your original fogs a nice overhaul or to help you add some additional light to lead your way through the darkness.
2005-2009 Mustang Fog Light Upgrades
• Fog light upgrades come in three styles: smoked Halo, chrome Halo, and yellow

• Smoked lenses feature an aggressive style

• Chrome lenses are a classic style with increased visibility

• Yellow lenses feature a yellow/amber light that actively cuts through fog
Should you use a Mustang GT's fog lights or upgrade?
Replacement style fog lights
Just like any light that is exposed to the elements and sees lots of road use, your stock Mustang GT fog lights might be scratched, damaged or even cracked. Whether only one side is in need of being replaced or you want to update both sides for a complete overhaul, we have the OEM style GT fog light replacements available individually to suit your needs. They are made of OEM quality materials and are designed with a fully adjustable mounting bracket system, which allows you to bolt it directly in place of your stock fog(s).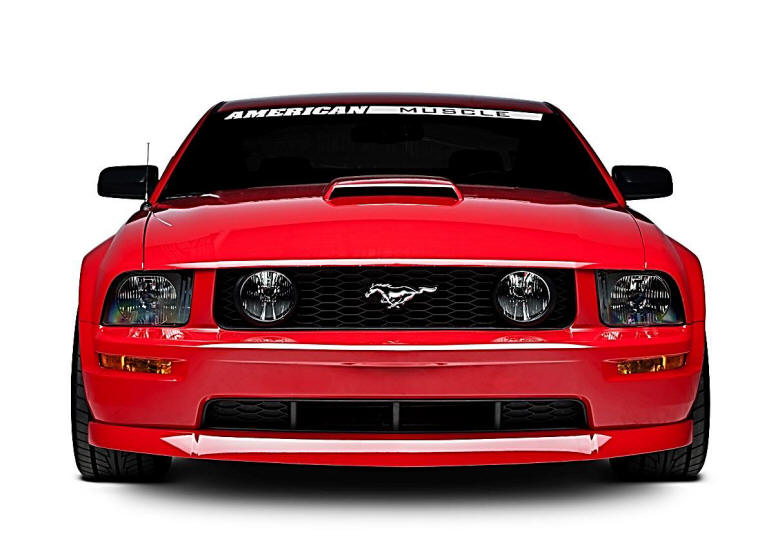 How to upgrade from your stock 2005-2009 Mustang's fog lights
If you need to update your fogs but don't want to stick with the stock styling, there are a few other alternatives at your disposal. You can grab a pair of Raxiom smoked Halo fog lights, Raxiom chrome Halo fog lights or a set of Raxiom yellow fog lights. Any one of these options will be sure to get your Mustang some onlookers. The Smoked Halo Fogs will offer an aggressive style with its smoked lens and a modern, yet intimidating touch with the much sought after halo appearance. The halo fogs are also available in a chrome option if a smoked lens doesn't interest you. The yellow fog lights feature a yellow/amber tinted lens that help cut through the fog and haze to safely light the road ahead. All (3) of these choices come with an industry leading 2-year full warranty, come fully equipped with brand new bulbs and would be a simple installation even for the shade tree mechanic in about an hour's time using basic hand tools.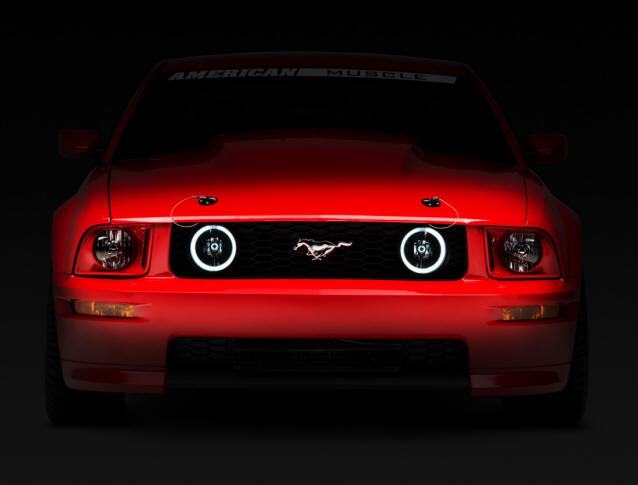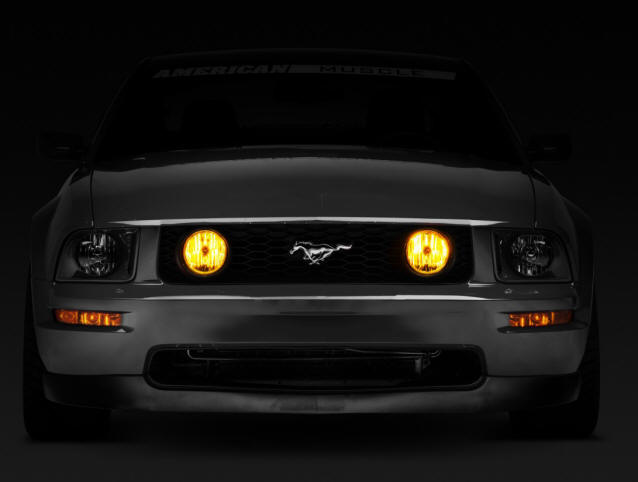 How do I install fog lights on my 2005-2009 Mustang V6?
If you're a S197 V6 Mustang owner and have wanted a set of fogs ever since purchasing your Stang, your prayers have been answered. AmericanMuscle offers several different GT Style Grille options designed specifically for your V6. If you want to maintain the factory GT appearance in all its glory, you can pull the trigger on the GT style grille with fog lights. The grille comes with the running pony grille emblem and the standard style fog lights. All that's needed would be the OEM fog light switch and wiring harness to bring the installation full circle; both of these pieces are sold separately. Please note that it may be necessary to make minor modifications to the horn bracket and radiator support bracket on some Mustangs to allow for proper clearance of the grille. Very similar to the standard GT style, we offer a Pony delete version in case you want to rid your front end of the emblem.
Once you have the GT Style grille installed on your V6, any aftermarket fog light designed for a 05-09 GT, including the options mentioned above, can be swapped out as a direct replacement. This allows you to fully customize your Mustang's front end and help you to stand out from the crowd.
If total overhaul and new look is what you desire, there are also a couple billet grille options, such as the black GT style billet grille, that come equipped with Angel Eye fog lights for an ultimate modern upgrade. These billet grilles also include the necessary wiring and switch for a complete installation.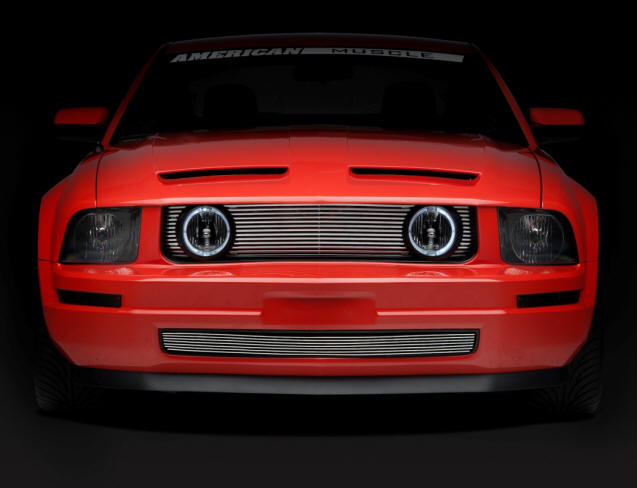 Other 2005-2009 Mustang Fog Light Upgrades
So you've replaced or installed your GT fog lights, but after standing back to take a look, you might realize that it's just not exactly the look you were after; something is missing. Maybe you wanted a smoked lens or a yellow lens, but you don't want to now spend a lot more money on different fog light assemblies. Fear no more! AmericanMuscle offers smoked or yellow fog light tint for both the GT fog lights as well as the smaller V6 Pony Package fog lights. No matter what combination you seek, you can make it a reality with the AM fog light accessory options.
FItment includes: • 2005, 2006, 2007, 2008, 2009, GT, V6, Bullitt, GT500, Boss Mustangs