2010-2014 Mustang Axleback Overview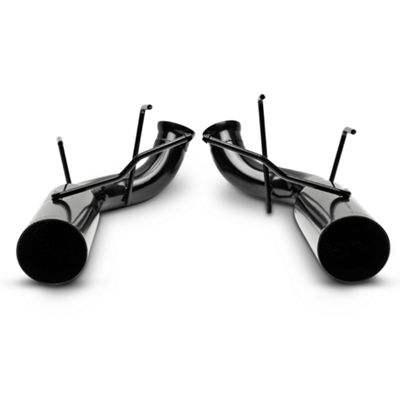 While there are minor distinctions between the v6, GT, and GT500 Mustang exhaust setups, the purpose of this article is not to go into specific details of each, but to provide general concepts that can be applied across all 2010+ models.
For beginners or anyone looking for a little more information on all the components of an exhaust, you can find a helpful guide here.
Mustang Axleback Considerations
An axleback system is more about the sound difference than performance or looks. Sure, a new exhaust with chrome tips will definitely up the bling factor a bit. It may even add 5-10 horsepower depending on the type of system installed and what youíre replacing. However, the real value is announcing your presence long before you cruise by and giving your Stang a sound that matches its aggressive styling.
2010-2014 Mustang Axlebacks - Itís all about the Sound
Replacing your stock Axleback exhaust is definitively going to change the sound of your Mustang, both inside the cabin and to those outside the car. How loud, deep or throaty your new exhaust will be depends on a number of factors, though each brand creates a unique pitch and decibel level. Discovering which sound and how loud you want your Mustang takes some research; if youíre concerned about the noise level either inside or outside make sure listen to sound clips or find someone who has the type of exhaust youíre interested in.
Mustang Axleback Make & Materials
Tubing: Aftermarket companies all make their 2010+ Mustang exhausts from stainless steel which resists corrosion and deterioration. In years past, some companies would make their systems from lower quality steel that would rust and corrode easily when exposed to the elements. This is no longer true and you can rest assured any new exhaust will stand up to the elements. Also, make certain the kit you choose has mandrel-bent tubing as opposed to a setup built by crush bending. The difference is mandrel tubing uses flexible rods during the production process to prevent imperfections such as kinking that occur through the faster and easier method of crush bending. These imperfections can distort airflow and hurt your carís performance.
Tips: Axleback systems come with chrome, polished/coated stainless steel or powder coated tips in a variety of different colors. Chrome tips require a little more care when it comes cleaning time but have a lasting shine if properly maintained. As long as the tips are one of the above mentioned materials, they should hold up quite well to road chemicals and the wear of daily driving.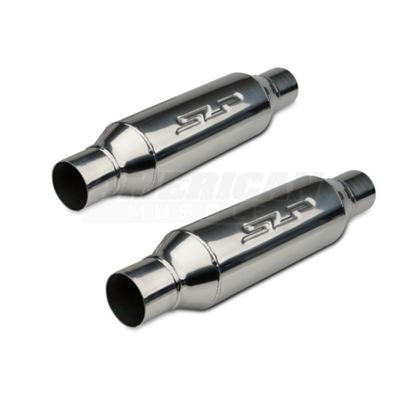 Mufflers, Resonators and Straight Pipes: There are differences between the three that come into play when choosing an Axleback system for your Mustang.
-Mufflers: Literally muffle the noise created by the motor. Obvious at first, mufflers actually have well thought out designs to create a unique tone crafted by the individual manufacturer and unique to each car, depending on any other modifications. Mufflers are the main contributor to how loud your Mustang will be so choose a design that complements what youíre looking for. Finding the right tone could be tricky, thankfully, there are plenty of sound clips online.

-Resonators: These sound modifiers are designed to increase or decrease the sound and eliminate the popping that can come from modifying other parts of the exhaust system or from eliminating the mufflers.
-Straight Pipes: Straight Axleback exhausts are mandrel-bent piping with tips and no mufflers or resonators. A setup like this will give you a more untamed sound that can be louder than a resonator or muffler setup.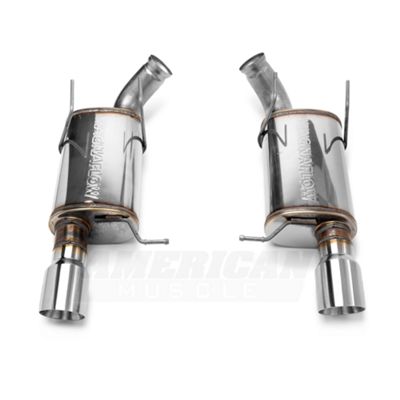 2010-2014 Mustang Axleback Sizing and Installation
Sizing: Choosing what size exhaust piping is right for your Mustang has a lot to do with your long-term power goals for the car. If you plan on making major increases to your carís power you want to choose a wider diameter setup than someone installing an Axleback on a stock v6.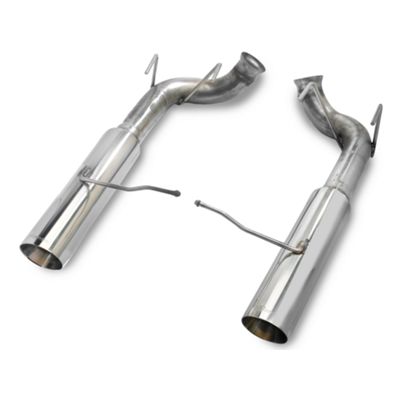 Installation: Anyone with basic automotive tools can replace their Axleback exhaust. Most of the effort goes into unbolting and tightening the clamps and hangers that attach your Axleback to the bottom of the car. With an hour or so of wrenching you should be ready to roll around town while enjoying the intimidating new grumble and feeling of accomplishment having just given your Mustang the bark to match its bite.
FItment includes: • 2010, 2011, 2012, 2013, 2014, GT, V6, GT500, Boss Mustangs