Installation
Tools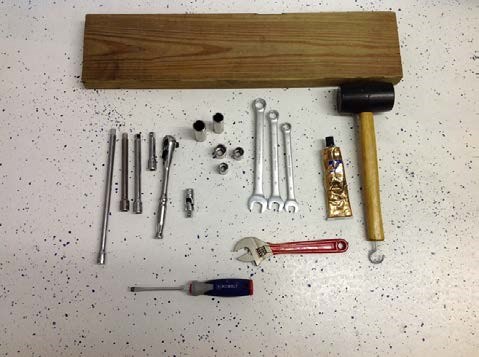 Lift vehicle following factory guidelines and secure with Jack Stands.

Disconnect rear oxygen sensors.

Loosen clamps securing rear of mid pipe using a 15mm Socket.
Using screwdriver, lift locking hand up and slide clamp to the rear. Do not fully remove at this point; we leave them in place while we complete this step.
BOSS 302 Specific step: Remove side pipes.
Remove two nuts holding side pipe to < a href="http://www.americanmuscle.com/2011-mustang-hpipe.html" title="2011-2014 Mustang H-pipes">H-pipe

Loosen bolt holding exhaust exit to body

Lower and remove side pipe
Remove nuts holding factory catalytic covers in place.
The majority can be reached from below, only one needs to be removed from the top. This is the passenger, body side nut:

The optional extensions and universal joint make this task much easier:
Removal of factory mid pipe, separation of catalytic converters.
Slide clamps securing mid pipe to tail section towards the rear, lower and remove complete factory mid pipe:

Loosen clamps securing catalytic converters to the mid pipe and remove cats using a 13mm wrench. This may be easier to prop up the pipe and tap catalytic converter with rubber mallet:

Carefully remove 02 sensors and install into BBK cat delete pipes.
OPTIONAL: Some customers have reported issues with exhaust leak. For added insurance, high temp, sensor safe gasket maker can be used to promote a good seal at the joint where the new and old pipes mate:
Installation of BBK pipes, and final assembly:
Install supplied mounting hardware into factory manifold. Factory gasket will hold bolts in place for easier installation:

Install BBK pipe onto factory manifold. Do not tighten fully at this point:

Affix factory mid pipe; reinstall all previously removed mounting hardware hand tight.
Verify alignment of tips on the tail pipes. Once adjusted to your satisfaction, fully tighten all fasteners.
Installation Instructions provided by AmericanMuscle customer Jason Walton 12.10.12