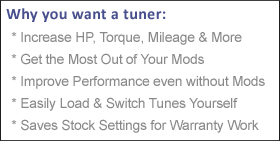 Power Programmer.
The I-1000 InTune comes pre-loaded with DiabloSport's famous "canned" tunes that are pre-configured from countless hours of dyno engineering and road testing by ex-OEM Calibrators to extract the most power and torque out of your vehicle.
Compact, Convenient, and Efficient.
Featuring a full color touch screen display the Diablosport InTune I-1000 Programmer is about 10% smaller than your average smart phone making it easy to store in your center console or glove box. The cord is detachable and there is no separate battery or power supply needed. It uses the power from your vehicle's diagnostic port or USB connection when connected to your computer. The Diablo Sport Intune is small, convenient, and efficient.
Diagnostics.
The I-1000 InTune can also be used as a diagnostic code reader. Save yourself hundreds of dollars each year by reading and clearing your own computer codes rather than paying a dealer to do the same. Its as easy as a few simple steps. The DiabloSport InTune's diagnostic code reader function can be used on multiple vehicles at any given time.
PC and MAC Compatible.
The DiabloSport Intune features dual processors to make the flash programming process as fast as possible and the 1GB of internal memory is perfect for recording test drive data, gathering input from vehicle sensors and to hold custom tune files. The DiabloSport Intune is also PC and MAC compatible to support drag and drop file transfer and updates.
Easy to load; easy to restore.
When you load your tune on the vehicle, the tuner automatically stores your vehicle's factory settings. To return the vehicle to its factory settings, just plug the tuner back in, select the option to restore the factory settings, and you're done. An added bonus of the InTune is that it does
not
leave any footprint, fingerprint, watermark or trace on your vehicle's PCM after you return the vehicle back to stock so your dealer will
not
be able to see that the Intune was ever installed.
Adjustable Parameters.
The InTune features end user adjustable parameters so you can customize the tune and maximize the performance of custom modifications you've made to your Mustang. These parameters can be adjusted on the DiabloSport pre-loaded tunes and/or the stock factory tune. Please note
not
all adjustments are available on all models/vehicles.
Calibrate Speedo for Gear Ratio
Calibrate Speedo for Tire Size
Shift Points / Shift Firmness
Cooling Fan Control
Fuel Rich/Lean Adjustment
Spark Timing Advance/Retard
Idle RPM
Rev Limiter / Speed Limiter
Torque Management Adjustment
Disable Traction Control
Application.
The Diablosport InTune Preloaded Tuner is designed for use on all 1998-2014 Mustangs, including the V6, GT, Bullitt, Mach 1, SVT Cobra, BOSS and Shelby GT500 models.
Custom Tunes Available.
We also offer the Diablosport InTune I-1000 Tuner available with 3 Free Custom Bama Tunes. Just click your year/model-
Mustang Fitment:
1998, 1999, 2000, 2001, 2002, 2003, 2004, 2005, 2006, 2007, 2008, 2009, 2010, 2011, 2012, 2013, 2014
Details >>