What Are The Different Axleback Exhaust Options for a 2005-2009 Mustang?
When it comes to what kind of exhaust to use on your Mustang, you need to figure out what is most important to you. Do you want loud enough to wake your neighbors from the other side of the neighborhood, or just a mild to moderate note that gets you noticed but won't bother you after a long cruise? There are numerous different exhaust options to pick from for your 2005-2009 Mustang, but how do you choose? Hopefully after reading this, you'll have a better understanding of what type of exhaust would be best for your application and taste.
What exactly is a Mustang's axleback exhaust?
An axleback exhaust is exactly what the name suggests – it's an over-the-axle exhaust upgrade that will directly replace everything from the rear axle back: the stock over-axle piping and the stock muffler(s). These systems are intended to be a direct bolt-on installation that can easily be swapped out in your driveway with the proper tools in about an hours' time. An axleback does not directly connect to your mid-pipe on your Mustang, so if you're looking to upgrade your mid-pipe along with an axleback, the combinations are endless just as long as you're installing the pipes for your correct year and model.
Do I want a chambered muffler, resonator or muffler delete?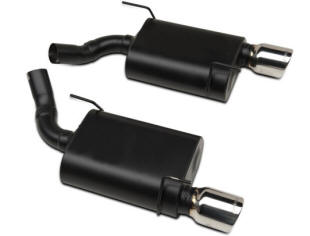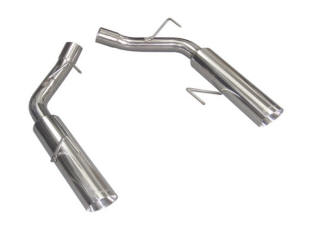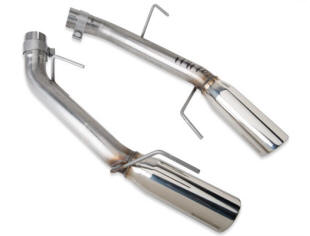 So you know you want to increase the exhaust sound on your Mustang, but where do you start? You first need to know the main differences between the (3) muffler styles in order to get the best idea of what you want to spend your hard earned dollars on.
1. A chambered muffler is the most popular choice of the different style mufflers on the market. While it's the same style as the stock muffler found on your Mustang, the aftermarket version will offer less restriction and improved flow. One of our hottest chambered axlebacks is the Flowmaster American Thunder Axleback and has been described by customers as having a muscular, strong rumble that is great for daily driving.
2. The resonator style muffler, also known as a straight-through or shot gun style, contains minimal sound defectors which will in turn create a much louder, throaty sound. They're even less restrictive than the chambered style, offer less under car clutter and are great for full throttle sound gains. The Pypes Pype-Bomb Axleback is one of the more popular resonator systems for the Ford Mustang, described by customers as having a deep throaty sound with plenty of volume when you hit the gas.
3. The muffler delete is just that, an open pipe with no muffler. The delete will give you the most dramatic sound change of the (3) styles. With no restriction, these pipes will provide a raspy, race car type sound that proves to be very loud. Our Magnaflow Muffle-Delete Axleback is a great quality system that is sure to make anyone turn their head to find out what is coming their way.
With the increased flow that any of these muffler upgrades provide, you'll find gains of up to 10 horsepower just from bolting it on, all while giving off some aggressive, muscle car sound.
A very common question when modding your Mustang is whether or not the mod will require a new tune. Upgrading your axleback will not require you to reflash your Mustang's computer. You can just bolt those new beauties on and enjoy your new exhaust sound and performance.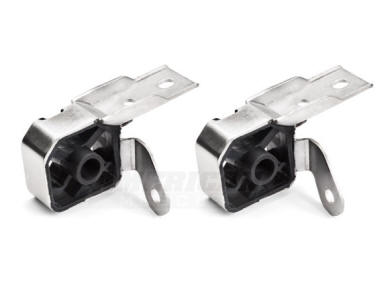 Does a Mustang need additional exhaust hangers with an aftermarket axleback?
Sometime in 2007, Ford changed the style of exhaust hangers used to install the stock exhaust on the 2007 S197 Mustang. They switched from a "rubber and steel" hanger design to an "all rubber" hanger, which will not work correctly with the aftermarket exhaust systems on the produced today. You will want to visually check your exhaust prior to ordering any new exhaust to determine whether or not you will need this optional rubber and steel hanger kit. The SR Performance 304 Stainless Steel Exhaust Hanger Kit will provide more strength, stability and a cleaner installed appearance for any 2005-2009 Mustang that uses them.
Parts that complement your Mustang's new axleback
Since you are increasing the flow out the rear of your Mustang, it's a great idea to also increase the airflow that's coming into your engine. A cold air intake and a new throttle body would be two great complements to your brand new axleback. To maximize the sound and performance gains associated with your new exhaust, be sure to check out our full line of Cold Air Intake, Throttle Body and Tune packages available.
FItment includes: • 2005, 2006, 2007, 2008, 2009, GT, V6, Bullitt, GT500, Boss Mustangs