Your Guide to Getting rid of the Check Engine Light(CEL) After Mid-pipe Exhaust Modifications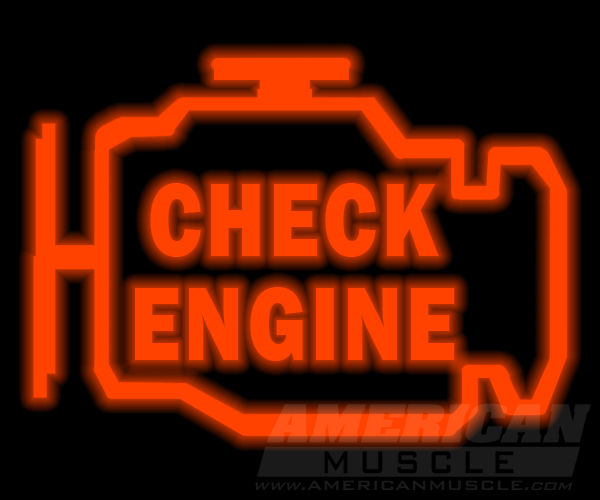 No Catalytic Converters = Check Engine Light = Sad Face
If you own a 1996+ Mustang and have changed your mid-pipe to an aftermarket setup with high-flow catalytic converters or an Off Road Pipe with no catalytic converters, chances are that pesky check engine light is staring you right in your face every time you drive your car. All legality issues aside, it is up to you to know your local laws, this is a guide to keeping that annoying light from distracting you when driving.
Why am I getting this light?

The CEL can illuminate for thousands of reasons. The particular reason it is lighting in this situation has to do with your Rear O2 Sensors. Your 1996+ Mustang has both Front O2 Sensors, located inline in front of your catalytic converters, and Rear O2 Sensors located in-line, behind your catalytic converters. Your Front O2 Sensors are an essential part of your Fuel Injection System, and along with your Mass Air Sensor, helps your car's computer keep your Air Fuel Ratio correct. Your Rear O2 Sensors however do not affect you're A/F Ratio at all and simply check to make sure your catalytic converters are functioning properly. In the case of an O/R mid-pipe that has no converters, and sometimes with high-flow catalytic converter mid-pipes, the Rear O2 sensor will deliver a signal to the car's computer that the catalytic converters are not functioning properly. There are two different ways to correct for this issue, inline MIL Eliminators or a Custom Tune.
Ford Mustang MIL Eliminators
Malfunction Indicator Light Eliminators such as the BBK MIL eliminators are a simple device that plugs inline between the Rear O2 Sensor and the wiring harness for the sensor. It contains a resistor and capacitor circuit that sends an imitation of the signal that the Rear O2 Sensor would transmit with a properly functioning catalytic converter. MIL Eliminators only prevent your CEL from lighting due to missing or high-flow catalytic converters, they will not prevent the CEL from lighting due to other issues your car is having. They still require you to have a properly functioning Rear O2 Sensor and circuitry.
Custom Tune: A custom tune requires the use of a chip or handheld tuning device such as the SCT Eliminator, X3 PowerFlash, or LiveWire tuner. Your dealer will create a custom tune that actually disables the Rear O2 Sensors in the car's computer. Since the custom tune actually tells the computer that the car does not have Rear O2 Sensors, this method does not require properly functioning Rear O2 Sensors or circuitry.
FItment includes: • 1994, 1995, 1996, 1997, 1998, 1999, 2000, 2001, 2002, 2003, 2004, 2005, 2006, 2007, 2008, 2009, 2010, 2011, 2012, 2013, 2014, GT, V6, Mach 1, Bullitt, Cobra, GT500, Boss Mustangs