Keys to a Successful Fox Body Interior Restoration
• A good cleaning with proper washing tools and shampoo should be the first step to an interior restoration

• If upholstery on a seat is past saving, consider a re-upholstery kit instead of replacing an entire seat

• Restoring headliners is as simple as completely replacing them

• Door trim pieces (handle bezel, mirror cladding, power switches, wiring) are all available aftermarket if a replacement is needed

• If the center console is chipped or cracked, replacement consoles are exact replicas and only require matching paint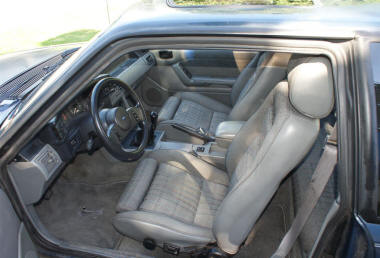 Restoring Fox Body Seats
Cleaning
There are a few options to look at when
restoring the seats
. First off, it is absolutely amazing what a proper washing and shampoo can do to remove past stains and blemishes. If the seats aren't ripped or otherwise broken, a good cleaning should always be the first step to an interior restoration. For optimal results, remove the seats from the car and use a quality cleaning agent fit for the cloth material – don't only rely on a spray-and-shoot stain remover.
Original Replacements
Finding a stock replacement seat in its entirety is not only quite difficult, but can be quite expensive as well. If the upholstery is in too bad condition to be saved, rather than scrapping the whole seat and purchasing a new one, consider a re-upholstery kit instead. Available in all the interior colors offered throughout the Foxbody Mustang's production run, aftermarket upholstery kits come with factory-replica material, pre-cut to form and ready to stitch on. If you want or need to go one step further, replacement seat foam inserts are available as well. Drop it all off with your favorite seamstress and you indeed will have brand new seats, all for considerably less than a custom job!
Other Replacement Options
An alternative to factory seats is to replace them with something a little more sinister. No, we're no longer talking about redoing the slippery standard chairs but rather installing a little something to better hug our curves through the curves. We're of coursing talking about none other than
Corbeau racing seats
, the prestigious name behind some of the best racing seats out there. Corbeau offers quite a few models to choose from, ranging from a basic bucket seat with zero adjustability to a fully-reclinable version. All models can accept the OEM seat belt, or if you need a little more security, you can pass your own multiple-point harness through as well. Best of all, pick the appropriate Corbeau mounting rails (Mustang year dependent) and everything lines up, hassle free. The stock seats, although quite comfortable, leave a lot to be desired during hard cornering as they let their occupant slide with the turn. A Corbeau seat will keep you planted dead center and upright all the way through the line, making it easier to maintain control.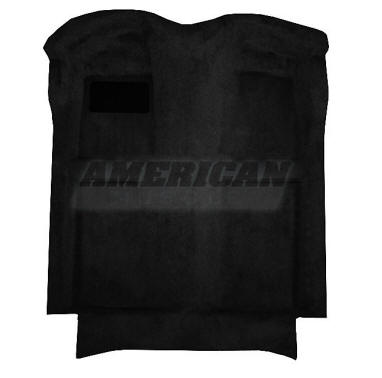 Cleaning the Carpet
Second to the seats, the carpet in your Mustang is another high traffic area and very likely to deteriorate over the years. After all, there are no cup holders and who hasn't spilled a drink or two? Again, starting with a good cleaning may be all you need. If the stains are just too tough (or the carpet is too smelly!) replacing the entire carpet can be just as cost-effective as getting it professionally cleaned! Restoration carpeting is of course available in all the matching interior colours (black and charcoal gray being the most common and popular) and is pre-cut to be placed down right away, with little to no modification necessary. Pop the seats out, unscrew the interior rocker panel cladding and lift the old carpet up and away and presto, you have a revitalized interior!
Just while on the topic of carpeting… if you do replace the carpet, you want to protect it as well. A quality set of foot mats will help keep the carpet clean and will ensure a long life. Floor mats are available in tons of colors and styles. Anything ranging from the original plush gray to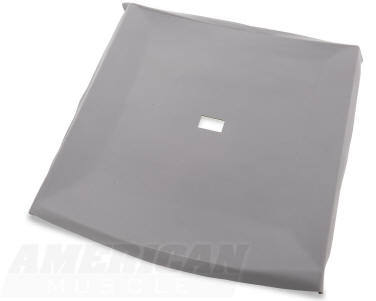 The Infamous Fox Body Sagging Headliners
Another frequent occurrence, particularly with sunroof or T-top equipped models, is for the headliner to tear and sag. If your car indeed does have a sagging headliner and is equipped with a sunroof or T-top roof option, first verify the seals around the roof and replace if needed. What a waste it would be to replace the headliner and then have the new one sag because it was the sunroof leaking water into it all along - Foxbody Mustangs are notorious for leaking sunroofs and T-tops.
Looking past this, restoring the headliner is usually done by just outright replacing it. Replacements come vacuum sealed to a backboard to prevent future sagging and, like always, are available in the regular Foxbody-era interior colors. Furthermore, they are pre-cut to accommodate the interior dome light so installation is only a matter of removing the old and sliding in the new.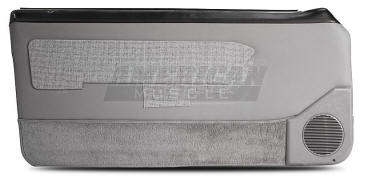 1979-1993 Mustang Doors Panels and Trim
The last major area to refresh the interior is the door panels. Depending on the year of the car, there are a few, slight variations. For instance, later model Foxes came with map pockets (which ALWAYS end up sagging, used or not) on the lower portion of the door panel whereas early models (87-89) did not. Furthermore, some cars came with all vinyl door panels whereas others had a carpeted lower version. Whatever combination you may have, there are direct-fit replacements waiting to rejuvenate the cabin of your car. Undo the armrest, mirror trim and door handle bezel (the plastic trim piece around the door handle), and then the door panel is left secured by 12 push pins.
Door Trim
While on the topic of doors, some other areas to look over are of course the armrest and other trim pieces on the door (handle bezel, mirror cladding) as well as any power switches and wiring associated with them. The switches do have a tendency to wear down the contacts and quit operation. Furthermore, for whatever reason, the plastic door handle bezels are prone to cracking. The aftermarket has certainly thought of everything and consequently come up with any and every piece you may need to complete an interior restoration. Thus if there is a problem with any of the above, they are an easy fix.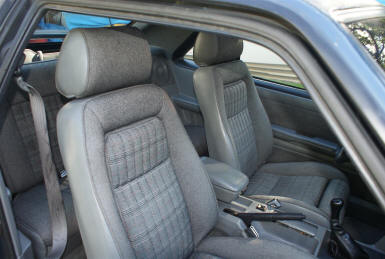 Center Console & Miscellaneous Parts.
Another piece that stands out as restoration worthy is the center console between the two front seats. Like the rest of the interior, a good clean can really change the look, however if it is cracked or chipped there isn't really any means of fixing that. Replacement consoles are an exact replica and made using the same tools as were the originals (well not the exact same tools, but you get the idea…). Paint to match and drop her in – it will really lend itself to a pretty interior.
Furthermore, another (odd) area of failure is the ash tray door, located within the center console. Might as well go the full 9 yards (and for $10) and get the replacement hardware kit that will get it functioning once again.
Concluding Thoughts
The interior of a car can speak volumes about both vehicle and the owner. A ratty, stained and otherwise decrepit interior will turn a lot of onlookers off, particularly if trying to sell the vehicle. A clean interior, on the other hand, can make a car much more desirable and even potentially more valuable – nobody really wants to sit in soda stains if they can avoid it. An interior restoration is the best way to get that interior into tip top shape!
FItment includes: • 1979, 1980, 1981, 1982, 1983, 1984, 1985, 1986, 1987, 1988, 1989, 1990, 1991, 1992, 1993, LX, GT, SVO, Cobra Mustangs