Replacement Fox Body Mustang Tail Light Options
The factory lights came in two flavors depending on trim. The LX and notchback Mustangs (1987-1993) came with what is known as the 'LX' style light (clever name, right?). The GT's, on the other hand, were treated to a different style of tail light dubbed the 'cheese-grater'. Of course, this was due to its strikingly similar appearance to the kitchen cheese-grater. Both are entirely interchangeable with each other, no matter what model Mustang. I May have just fibbed a bit. There is a third style of tail light, only available on the 1993 Cobra (still interchangeable with the others).
Replacement Fox Body Tail Light Options
• Smoked Lens Covers—Tinted lens piece that will precisely fit over stock tail lights

• White Smoked LX—The entire lens is a smoked white with no red sections

• Altezza—European inspired oval brake lights with chrome trim, set in a chrome-lined housing

• LED—Extremely bright and crystal clear illumination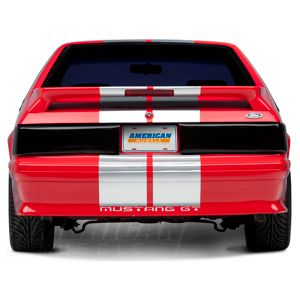 Aftermarket Fox Body Tail Light Options
Like every other section of the car, the aftermarket world has come up with some factory alternate styles and designs, giving you a number of choices to consider when replacing your Mustang GT/LX's tail lights. For those with an interest in replacing their stock tail lights, or are just looking for a different style, read on.
Smoked lens covers:
If you're seeking a budget friendly option to change the look of the rear of your 'Stang, a pair of
smoked lens covers
will do the trick. Basically, the smoked lens cover is a specially tinted lens piece precisely molded to fit over your existing stock tail lights. Better yet, no need for undoing any bolts. They stick directly onto the stock tail light with combo adhesive-velcro attachments. A set of smoked tail lenses will give the backend of your ride an aggressive look in about 10 minutes or less.
White smoked LX style:
If you wish a smoked look, but want to be a little different, consider the white LX smoked headlights. This time around, the entire lens is a smoked white, no red sections whatsoever. Keep in mind, however, that because there aren't any red sections, you will need to replace the stock brake light bulbs (which are white, shining through a red tinted lens, thus appearing red) with an actual red bulb.
Altezza style Mustang Lights:
These are a European-inspired design. Featuring oval brake lights with chrome trim, set in a chrome-lined housing, they are offer a more modern and upbeat style compared to the OEM pair. They too are offered in both a
clear
or smoked style. The
smoked style
features an overall darkened hue whereas the clear lenses are, well, clear! Many Mustang enthusiasts find the regular style Altezza tail lights look amazing on lighter colored Mustangs, whereas smoked Altezza lights are better suited to a darker hued car. Installation is a breeze; a direct fit with no special wiring needed.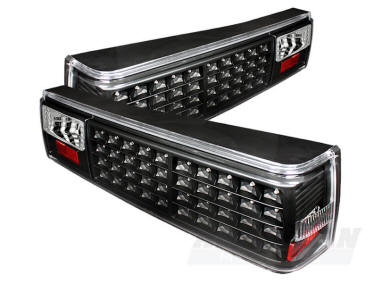 LED style Mustang Tail Lights:
LED is the latest and greatest lighting style to hit the automotive market. Extremely bright and crystal clear illumination is their distinct advantage over conventional tail lights. Furthermore, the overall tail light housing is a retro design seemingly inspired by the stock cheese-graters. They look stunning in the day, and when lit up at night, everyone will be paying attention! The LED housings, like the other housings, are a direct fit. The actual lighting components, however, do need a little modification. No need to worry though, we're not talking an electrician worthy job. A quick wire splice and inline fuse and you're good to go!
Other Mustang Tail Light Facts You Should Know
There is some additional information you may find useful regarding the stock tail lights. First off, the stock pieces are actually a 2 piece design, meaning you can separate the lens from the actual housing. This is useful to know because if you need to replace a cracked GT tail light, if it is only the outer lens that is damaged (most cases, it is) then you only need to buy a replacement lens.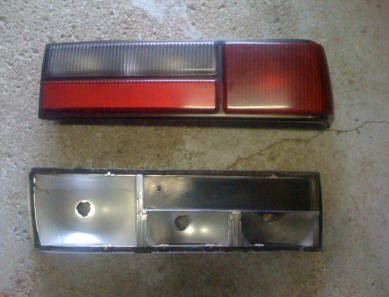 You can buy a cheese-grater tail light lens unpainted and paint it to match (believe it or not, one of the tail lights on the GT, above, used to be red). Or, if you want a different style, 1993 Cobra tail light lenses are available too. Buying only the lens is a cheaper alternative than the entire assembly.

Tip: When it comes to installing an entire new tail lamp or just the lens, it is always a good idea to check whether or not the light is properly sealed. If in doubt, a clean bead of clear silicone should mitigate any worries.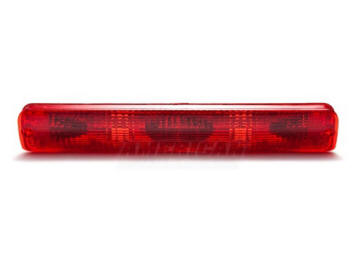 Fox Body Mustang Third Brake Lights:
The last aspect to look at is the
third brake light
, housed in the spoiler of GT models. Currently, there are no mass produced alternate styles available for the third brake light, but if you are planning to swap out the tail lamps, it is not a bad idea to check the condition of the third brake light. If it has seen better days, it also is an easy and cheap replacement.
FItment includes: • 1979, 1980, 1981, 1982, 1983, 1984, 1985, 1986, 1987, 1988, 1989, 1990, 1991, 1992, 1993, LX, GT, SVO, Cobra Mustangs