Fox Body Wheel Buying Guide
Fox Body Wheel Sizing
• Upgrading your undersized Fox Body stock wheels can greatly increase aesthetic appeal and the car's handling

• While most new vehicles and aftermarket companies supply 5-lug wheels, Fox Body features a 4-lug wheel, which can create some difficulty during wheel upgrades

• Wheel choices are astounding and finishes are available in chrome, polished, matte, powder coated, regular, or deep dish

• For racing purposes, superlight wheels on your Fox Body can give you better handling and keep down the total weight of your Mustang
Late Fox-era Mustangs rolled out of the factory on 15x7" aluminum rims shod with a 225/60 tire – very small indeed, at least by today's standards. Furthermore, the relatively high riding position of the body only further accented the tiny wheel look, giving an oddly disproportional look to the car. Filling those fenderwells with some larger rims not only greatly increases the aesthetic appeal, but can also improve handling! So, what exactly can we fit? Foxbody Mustangs can accommodate wheel sizes anywhere from 15x7" to 17x9", with a maximum tire size of 245mm wide. Going with a rim wider than 9" is not possible without modifying the wheel well, otherwise your new rims will possibly scrape against the control arms and fender lips!
Looking for different tire sizing calculations, or just want to see how much those new rims are going to throw off your speedometer? A tire size calculator will help you solve fitment and spacing issues, as well as give you insight into measurements and differences between tires.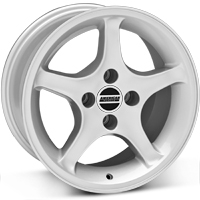 4 or 5 Lug Fox Body Wheels?
Another issue to address is the number of lug nuts. The stock Foxbody setup only accepts 4 lug wheels, yet most modern cars, and subsequently aftermarket wheel companies, have moved on to 5 lug wheels. What is the difference, you ask? Well, the difference between 4 lug and 5 lug is simply 1 lug! Who says math isn't useful? Joking aside, the main advantage a 5 lug setup has over a 4 lug is the availability of wheels. As mentioned, the majority of wheels produced today are 5 lug, thus you'll have a greater selection looking through the 5 lug pool. If you do see a wheel you like that is 5 lug, you will need to convert your Fox to a 5 lug setup in order to accommodate it (if it hasn't been done already). Luckily, the conversion to 5 lug isn't all that hard, and once done lays a great foundation if you ever wish to upgrade the brakes. Despite all this 5 lug talk, there are still plenty of very nice wheels out there that are available in the traditional 4 lug fashion, so you needn't worry if your car is stock.
Fox Mustang Wheel Styles
The wheel choice today is astounding. Add in the various finishes and the choice can even become overwhelming! Chrome, polished, matte, powder coated, regular or deep dish – many of the same wheel designs are available in all of these different forms, adding to an already difficult decision. Is one finish any better than the other? Will one last longer, look better in the sun etc? Let's take a look.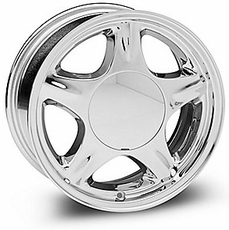 Chrome Finish
Ah, ever the classic mirror-smooth finish. Chromed-out pieces have been on cars for as long as I can remember. Perhaps what is even more interesting, however, is after all these years, they are still extremely stylish! In terms of durability, a chrome finish receives a bit of a mixed review. Depending on the technology used, chrome can either be a blessing or a curse. Traditionally, chroming a wheel involved layering nickel, bronze and chromium onto a prepared surface and that was it, no clear coat was available. Lacking a clear coat, it is easy for moisture and air to seep in, particularly so due to chrome's natural brittleness. Minor stresses during driving can crack or flake the chrome finish because although adhered to the rim, it does not bend or flex as the metal rim does underneath, thus leaving it exposed to the elements. On the other hand, chrome plating technology has evolved and there are now clear coats available that adhere to chrome, giving it a longer life with less maintenance-it depends on the manufacturer. Maintenance requires careful washing (water & soap) and lots of chrome polish for touch-ups and to maintain that incredible luster. Think of
chrome rims
as a supermodel wife –she can require high maintenance, but when you take her out, damn does she looks good! And, you know everyone else is looking, too!
Polished Finish
A polished rim is a bare rim that has been buffed with increasingly softer materials to give it a high metallic shine. In terms of durability and maintenance, polished rims are less fussy then the supermodel chrome variant. Like chrome, polished wheels can come with or without clear coat. The clear coated varieties are definitely easier to maintain as the clear coat will seal the metal from moisture and air. Unsealed rims will need to be washed, waxed and buffed to keep oxidation and rust at bay. It is best to wash them with a non-abrasive, non-acid cleaner solution/water mix.
Painted Finish
Gone are the days of boring metal rims. With advances in paint technology, there is a plethora of colors and finishes available. Gloss, matte, powder – these are three of the most popular (and common) finishes. Starting with a prepared rim surface, painted rims are first hit with some primer, then several layers of automotive grade finishing paint (color & style varies) and completed with a protective clear coat. Maintenance is virtually none, apart from the occasional wash. Dealing with curb rash, however, is a bit difficult. If some of the finish has rubbed off, you can of course touch it up yourself, but chances are you won't be able to get a perfect match and blend, thus leaving a dark spot. Seeing as the initial paint took a very specific process, for a seamless finish the whole wheel would need to be sprayed again. Fear not, however, as this is the worst case scenario. Besides, who goes about bashing into curbs anyway?!
Deep Dish Wheels
If you know what a deep dish pizza is, then you know exactly what a deep dish wheel is. Pretty much the same concept, except one taste better than the other. A
deep dish wheel
is essentially a wheel that has a recessed face, meaning that the design or pattern of the wheel (i.e the spokes) is not flush with the outermost edge. Instead, it is inlayed by several inches. There are no performance or durability gains but rather it is solely a stylistic choice (well, I suppose an inlayed design cannot technically hit the curb, you would only scrape the edge).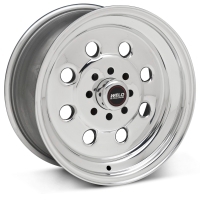 Effect on Handling Characteristics & Weight
Bigger wheels are going to give your Fox better handling and a better ride, but they are also going to pack on a few pounds. Depending on what size and material of wheel, overall weight can increase by as much as 100 pounds! If you are into racing, this probably is something you want to avoid. Cue in super-lights…
Superlights are a class of wheel that, well, are very light. Most notably used in drag racing (Weld draglights being the most popular), their lack of mass can have occasionally have some adverse effects when cruising the streets. There have been cases where bumps, pot holes, hard cornering (like in autocross) have bent and disfigured super light rims. Not to say that they are insufficient, but it is logical that a lighter wheel made of the same material as a regular wheel (aluminum) may not have the same load capacity. For drag racing, the weight advantage will certainly give you an edge.
A Muscle Car Look For Your Mustang
There is no doubt about it, an aftermarket wheel and tire package can really spruce up your Fox, even more so than is probably thought. If you really want to go after that muscle car look, consider using a staggered wheel setup. What this means is that the front and rear wheels are of different width, with the rears wider than the front. Iconic of the 60's, a staggered setup alludes to a more aggressive look. To summarize, by throwing a new wheel/tire combination on ye old Pony not only gives it a great look, but can add to ride comfort, road handling and traction. In this case, you get both show AND go. It's hard to beat that…
FItment includes: • 1979, 1980, 1981, 1982, 1983, 1984, 1985, 1986, 1987, 1988, 1989, 1990, 1991, 1992, 1993, LX, GT, SVO, Cobra Mustangs