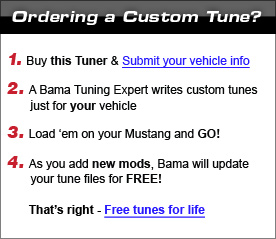 Stage 2 - Intake Power Pack
Now you can add even more horsepower and torque to your 4.6L powered GT Mustang with an AmericanMuscle Stage 2 - Intake Power Pack. This Stage 2 intake kit includes a
BBK Twin 62mm Throttle Body
, a
C&L Racer Cold Air Intake
, and a
SCT SF3/X3 Power Flash Tuner
with Free Custom Bama Tunes for Life!
Application.
This Stage 2 Intake Power Pack is specifically designed for use on the 2005 to 2009 GT Mustangs equipped with the 3-valve 4.6L Modular V8 engine.
C&L Racer Cold Air Intake
Maximum Airflow.
The C&L Racer Cold Air Intake completely replaces your GT Mustangs restrictive stock factory air box and paper filter to maximize your pony's airflow for increased horsepower.
BBK Twin Bore 62mm Throttle Body
Twin 62MM Bore Throttle Body.
CNC machined from high quality 356 aluminum this BBK throttle body features a generous, free flowing 62mm twin bore design for smoother airflow allowing your 4.6L engine to breathe easier for more power and improved throttle response.
SCT SF3/X3 Power Flash Tuner w/ 3 Free Custom Tunes (05-09 GT)
Power you can Tune.
The SCT SF3 handheld tuner will allow you to re-tune your Mustangs computer for more power and better drivability. We even included free custom Bama tunes to take full advantage of your new Airaid Cold Air Intake!
Increase your mod's potential.
Factory computer settings are calibrated for the original factory components. When making performance modifications, you need to recalibrate the vehicle's computer to realize the full potential that these modifications can achieve.
Free tunes for life!
Every customer that purchases a tuner is enrolled in the "Free tunes for life" program. Any time that you make additional mods to your vehicle, our team of SCT certified Bama Custom Tuners will create new tunes for you.
Custom Bama Tunes specific to your vehicle.
When you order a tuner, you aren't just getting a tuner - you are getting the tuner and 3 dyno-tested custom Bama tunes:
Street (87-93 octane) - the street tune is designed as a daily driver program that focuses in on increasing mid-range power. It does give up a few HP at higher RPMs, but that's why there is a Performance file. Automatic vehicles are further enhanced by making adjustments to the transmission's shift points and firmness.
Performance (87-93 octane) - The Performance program is designed to add power at 3000 RPMs and higher, focusing more on the top end horsepower and all out performance driving. Timing, fuel and throttle response settings are slightly more aggressive than the street tune. This is a great track tune but also works well for daily drivers that are looking for a little more "get up and go" than the street tune. The automatic transmission settings are the same as in the street tune.
Race (91 - 93 octane) - The race tune will ensure the largest increase in vehicle performance. Using the highest grade of fuel available in your area is mandatory. This file is designed for "Race only Use" as the timing, fuel, and throttle response settings are very aggressive. In fact, the adjustments are so aggressive, that we do not recommend it for daily driving as it may cause your vehicle to try to jump out from a stop and easily spin the tires. Finally, with the automatics, we implement entirely new shift points and firmness settings to further enhance the all-out performance of the vehicle.
Nitrous (91-unleaded race gas)
- Our nitrous option can be added to any of our previously mentioned tune options, but only for 91-octane unleaded fuel.
Easy to load; easy to restore.
Not only are the custom tunes easy to load on your vehicle, it is just as easy to restore your factory settings. When you load your custom tune on the vehicle, the tuner automatically stores your vehicle's factory settings. To return the vehicle to its factory settings, just plug the tuner back in, select the option to restore the factory settings, and you're done.
SCT SF3/XCalibrator 3 Power Flash Tuner Features:
Handheld Tuner based off of SCT's premier LiveWire Tuner
Reads / Clears DTC Trouble Codes
Enhanced data logging with 8 times the onboard memory (128MB Total!) of previous handhelds in the SCT lineup
Upgraded 4-line backlit display
Custom tuning applications for 2005-2009 GT Mustang
Free USB PC Interface Cable
**NOTE: Programming custom tunes may take 3-4 business days. We recommend ordering other products separately to avoid delay. Some heavily modified cars are not tunable with a mail order tune. Click for details.
Mustang Fitment:
2005, 2006, 2007, 2008, 2009
Details >>