2010-2014 Mustang Engine Dressup Essentials
• A first step to making your Mustang look good under the hood: replace caps and covers with chrome mods

• The chrome mods are constructed of billet aluminum

• Replace the old hood prop-up rod and replace it with a set of gas-powered hood struts

• To achieve a clean, finished looks, replace engine or coil covers with painted or chrome sets
A perfect place to start dressing up your car's engine bay is a chrome kit that replaces the caps and covers on your 2010 - 2013 Mustang. Virtually every car you see winning awards has some kind of chrome mods under the hood and many of the sickest rides you'll see have chrome everything. Most dress up parts are made from a billet aluminum construction. Here are some examples of what you can chrome-out on your Mustang:
Many of these items can also be found in a colored, Anodized finish: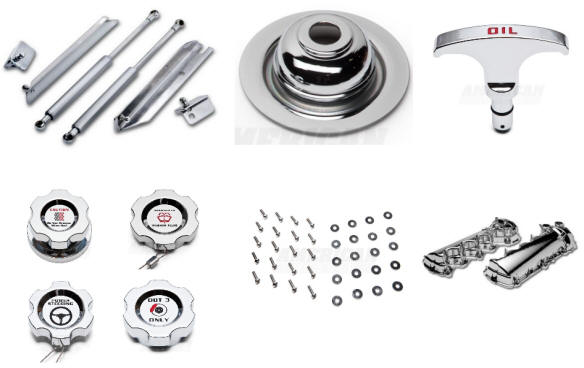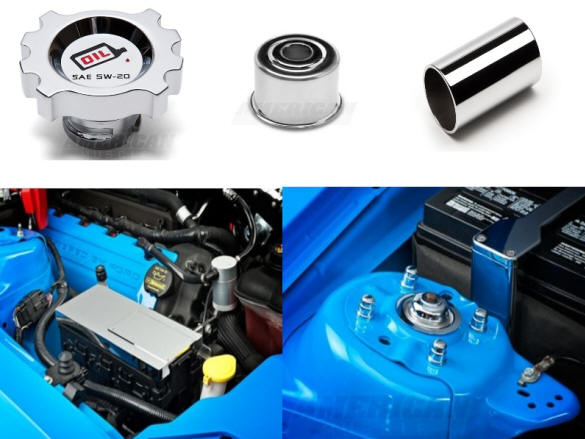 Mustang Hood Struts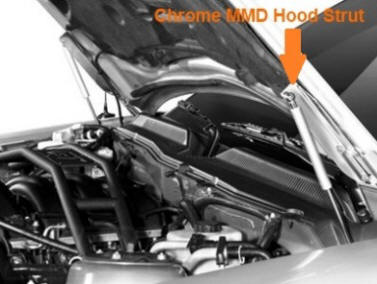 Now is the time to ditch that annoying prop-up rod for your hood and get a set of gas-powered hood struts. They usually come in a chrome or black finish and do wonders for cleaning up the underhood appearance. Installed in about an hour, hood struts are essential to showing off what your Mustang is packing. Not having that annoying obstruction to dance around when wrenching inside the engine bay is another added bonus.
One thing to be sure of is that the struts you choose will be functional with an aftermarket hood. Hood Struts that do not utilize the factory bolt locations and aftermarket hoods that do not have these bolt holes may have to be drilled or fabricated. Getting yourself a set of struts that use factory bolt locations on a stock hood is a good way to avoid the headache of drilling while still providing a powerful, sturdy lift. Hood struts are one of those feel good mods that just make life easier, leaving you praising your decision over time.
Plenum and Mustang Engine Covers
The best way to give your motor that clean, finished look is a painted or chromed out set of engine or coil covers. Some sets can be painted to match your Mustang's color, or even have a custom design painted on.
Stick with the basic styling mods first, then if you choose to go all-out you can go with flashy coolant reservoirs, hose and wire dress up kits and aesthetically pleasing performance mods. Whatever combination of underhood styling you choose, dressing up the engine bay is another way of showing others the pride you take in your Mustang. Do it right by purchasing high only high quality pieces from a reputable manufacturer.
FItment includes: • 2010, 2011, 2012, 2013, 2014, GT, V6, GT500, Boss Mustangs