What are the Different Kinds of Styling Decals for Ford Mustangs?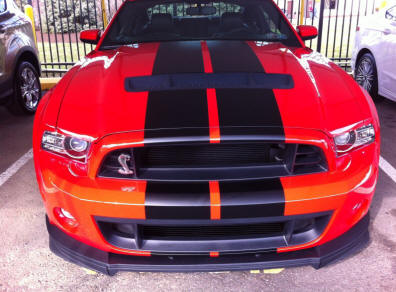 Painted Mustang Decals
When you decide to go with a decal that will be painted on your Mustang, you can assure that the quality will be better than any vinyl decal, assuming of course assuming you have a good painter. The two things to watch out for with painting decals is that 1. The price will be more than going with a vinyl sticker and, since they are being painted on, they are permanent. Make sure you want to commit before opting for the new paint job. On the plus side, when you go with paint you can get anything you want, so show your creative side.
Advantages of Vinyl Decals
Choosing to go with a vinyl decal can be beneficial in a couple ways. They are by far less expensive than getting the decal painted on, and they are also not permanent. If you end up not liking the way your new decal looks, you can simply peel it off. Installing a vinyl decal is also fairly easy and can be done by almost anyone where, as a painted design must be done by a professional and can take up a couple days of your time.
The Downside to Vinyl Decals
The only downside to using decals for your Mustang is that if the vinyl is left on for an extremely long time and is taken off, the paint underneath the decal will appear to be noticeably newer then the rest of the paint. This can be adjusted for with a good car detail, or by protecting your Mustang's paint job.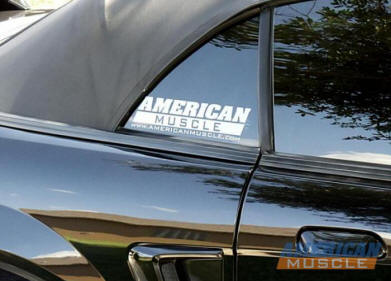 Mustang Window Decals
The window decals are the most common amongst the group. People add windshield banners, quarter window stickers, and rear window decals quite often. This is probably because it is very easy to add decals to windows and they are really easy to take off as well. Glass is much more forgiving than the fresh paint on the body. You can put a windshield banner of your favorite performance company or maybe a running pony on the back window.
Mustang Rear Bumper and Trunk Panel Decals
For the rear bumper you can purchase bumper letter inserts. They come in either stainless steel or a vinyl material. Weather your bumper says "Mustang" or "Cobra" you have a nice selection of decals and you want have a problem getting the look you want. There are also lower valence decals that will make your regular GT or V6 bumper different from the rest and rear bumper accents that are positioned on top of the bumper right underneath the license plate. Not only will this addition look great, but it will protect the top of your bumper from any scratches that may happen when placing something in the trunk.
Trunk panel decals will help you achieve that retro muscle car look. The honeycomb panel is a plastic piece that goes between the tail lights or if you want to use a decal, a black, flat black, or white vinyl can go in the same place instead. With all three of these decals installed it really changes the appearance of the back of the car for the better.
Racing Stripes
A set of racing stripes will look good on almost any car let alone a muscle car. They add some aggression and break up the paint color nicely if the appropriate color stripe is applied. There are a few options with strips. The lemans stripes are two evenly sized 12in stripes that go down the whole car, the GT500 stripes come in both 5in and 10in wide and send two stripes down the car similar to the lemans, and the Super Snake stripe which is a single 12in stripe with two ½ inch stripes right next to it on either side.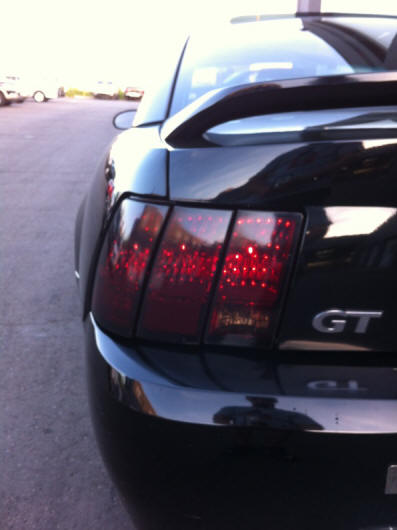 Mustang Rocker, Fender, and Hood Decals
If you're looking to go a different route then consider rocker, fender, or hood decals to add a unique touch of styling. They all come in black, white or silver, and a select few colors. For the rocker you can either get a solid stripe or one that says either "GT500", "GT350, "American Muscle", or "Mustang." Fender hash marks can also be applied to give your Mustang that race car inspired appearance. They are very affordable and can be applies within minutes.
There are a lot of variations when it comes to hood decals. There are decals for the center of the hood identical to the Mach 1 stripe and others that are similar for the GT and V6 models. You can get hood accents that go on the side of the slight cowl in the factory hood or a decal that says "4.6L V8" that can be applied to the sides of the hood scoop if your Mustang is equipped with one. Hood decals are very popular and can still achieve the look you desire without the intensive labor of some of the other decal applications.
Vinyl Tint
There is vinyl tint available if you're looking to black out some of your lights or markers. Tail light, third brake light, quarter marker, and fog light vinyl decals are all available to give your Mustang a more sinister and aggressive look and still allow just the right amount of light to shine through. All vinyl tinting is extremely affordable and easy to install. They are also very durable and are deigned to last for years.
FItment includes: • 1979, 1980, 1981, 1982, 1983, 1984, 1985, 1986, 1987, 1988, 1989, 1990, 1991, 1992, 1993, 1994, 1995, 1996, 1997, 1998, 1999, 2000, 2001, 2002, 2003, 2004, 2005, 2006, 2007, 2008, 2009, 2010, 2011, 2012, 2013, 2014, LX, GT, SVO, Cobra, V6, Mach 1, Bullitt, GT500, Boss Mustangs