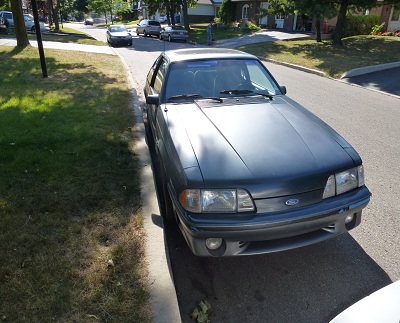 A Fox Body Mustang's Stock Headlight Setup
The stock headlight setup consists of 3 pieces - corner lamp (also called parking light), main headlight and the indicator. Original parking lamp and indicators have an orange tinge whereas the main headlight is simply a clear piece. There are options to replace with a clear corner and indicator light; however the difference is simply cosmetic. Now, if you're just looking to reinstate visibility on a budget, replacing the old oxidized set with a new OE-type replacement set is the perfect way to go. Highly affordable and direct-fit, these simple replacements will get the job done. Standard 9004 halogen light bulbs are still used in these housings.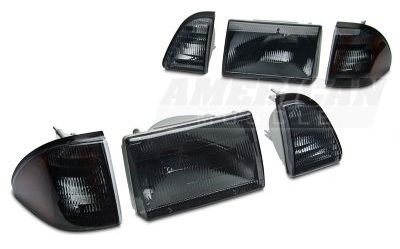 Smoked Fox Body Headlights
A smoked variation of the stock headlights is also available. Essentially, the major difference between a smoked set and an OE set is that an OE lens is clear, whereas a smoked set has a special tint applied to the interior of the housing to give the headlight a smoke-grey hue. Overall, this gives a more aggressive appearance to the car. Smoked headlights are available in both classic 3-piece configuration as well as a newer, 1-piece configuration. A 1-piece assembly is usually slightly more expensive, but they are considered by some to be a little easier to install. A standard 9004 hi/low bulb is still used.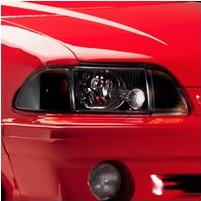 Blacked-out Fox Mustang Headlights
The ultimate in ferociousness, blacked out headlights build on the tinted appearance of the smoked lights but take it to a whole new level. An added benefit is that oxidation of the lenses will be hard, if not impossible to see over time. These assemblies feature a fully blacked out housing creating a very aggressive look. These are also available in either a 3-piece or 1-piece layout and still use standard hi/low halogen bulbs.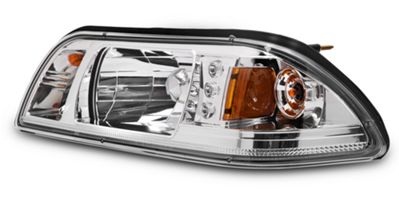 Chrome Fox Body Headlights
Another alternate look, which adds a little more 'bling' to your ride, are chrome headlights. Featuring a fully chrome-lined housing, these look great all the time – be it day or night – and are also offered in both 1 piece and 3 piece designs.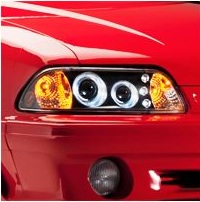 Mustang Halo LED Projector Lights
If you're really looking to make a modern statement with your antique Fox, consider a set of LED Halo projector style headlights. Available in all of the above trims (smoke, black, chrome housings), the difference with these bad boys is their lighting ability. Utilizing 9005 bulbs for regular lighting and then a separate H3 bulb for high beams, projector headlights are the latest, most powerful lighting system available for Foxbody Mustangs. Of course, these style headlights are the most expensive, but there really is no comparison between them and the antiquated stock halogen setup. If you're looking to greatly improve visibility and give your car a more modern look, LED Halo lights just cannot be beat.
1979-1993 Mustang Headlight Installation
No matter which headlight assembly you go with, there is no doubt you will see a vast improvement over the stockers. Furthermore, installing the lights are pretty straightforward. The hardest and longest part is usually removing the old lights because the bolts have corroded! A few tips when it comes to installing the new lights:
1) Make sure they are properly sealed. Not all headlights come sealed from the factory. Because of this, it is a good idea to thoroughly check and if in doubt, run a bead of silicone around the edges of the assembly. It's no fun seeing water on the inside of your lens a week later because the assembly was not sealed.

2) Although install is pretty easy, aligning the headlights can be quite tricky. Generally, there are 3 adjustment screws that you must play with in order to properly align the lights (3-4 mm in size). When adjusting the direction of where your lights will shine, park 30 feet away from a large wall and view where your lights are shining. Work on adjusting one light at a time. To do this, cover the other light with some sort of towel, cloth, mat etc. Ideally, properly aligned lights will shine nearly straight ahead (they are supposed to have a slight overlap directly at the center of the vehicle) and remain at the height of the vehicle.
FItment includes: • 1979, 1980, 1981, 1982, 1983, 1984, 1985, 1986, 1987, 1988, 1989, 1990, 1991, 1992, 1993, LX, GT, SVO, Cobra Mustangs