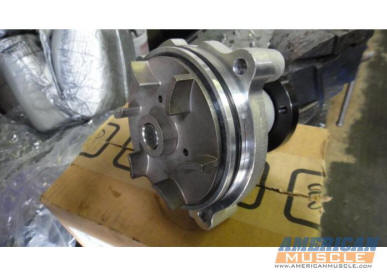 A Mustang's Factory Water Pump
If you use your Mustang strictly as a daily driver to get from point A to point B then a factory replacement unit will be just fine. The stock water pump does a decent job keeping the coolant is motion on a stock or close to stock build. It is recommended to stay with an OEM water pump because it is usually less likely to fail on the 1999-2004 Mustangs than the other options.
Another advantage of going with an OEM product is that the cost will be fairly cheaper than the other options. They will cool your engine with no issue if you are just running a few bolt-on upgrades and they are also more readily available and can be picked up at various local auto parts stores.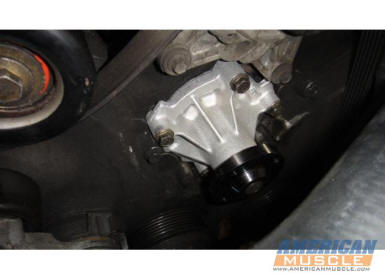 High flow aftermarket Mustang water pumps
If you decided you wanted a little more horsepower and have completed, say, a head and cam upgrade, went with a stroker kit, or you are running a very stout bolt-on car then a high flow water pump may be a better choice for you.
High flow water pumps have redesigned impellers which allow it to cool the engine more efficiently. These products offer an increase in flow while reducing the amount of power needed for the water pump to operate.
Electric Mustang water pumps
Going with an electric water pump would be exactly what you are looking for if you mainly use your Mustang for racing. Some Mustang enthusiasts use them on daily driven cars but they are far more commonly seen on race cars because of the advantages. Electric water pumps are also the most expensive compared to the other choices so they may not be the best option on a budget build.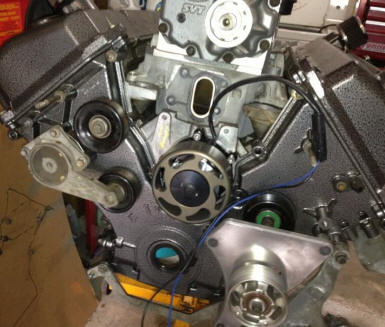 Advantages of an electric water pump
There are two main benefits of choosing an electric unit over an engine powered water pump. This first is that they don't drain engine power as they are not belt-driven. This gives electric water pumps their second advantage of being able to be turned on when the car is off, helping cool your Mustang between runs. Electric water pumps have different flow rates so make sure you select one that will efficiently cool your engine depending on your application. They are highly versatile and can also be controlled by a switch to maintain the desired temperate.
FItment includes: • 1999, 2000, 2001, 2002, 2003, 2004, GT, V6, Mach 1, Bullitt, Cobra Mustangs