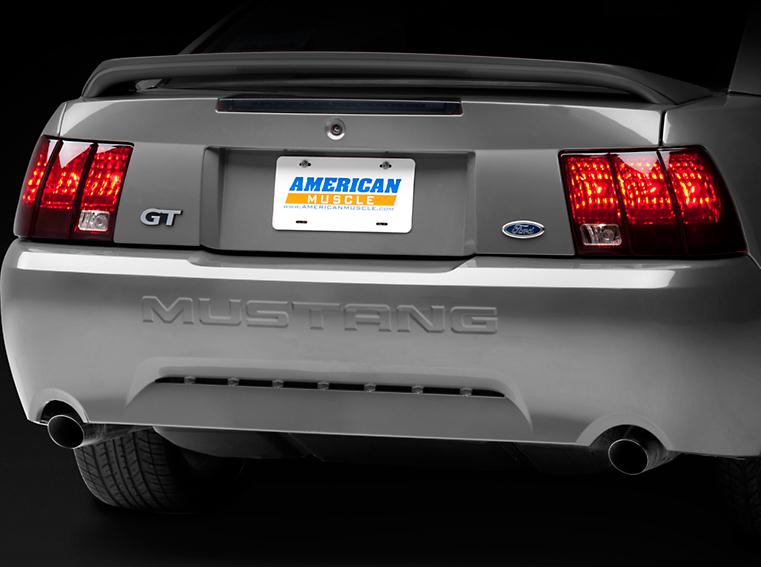 Going For a Blacked Out Look When Customizing Your Mustang?
Going for that blacked out look has become one of the most popularly desired styling themes within every Mustang generation. The great news is that there are (3) ways to obtain that look without breaking the bank and each one can be easily installed in your own driveway with basic tools.
The first option is choosing a set of smoked tail lights. These offer an aggressive styling that will instantly transform your Mustang into a Stallion. These DOT approved tails are designed with OEM specifications so they'll fit as if they were a Ford stock replacement, but with better visual appeal. The lenses are tinted in a fashion that when your lights aren't illuminated, they offer a stealthy, sleek appearance. When in use, the light still shines through just as brightly as stock. Drivers behind you will have no trouble seeing your brakes, but they'll likely mumble to themselves how sick your Mustang looks!
The smoked tails are a direct fit for all 1999-2004 V6, GT, Bullitt, Mach 1 and 03-04 Cobra Mustangs and reuse your factory bulbs and wiring harness for a very simple install.
When Styling Your 1999-2004 Mustang's Tail Lights:
• Smoked tail lights provide an aggressive, blacked out style and are a direct replacement for your stock tail lights

• Raxiom smoked tail lights with a set of plug-in sequential wiring harnesses create a classic style of early Shelby Mustangs from the late 1960's

• Light tint is the cheapest of your available options when working towards a blacked out style
Other Tail Light Options
If you wanted to take your tail light upgrade one step further, you could combine the Raxiom Smoked Tails with a set of plug-in sequential wiring harnesses to obtain the classic styling of the early Shelby Mustangs. The harnesses allow your tail lights to sequence from the center light outward for a complete retro look that is sure to make your Mustang stand out from the crowd.
Your next option would be a set of light covers. If you want to smoke out the rear of your ride, but don't want to do any swapping out of parts, this would be a great alternative. The smoked covers install directly on top of your existing tail light fixtures with the included adhesive tape. Clean, position and install – it's as simple as that. Please do check your local and state ordinances for install and usage regulations prior to installation.

Mustang Tail Light Tint
The final option for a blacked out rear-end would be to purchase light tint. The tint is the cheapest option of the three; however, don't let the price fool you into equating price with quality. We use high quality premium cast vinyl that will last for years and years to come. The tail light tint has been tested, tweaked and tested again on our own fleet of Mustangs to ensure a perfect fit for your Mustang. Just as the other two options, your brake light will shine through without any difficulty when in use, but will definitely give your New Edge a completely new look. Be sure to take your time with the installation, as it will require some patience, but the end result will be well worth the effort.

Now that you have some choices to pick from, one thing is for certain: your Mustang will be transformed for the better no matter which direction you take. Keep in mind, you can combine the Sequential Harnesses with any (3) of these options to double the cool factor of your New Edge and make all your Mustang buddies jealous!
FItment includes: • 1999, 2000, 2001, 2002, 2003, 2004, GT, V6, Mach 1, Bullitt, Cobra Mustangs