Nitrogen vs. Air For Your Mustang's Tires:
• Air within a tire creates more water build-up and thus deteriorates the rim and tire faster when compared to nitrogen

• Purified nitrogen is more stable and less corrosive than a compressed version of the air we breathe

• Nitrogen clumps together, which makes it harder to seep out, and therefore, your tires will have to be filled less frequently, especially with fluctuations in temperature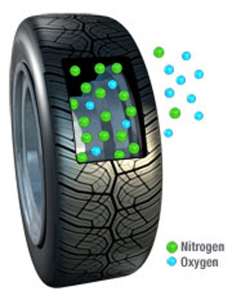 The Difference Between Filling Your Mustang's Tires With Air vs. Nitrogen
Water plays a major role in deciding between nitrogen and air. Gas stations and other areas that provide compressed air rarely filter out water which then makes its way inside your tire. As you can assume, fluids do not compress (which is why hydraulics work the way they do), so filling your tire with any form of H2O is not ideal. On the other hand, nitrogen is transported in a completely dry state, which means no chance of water intrusion.
Why is Having Water in Your Tires a Bad Thing?
Humidity (water) is a bad thing to have inside a tire. Water, present as a vapor or even as a liquid in a tire, causes more of a pressure change with temperature swings than dry air does. This leads to filling your Mustang's tires with air more often, especially during times of drastic climate change. It also promotes corrosion of the steel or aluminum rim of your Mustang. Purified nitrogen is more stable and less corrosive than a compressed version of the air we breathe. By its lonesome, nitrogen clumps in large molecules and thus is less able to seep out and you'll not have to inflate your tires as much. Even better, it's not oxygen (which is the root cause of oxidation) which eats rubber just like steel, just not as dramatically or visibly. Last thing to consider: Oxygen molecules exit through your tires grains in the rubber and also through the side walls without detection overtime much easier than nitrogen does due to the larger nitrogen molecules.
Choosing Between Nitrogen and Oxygen For Your Mustang's Tires
Filling your Mustang's tires with nitrogen will have benefits like a smoother ride, having to fill your tires less often, corrosion preventive measures, and more consistent pressures in variant temperatures. The age-old question still remains: Is it really worth it? The answer comes down to what you're looking to get out of your Mustang. For the Mustang enthusiast who daily drives a stock car and doesn't mind filling up the tires to the proper PSI now and then, it's a nice luxury but not essential to the rigors of daily driving. However, the performance minded Mustang owner who wants constant and stable pressures when at the track may find a greater need for nitrogen over air. It is also good to keep in mind that some stations may charge more to fill per tire because they do not have an individual nitrogen refilling system. Rather, they have to filter out the oxygen molecules from their existing tank, which can become pricey.
Benefits of Nitrogen:
• Improves Gas Mileage
• Resists Temperature Changes to Keep Tire Pressure Stable
• Provides more consistent handling
• Nitrogen's larger molecules leak much slower than air
• Protects your tires & wheels from oxidation and decay
• Nitrogen is lighter than air
• Used for decades in race tires, tractor trailer tires, aircraft & military applications

So to sum it all up, yes there are several benefits if using nitrogen in your tires. If you have an opportunity to have them filled for a decent price then there is little reason against doing so. For the daily driven Mustang, good old air will still do the trick. If you're still worried about the air consider buying your own compressor with a water filtration system that you know you can trust to do the job.
Properly Inflating Your Mustang's Tires is Key
Proper inflation is the real issue. Under-inflated tires reduce your Mustang's gas mileage and flatten out, creating more surface area and thus adding friction. This will make the engine work harder and burn more fuel. The extra friction and resulting heat also increases the chance of a blowout. A properly inflated tire is always safer and more efficient than under-inflated tires. If you take your Mustang to the track and you are still using air, remember to re-inflate them to the proper PSI before driving on the open road.
FItment includes: • 1979, 1980, 1981, 1982, 1983, 1984, 1985, 1986, 1987, 1988, 1989, 1990, 1991, 1992, 1993, 1994, 1995, 1996, 1997, 1998, 1999, 2000, 2001, 2002, 2003, 2004, 2005, 2006, 2007, 2008, 2009, 2010, 2011, 2012, 2013, 2014, LX, GT, SVO, Cobra, V6, Mach 1, Bullitt, GT500, Boss Mustangs