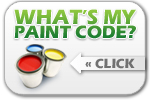 Impressive Styling.
Add visual pleasing detail to your Mustang's engine bay with a Pre-painted Mustang Radiator Cover that will be sure to impress all the judges. This Radiator Cover is the ultimate accent to your Mustang's Power Package and is pre-painted to match your Mustangs factory color straight out of the box!
Painted Here to Match 2010-2012 Factory Mustang Colors.
This Mustang Radiator Cover is painted right here, at AmericanMuscle HQ, with the same base coat clear coat urethane paint Ford used on the exterior of your Mustang to match your stock factory color perfectly.
Quality Materials.
Molded from a high impact plastic for a long durable life, this Mustang radiator cover is an exact copy of the factory original right down to the pebbled texture.
Application.
The Pre-painted Mustang Radiator Cover is designed to be a perfect fit on the 2010 to 2012 GT or V6 Mustang, does
not
fit Shelby GT500 models.
Note: Select your year Mustang to see factory paint colors available for that year