What Parts do I need to lower my 1999-2004 Mustang?
When deciding which type of lowering spring best suits your driving style, you should be mindful of the other factory worn out parts on your Mustang that could use replacing as well. Another thing to keep in mind is how to accurately get your Mustang back to factory specs to ensure a smooth ride and avoid any premature wear and tear. Getting a professional alignment is highly recommended after installing lowering springs and I can assure you, you'll be happy you did. So let's take a look at a few products that should be upgraded at the same time and what you can keep stock.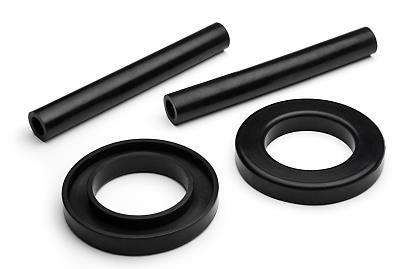 Should I replace or remove my spring isolators?
Once you get in there and remove your factory springs, the Mustang's stock spring isolators will prove to be worn down and could even possibly be cracked due to the rubber that was used. New polyurethane spring isolators will last much longer than their stock counterparts, while offering improved handling, steering response and a quieter ride. We highly suggest installing both the front and rear spring isolators for a full rebuild and best results that will last you the life of your new springs. Some people simply remove the isolator's altogether to try and obtain the lowest drop possible from their springs. This is not recommended as unwanted metal on metal noise can be a result. You want people looking to see how awesome your Mustang looks with its new stance and other modifications, not focusing on an annoying noise coming from your new springs.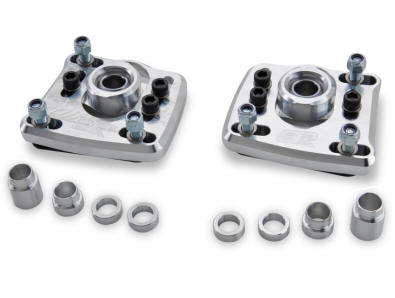 Do I need caster camber plates when lowering my 1999-2004 Mustang?
When dropping your Mustang lower than 1", it becomes difficult to correct your alignment fully as there often isn't enough range stock. Because of this, we highly recommend purchasing a set of caster camber plates, such as the very popular SR Performance caster camber plates, to obtain the perfect alignment. If installing this yourself, you can adjust the CC plates close to spec, but you should take your Mustang to a local shop for fine tuning of the caster / camber and to receive a full professional alignment.
What will caster camber plates do for my Mustang?
Being able to adjust your caster and camber within stock specs will prevent premature tire wear and poor handling. When your tires are pigeon-towed, it causes abnormal wear patterns and costs you hundreds in tire replacements that normally would not be needed. Do the smart thing and fix the problem before it happens. Caster camber plates will also keep your Mustang looking its best; when your tires face too far inward or outward due to improper alignment, it can take away from the overall appearance of your Mustang.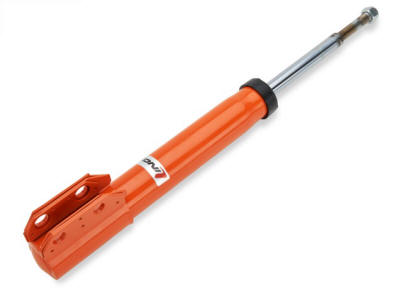 Do I need new shocks and struts when lowering my 1999-2004 Mustang?
So you've installed your new lowering springs, lowered your center of gravity and put your Mustang back into perfect alignment. Are your stock shocks and struts going to be sufficient or do you need to upgrade those at the same time? Well, your factory shocks and struts will work perfectly fine with your newly dropped Mustang. With that being said, if your budget will allow for it and while you have the suspension apart anyway, it would be most beneficial to upgrade your shocks and struts to improve your handling and overall ride quality. Lowering springs will help with this, but combining them with new shocks and struts, caster camber plates, isolators and, of course an alignment will totally transform how your Mustang drives and handles.
Replacing your worn out suspension will help you to gain back that ride comfort you had when your Mustang was fresh off the assembly line and will vastly improve the quality when combined with lowering springs, to the point where you'll feel like you're driving a completely different car. So whether your main goal is to lower your car simply for an improved appearance or you aim to obtain better performance, there are lots of things to take into consideration. Lowering springs are just the starting point of the endless possibilities to transform your Mustang's suspension into the corner hugging, muscle car you can't drive often enough!