Performance Gains With Larger Wheels & Tires - 2005-2014 Mustangs
• Factory tires are undersized for the amount of horsepower a stock Mustang produces

• By upgrading to a wider tire, you'll be giving your Mustang better traction to tackle corners and grip the road while accelerating

• A staggered setup can lead to better traction and better performance and handling

• In addition to upgrading your tires, also upgrading your wheels will provide performance and handling advantages that well complement a larger tire
Our 2011 Mustang V6 Bolt-on Build-Up Series
When you want to make a statement with your Mustang, nothing quite does the trick like a nice set of new wheels and tires. As you can see in the example above, wheels helped to completely transform our lowly stock V6 Mustang into an intimidating machine in our Bolt-on Build-Up series. The effect wheels have on looks is obvious, but can upgrading your wheels and tires really help to gain performance? Whether you desire a better launch at the drag strip or better handling on the street, a new set of wheels and tires will help out significantly, and here's why.

Factory Mustang Tires are Undersized
When a company like Ford builds a car, they need to make sure that it appeals to a large audience. For a car like the Mustang, while most people will be happy with the car, performance enthusiasts won't be 100% satisfied its factory condition. One criticism of the Mustang is that it comes with undersized tires from the factory. For example, the 2013 Mustang GT comes from the factory with 235 width tires. That's smaller than the tire that came on New Edge Mustangs, even though it has 160 more HP. Not only that, but 235's are what come standard on most Ford Fusions and a Mustang GT has 245 more HP than a Fusion!
A Mustang With More Rubber = Better Grip
It's pretty clear that the Mustang in its stock form is limited by tire size. By upgrading your tires to a wider size, you'll be giving your Mustang more tread to accelerate and tackle corners. In order to safely run larger tire sizes, you will need to buy wheels that are wider also. Figuring out things such as what tires fit which wheels and which wheels fit your Mustang can be a bit confusing. This is why we've already done all the research to figure out the best wheel and tire combinations on your generation Mustang. The easiest way to shop is by selecting one of our Wheel and Tire packages. They take all the guesswork out of figuring out fitment and it gives you an immediate idea of what each package will cost. On top of that, they will even arrive to your door mounted, balanced and ready for install.
A Standard or Staggered Setup on Mustangs
When looking through your choices, you'll notice that there is a choice for going with a staggered setup. This means that the rear tires will be wider than the front tires. You don't have to stick with the same size in all four corners like the factory setup. Ford sticks to the same size all around to make it easier to build and service the Mustang, but you can gain performance by going with a staggered setup. On a high powered rear wheel drive car like a Mustang, getting wider rear tires can be a real help. The more tire contact = better traction = better performance and handling.
Some people prefer to stay with a standard setup because they want to retain the ability to rotate their tires for better wear. The counterpoint would be that larger rear tires will last longer because they're not being overpowered as much. Another concern that people bring up is that a staggered setup could make your Mustang understeer. This could be a concern if you were leaving your front tires stock. As long as you're upgrading all 4 tires, a staggered setup is still going to significantly improve handling overall.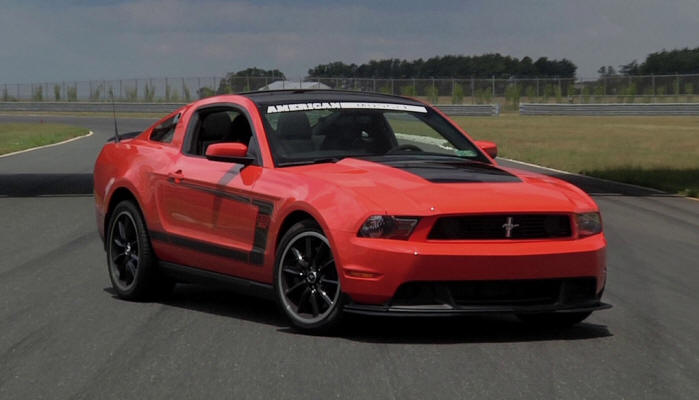 Shorter Sidewalls = Less Flex
Besides increasing tire width, another major reason for upgrading is to get larger diameter wheels. An obvious reason for this is because they look better, but larger wheels can also improve handling. When you change out your wheels and tires, you want the total diameter to remain the same. The larger the wheel, the shorter the sidewall on the tire becomes to compensate. Shorter sidewalls don't flex nearly as much as larger sidewalls during cornering, which results in a more precise handling and better steering feel.
Whether you're looking to upgrade your ride for looks or performance, a new set of wheels and tires will help you achieve your goal! We carry a large selection of wheels and tires in every size and for every budget. Check out all our styles at AmericanMuscle and always feel free to give us a call if you have any questions.
FItment includes: • 2005, 2006, 2007, 2008, 2009, 2010, 2011, 2012, 2013, 2014, GT, V6, Bullitt, GT500, Boss Mustangs