Instructions for Downloading a Tune to Your Mustang's SCT Device
NOTE: If you purchased an SCT X3 Power Flash Tuner before July 25, 2008, you will now consider your tuner to be an SF3. The X3 is now a blank, custom, tune-only device. If you have pre-programmed tunes, your device is considered an SF3, regardless of what the device actually says on it. Any updates for your X3 (if it has pre-programmed tunes) will be downloaded for the SF3 P/N: 3015
1. Log on to your internet, and go to www.sctflash.com.
2. Once you have arrived at their website, look at the top of the screen. There is a bar across the top with some buttons. You need to click on "Tech Support".

3. Once you have done that, you should see a button that says "Device Updates & Downloads" You will need to click on that.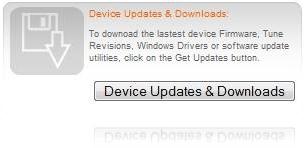 4. At this point, you will now be at a screen with two drop down menus. From the first menu, you will select which SCT Device you have.
5. Then select "Device Update Software" from the second drop down menu. At this point, you will want to hit "Search". (NOTE: This is also a good time to make sure you have the latest Firmware and Tune Revision. You will have to have the "Device Update Software" already installed first, however. You must have the latest of each version to load a tune from your computer to your SCT device, or it won't work. Click HERE to find out how to do that) .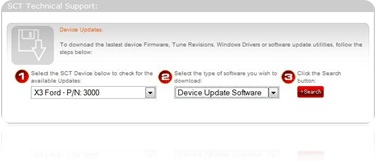 6. Now that you have found what you are looking for, you need to download the software and install it.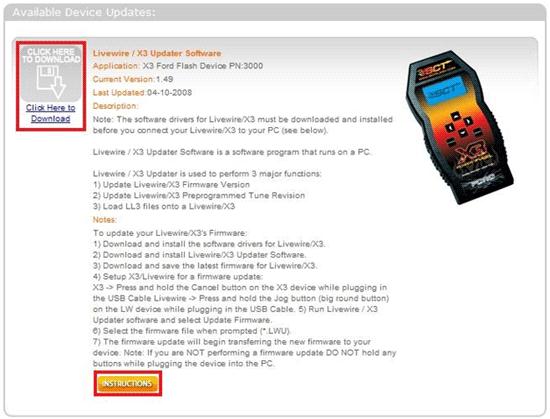 7. Once you have downloaded and installed all of the necessary software, you will need to get your tune file from your email. Download the file from your email, and save it to a safe, easy-to-find spot on your computer, such as your desktop. Once this is done, you can now begin loading the tune from your computer to your tuner.
8. Open up your "X3 Livewire Updater". The icon should look like this:

9. Once the program is opened, you will want to connect your SCT device to your computer, via the USB cable that is provided. After you have connected your device, click on "Live Load Tunes".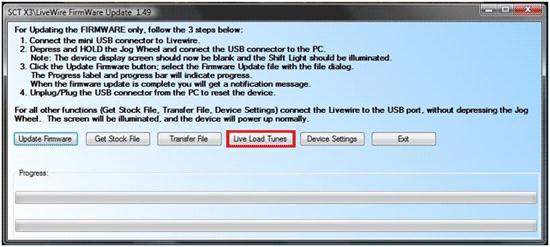 10. At this point, Another screen should pop up that has 3 slots to choose from, and above those, there should be a "Browse" bar. You need to click on "Browse", find your tune that you had previously downloaded from your email, select it, select which slot you want it to be on in your tuner, and then hit "program".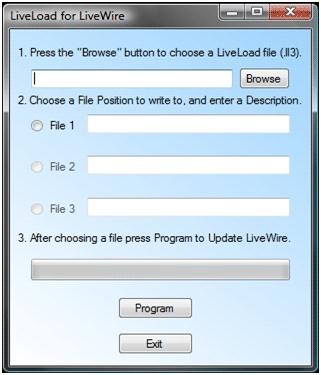 11. Once everything has loaded, you can close your programs, and disconnect the device from your computer.
12. CONGRATULATIONS! You have just uploaded your first tune! Now, go plug in that bad boy and enjoy! Remember, always drive safely, and never abuse the privilege of having your driver's license!
Tech Guide provided by AmericanMuscle customer service rep Dan Menna. 5.16.08
FItment includes: • 1994, 1995, 1996, 1997, 1998, 1999, 2000, 2001, 2002, 2003, 2004, 2005, 2006, 2007, 2008, 2009, 2010, 2011, 2012, 2013, 2014, GT, V6, Mach 1, Bullitt, Cobra, GT500, Boss Mustangs