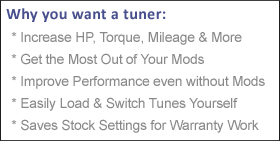 Power and Performance
. The SCT Livewire Touch Screen Flash Device is not just another flash programmer - it is the most advanced tuner on the market. Featuring a 4" Color Touch Screen display it comes pre-configured with SCT's DYNO Proven Strategy Tunes designed for your Mustang, you will increase Horsepower and Torque, throttle response across the entire power-band, & more.
Save Gas, Save Money!
SCT Maximum Fuel Economy tunes are designed to increase your Fuel Mileage. Gains are typically up to 1-2MPG and depend on your driving style. SAVE money as you drive.
Performance Calculator.
Measuring your Mustang's Horsepower, Torque, 0-60 ET, ¼ Mile ET and Fuel Mileage has never been easier. The Livewire TS accurately estimates your vehicle's performance based on data monitored from your ECU. Measure performance gains before and after you make vehicle modifications, plus monitor your fuel economy!
Automatic On / Off / Sleep Mode.
Tired of devices that stay on after the ignition is turned off? The Livewire TS features both a Sleep & Auto Off mode. 2 minutes after the ignition is turned off, Livewire TS goes into sleep mode, drawing very little power. After 2 days of inactivity, it automatically turns itself off to save your vehicle's battery.
Rear View Camera Input.
The Rear View Camera Input Connector is built-in to the Livewire TS OBD-II Cable for easy connection of most aftermarket Rear View Cameras!
Diagnose, Read and Clear DTC Trouble Codes.
Read and clear trouble codes without expensive trips to your dealership or mechanic.
Easy to load; easy to restore.
When you load your tune on the vehicle, the tuner automatically stores your vehicle's factory settings. To return the vehicle to its factory settings, just plug the tuner back in, select the option to restore the factory settings, and you're done.
SCT Livewire Touch Screen Flash Programmer Features:
Pre-configured with Dyno Proven Tune Files
Stores up to 10 Custom Tune Files
4" Color Touch Screen Display
Diagnose / Read / Clear DTC Trouble Codes
Performance calc for 1/8 Mile ET, 1/4 Mile ET and 0-60mph with estimated HP & TQ
User Adjustable Features and Graphics
User Adjustable Warning / Alerts
High Speed Datalogging
Automatic On / Off / Sleep Mode
Rear View Camera Input
SCT User Adjustable Parameters:
WOT Fuel Adjustment
Idle RPM
Spark Adjustment
Transmission Shift Points
Axle Ratio
Fuel Injector Size
Tire Size - Rev / Mile
Air Intake Selection
Cooling Fan Temps
Traction Control On / Off
Rev / Speed Limiters
Two Step On / Off RPM
* Not all adjustments are available on all models/vehicles.
We also offer the SCT Livewire Touch Screen Tuner with 3 Free Bama Custom Tunes and Free Tunes for Life.
Just click your year/model -
Mustang Fitment:
1996, 1997, 1998, 1999, 2000, 2001, 2002, 2003, 2004, 2005, 2006, 2007, 2008, 2009, 2010, 2011, 2012, 2013, 2014
Details >>