Installation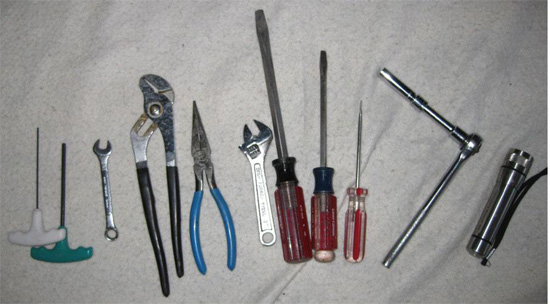 REMOVAL of the Factor Air Filter Element and Hose:
Disconnect the mass air meter wiring harnessthat is connected to the inlet tube, next to the air filter. There is a red tab on the connector. Push the red tab away from the inlet tube. You will now be able to pull the connector from the inlet tube.




Remove the one (1) bolt that holds the factory air filter box to the fender.Use a 10mm socket wrench. This bolt will NOT be reused during install.

Loosen the hose clamp that secures the factory intake tube to the air filter.Remove the factory air filter. Save the 2 rubber grommets on the bottom of the factory air filter box for reinstallation.




Remove the mass air meter sensorthat is attached to the factory air filter box cover (that you just removed from the car) to reuse with the new cold air intake. Use a 20T Torx wrench to remove the 2 screws. The 2 screws will NOT be reused for this installation. Set aside the stock mass air meter sensor for later installation. Be careful not to drop or bang this part.




Remove the factory vacuum line from the stock intake tube.First, remove the hose clamp. Use a flat head screwdriver to pry the clamp apart. This can be removed completely, as you will NOT be reusing this hose clamp during the installation. Once you have the hose clamp removed, gently pull the plastic reducer out of the rubber tube. (Note: You may need to move to step 6 if the reducer is not coming out easily. Removing the inlet tube from the throttle body may provide some additional leverage).



Loosen the hose clamp that secures the inlet hose to the throttle body.You can use either a flat head screwdriver or an 8mm socket wrench. Remove from the car.





INSTALLATION of the Steeda Cold Air Intake
Install the long silicone hose on the small opening of the inlet tube(the air filter side). You will need to use the smaller (#64) of the 2 hose clamps to secure the hose to the inlet tube.Install the short silicone hose on the large opening of the inlet tube(the throttle body side). Use the larger hose clamps (#72) for secure the hose to the inlet tube. Only secure the hose clamp to the inlet tube. Loosely fit the 2nd hose clamp that will attach to the throttle body.







Install the short piece of 5/8" hosebetween the factory vacuum line and the stock intake tube. Use the two small hose clamps and secure it into place. (Note: some recommend switching step 2 with 3 first. I found it easier doing it this way).



Install the intake tube to the throttle bodyand tighten securely. You want to make sure you have no air leaks as you now attach everything.

Assemble the billet meter to the air shield and to the air guide(circular piece of plastic). Remove all plastic protective coating from air shield. Make sure to put the provided gasket in between the meter and the air shield before securing. Also make sure the hole for the factory air sensor is pointing towards the back of the car, as you will be reinstalling the mass air sensor meter next.



Install the factory mass air meter sensor.Use the 2 small screws provided to secure the stock mass air meter sensor to the billet aluminum meter body. You will need to use a 20T Torx wrench. Make sure to install the sensor with the arrow for air flow pointing towards the throttle body. (See image above).
Install the edge molding onto the air shield.Start on the bottom and work your way around. You can use a soft rubber mallet to tap into place if you like. You can use your hands to crimp it tight, or use a pair of adjustable pliers. I also found it useful to not secure it tightly at the top, until after you install the air filter element.

Install the air shield bracket.Loosen the bolt securing the ABS distribution box (driver side front). Slide the fork end of the bracket in between bolt head and rubber washer. Leave the bolt loose for now.









Install the cold air filter assembly(billet meter, air shield) into the factory location in the car. Insert the 2 studs on the bottom of the air shield into the stock location. Make sure the rubber grommets are attached and the studs are inserted through the grommets.



Attach the air meter to the air inletand secure with hose clamp.

Attach the wiring harness for the mass air meter sensor.

Install Air filter element.Secure the air filter using the supplied large hose clamp.



Secure air shield using air shield bracket.Secure the bracket to the bottom of the air shield. There is already a factory drilled hole. Secure the nut on the air shield end, and the bolt on the ABS distribution box as shown in step7.

Make sure to check over all connections.Also be sure to remove any tools materials inside of the engine compartment. This particular CAI comes with manufacture decals, that you may want to include on the air shield. Below is a completed picture of the project.



Congratulations! You have installed your new cold air intake! Enjoy!
Remember, you MUST now tune your car BEFORE running it


Installation instructions provided by AmericanMuscle customer Al Frear 2.19.10