Sumitomo's HTR Z III
series tire is an ultra high performance summer tire. The aggressively designed 275/35ZR18 delivers extraordinary performance in either wet or dry conditions, on and off the track.
Uncompromising traction and handling.
The HTR ZIII's five rib asymmetric tread design pattern merges cornering with straight line stability. Siped tie-bars reinforce block rigidity for control and enhance wet traction.
Excellent anti-hydroplaning characteristics.
Long lateral grooves evacuate water from the center of the footprint. Four straight, wide grooves further heighten drainage for improved wet performance. A 3-D wave wall increases drainage capabilities and reinforces center rib stability.
Smooth ride; minimal road noise.
In addition to outstanding performance, the HTR Z III Series Tires deliver a smooth ride with minimal road noise. That way you and your passengers can be treated to the sounds that really count, like the growl of your motor, the whine of your supercharger, or the bass thumping from your Mach 1000 stereo system!
Real world durability.
Rigid, wide steel belts, high tension casing plies, and advanced silica tread compound construction means these tires are designed to last.
Best Fit:
18 x 9 Inch 1994-2004 Wheels
Features:
Y-speed rating for true high-performance vehicles
Direct replacement sizing for premium performance vehicles
True performance upgrade sizing for performance segment vehicles like the Mustang
Specifications:
Hydroplaning Resistance: 8.6
Wet Traction: 8.5
Dry Traction: 9.4
Snow Traction: N/A
Ice Traction: N/A
Steering Response: 9.1
Cornering Stability: 9.1
Ride: 8.5
Noise: 8.3
Tread Wear: 8.3
KEY: 10-8.6 Oh Yeah!, 8.5-6.6 Above Average, 6.5-4.6 Average, 4.5-2.6 Acceptable, 2.5-0 Unacceptable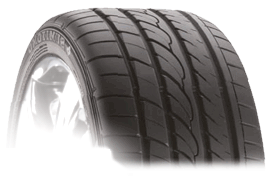 NOTE: These are ultra high performance summer specific compound and tread tires. Use during the summer and warm temperature months will result in superior traction over "all season" tires. Use during the winter months/cold temperatures significantly reduces traction and increases stopping distance as the compound becomes less sticky.
Mounted & Balanced: Please allow an extra 1 to 2 business days on your wheel and tire package for mounting and balancing.
Mustang Fitment:
1994, 1995, 1996, 1997, 1998, 1999, 2000, 2001, 2002, 2003, 2004
Details >>