What is the ideal operating temperature for a Mustang's motor oil?
The optimum motor oil operating temperature for the Ford Mustang ranges from about 180 degrees to about 210 degrees Fahrenheit. At less than 180 degrees the oil doesn't flow as well resulting in increased wear and above 210 degrees the viscosity drop starts to become excessive, leading to increased wear. As such, keeping your oil temperatures within this optimal range is very important.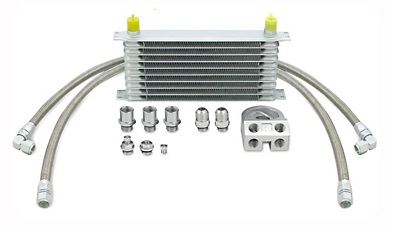 Should I get an aftermarket oil cooler for my Mustang?
For the average Mustang driven normally, the factory oil system is adequate at maintaining the oil temperature in the proper range, but any extra stress added to the motor's job, such as towing or performance use, and the oil system needs help keeping temperatures under control. This is where a well-designed oil cooler comes into play and there are a number of different designs for oil coolers. Often, OEM Mustangs use an oil cooler that circulates engine coolant through a housing that the motor oil passes through. This style of cooler works to a point but has a limited capacity. Better cooling is achieved by a good aftermarket oil cooler.
Types of Mustang Oil Coolers
There are a few types of oil coolers generally used in the aftermarket, one being the tube and fin design, another is a stacked plate design, as well as some other less often used types such as heat sink designs. At the low end of the price range you will generally find the tube and fin coolers with the stacked plate designs costing more. Also, the high end oil cooler kits will include a thermostat so that the oil will bypass the cooler at low temps helping to get the oil up to operating temps quicker. Most aftermarket oil cooler kits come with an adapter that fits on between the oil filter and the oil filter mount on the motor. From this adapter, hoses will be attached to connect the oil cooler itself to the oil system. The oil cooler needs to be mounted where it will receive good airflow. Most choose to mount the oil cooler in front of the radiator where the coolest air is flowing in as the car rolls down the road.
Other systems on your Mustang can also benefit from aftermarket oil coolers, such as the transmission, power steering and rear axle. All Mustangs that come from the factory with automatic transmissions will have a transmission oil cooler already installed, but most are just a simple looped oil line inside the tank on the radiator. These vehicles will reap great benefits with an aftermarket oil cooler added as these are much more efficient than the factory oil cooler.
A good oil cooler is definitely something to consider adding to your performance-minded Mustang as it will allow the motor live longer and perform better.