Aftermarket 1979-1993 Fox Body Headers vs. Stock
Swapping the stock shorty headers with an aftermarket design in your Mustang is a very smart choice. The stock Fox Body headers are a major restriction point in the exhaust system because of their inconsistent shape. The Ford fitted headers are of a cast iron variety and were not made exclusively for the Mustang. Due to mass production for different vehicles, very sharp kinks and bends in the stock headers had to be made and severely reduce airflow. At some points, the tubing may be squeezed to only 1" cross-section! Amazingly, however, the stock heads are good for a 5-7 HP gain over the 1986 header design… who would've thought? Regardless, they are a major choke point on the exhaust system.
Headers from the likes of BBK, Ford Racing, Pypes, JBA and other aftermarket exhaust companies all have all designed mandrel-bent Foxbody 5.0L specific pieces to eliminate these factory-header problems, maximize airflow and still be a direct bolt-on without clearance issues. Their offerings come in different tube diameters as well as finish, which have different benefits. Let's go through them, starting with shorty headers versus long-tube headers.
Which Headers Should I Put on my Fox Body?
• Replacing your stock exhaust manifolds with better flowing aftermarket headers opens up a ton of horsepower and torque that the stock units leave untapped

• Shorty headers are good for street builds by increasing horsepower without sacrificing low end torque

• Long tube headers give you an even greater boost in power than shorty headers, especially higher in the RPM band

• Aftermarket control arms are the best method to increase room for bigger wheels and tires while beating the stock control arms in virtually every way possible

• Installing an H-pipe or X-pipe in addition to new headers create an overall better flowing exhaust and collectively produce more power on paper than the two mods together would when separate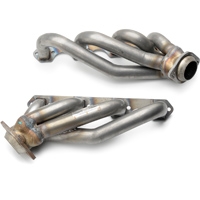 Shorty Fox Body Headers:
For a mild street build 5.0L, shorty headers are the unanimous victor. They will give a slight increase in horsepower (really, they recover horsepower that was otherwise wasted being used to push the air out in the restricted stock manifold) but more importantly, short-style (particularly the unequal variety) headers do not sacrifice low end torque.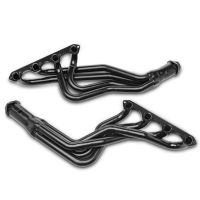 Long Tube Headers:
Long tube headers, on the other hand, increase horsepower and torque at higher engine speeds and are better suited for more aggressive engine builds. Furthermore, sometimes clearance issues occur and are typically more complicated to install. Long tubes also may require other modifications of the exhaust system to allow them to fit, i.e a shorter H or X pipe. However, if you seek a track monster, long tubes will definitely free up more power than their shorter brethren. On larger displacement Mustang engines, longtubes are often the popular choice.
Fox Body Mustang Header Sizing
The aftermarket exhaust header manufacturers offer many different available pipe diameters for different motor applications – sometimes this can be quite confusing. The most common sizes available are 1 ½, 1 5/8 and 1 ¾ diameter piping. For a mild build (stock 5.0L displacement), consider using either 1 ½ or 1 5/8 diameter headers. First of all, these two sizes will fit the factory Fox Body H-pipe with no modifications necessary. Secondly, they will not sacrifice low range torque. Generally speaking, a smaller diameter pipe generates more torque because of the greater velocity of the air flowing through it. Larger pipes have more room for the air to flow and thus overall airflow is slower (but greater airflow), which moves some grunt from the low end and adds it to the top end. In comparison, a 5.0L V8 usually runs out of steam around 5000 rpm, thus the smaller diameter tubes are more beneficial for a stock displacement street machine. On the other hand, small exhaust on a larger displacement engine (5.7L or 347 cu) will severely hamper exhaust flow and thus overall engine power as well. It is a bit of a balancing act between engine displacement, airflow and air velocity.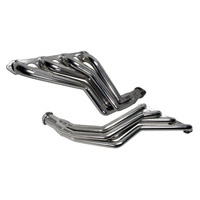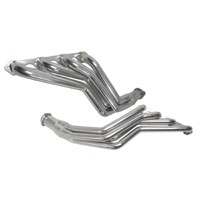 Which Mustang Exhaust Header Finish is Best?
Another decision to make when purchasing aftermarket headers is what finish to buy. Quite often, the same header is available in a bare finish (just the stainless steel tubing), chrome finish or ceramic finish. None of the finishes offer any performance advantages over the other. Rather, they influence how the exhaust manifold will age. Briefly, stainless steel headers are not treated in any way. They are a bare finish. Over the years, they may age and otherwise are the hardest to keep looking like new. Chrome headers are great for engine dress-up but require maintenance to keep them clean and prevent the chrome from tarnishing. Finally, ceramic (the most expensive), thanks to a higher heat resistance, will not tarnish, stain or otherwise deform due to the intense heat over the years.
Fox Body H-pipes, X-pipes and Catalytic Converters
The next area to address is the stock H-pipe. As mentioned, the stocker does a pretty good job. But, that design is at least 20 years old. Since then, the aftermarket has definitely made some vital improvements. The first option to consider is whether to replace the factory H-pipe with another H-pipe or favor an X-pipe instead. Additionally, do we go with an off-road variant or high-flow cats?
Should I Install a H-pipe or X-pipe on my Fox Body?
Quick and dirty, performance differences between the two are almost negligible. It is said that a properly made X-pipe will favor high end power gains versus an H-pipe. In most street motors, however, the only noticeable difference will be sound. H-pipes produce a deeper, baritone like growl akin to the muscle car sound from the 60's. In comparison, X-pipes are generally louder and emit a raspier exhaust note.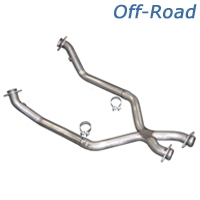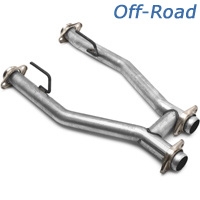 Catalytic Converters or an Off-road Exhaust Setup?
The final element to consider when installing a high-performance H or X pipe is the issue of catalytic converters. Quite often, aftermarket mid-pipes are available in either a catted (has catalytic converters) or off-road form. The former, as the name implies, employs high-flow catalytic converters to meet emission requirements but sacrifices some power, due to greater air impedance, in the process. The latter is a cat-less version, offering better airflow. However, technically speaking, off-road mid-pipes on Mustangs are not legal for road use in most regions. This is definitely something to take into account when installing a new mid-pipe. It becomes a crucially important detail if the car must pass an emissions test or safety test. It is best to consult your regions laws regarding this issue before making a decision.
Fox Body Mufflers - Overview & Options
The last part of the exhaust system, the mufflers play a vital role in the overall sound of your Pony. Whether it growls, rips or outright roars, the mufflers are responsible for this. Keeping with the age old mantra of 'the stock exhaust system isn't awful', neither are the mufflers. Rather, swapping out a set of stock mufflers for an aftermarket version is mostly for sound preference. There are definitely some air restriction differences as well (aftermarket are less restrictive) but the major factor in muffler replacement comes down to sound. Flowmaster, SLP and Pypes are some big players in the exhaust industry, each known for their own respective acoustic style. If you're seeking the classic American thunder sound, the Flowmaster 40's, Flowmaster Super Flow 44's and Pypes Violater series are a top choice. Looking for a note that is a little more raucous? SLP Loudmouth or Pypes Bullet style mufflers are more than capable of popping ear drums… from miles away, at that.
Conclusion
To wrap things up, let's reiterate the main idea. A proper exhaust system does not add horsepower or torque to your Mustang's engine. Rather, it frees up horsepower and torque by optimizing airflow and lessening the work required to push exhaust gases out of the motor. Replacing the restrictive stock Fox Body headers with an aftermarket variant is a great first modification for any 5.0L Mustang engine. Coupled with a high-performance mid-pipe, a strong foundation has been laid to build one powerful Fox Body.
- CMC