What makes a Mustang Cold Air Intake so Exceptional?
All performance mods increase your car's functionality, so why should a Cold Air Intake be your first upgrade? A simple answer backed by more complex reasoning – It's the best bang-for-your-buck upgrade you can purchase for you 2010+ Mustang and has many different advantages which we will be discussing. Here's a quick rundown of what you're getting when replacing your stock unit:
• Increased power and efficiency
• Better mpg
• Reusable filter
• Improved performance of future modifications
• Affordable, easy to install horsepower
• Underhood styling

How does a Mustang's Cold Air Intake Work?
Your car's motor requires oxygen to make power and colder air is denser, containing much more oxygen molecules than the heated air within the engine compartment. Aftermarket CAIs (from here we will use "CAI" and "Cold Air Intake" interchangeably) flow better, draw cooler air flowing from the fender well and have a much larger filter and intake tube than the stock setup. Thus, a CAI can draw more oxygen into the motor, creating a more powerful combustion and better, more efficiently flowing system.
Does a Mustang's CAI do more than Increase Efficiency and Power?
Moving from the more technical aspects of intakes, a Cold Air Intake offers much more than just better airflow. Many Mustang owners install a CAI simply because they are much more esthetically pleasing, complementing the aggressiveness and under hood styling of the car. Some devoted enthusiasts will even go as far as purchasing or painting intake tubes to match the exterior color or custom design theme.
A CAI also helps better utilize future mods. Upgrades that increase the need for airflow like custom tunes, better flowing exhaust and superchargers/turbos are positively affected by being able to pull more air through the motor and in some cases, such as turbos and superchargers, an intake upgrade is mandatory.
Will Installing a Cold Air Intake on my '10 - '13 Mustang Increase MPG?
Yes. The increased airflow and subsequent power allows the motor to run stronger, more efficiently and thus burn less fuel. Exact mile per gallon gains are constantly debated but don't be surprised if you pick up an extra 1-2 mpg on the highway or around town. Just remember the biggest factor for mpg has nothing to do with mods but rests with the relationship between your right foot and the gas pedal.
Also note that aftermarket intakes generally come with a reusable filter. This will save you money and time you would typically spend replacing the stock, paper air filters.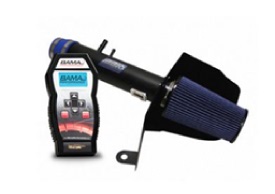 Does a Mustang need a tune with a CAI?
The answer is maybe. Some Cold Air Intakes outline specific requirements that entail a retune while others are produced with the intent of working under factory settings. The difference between a CAI that requires a tune and one that does not is intakes that do not require a retune utilize the factory 3" inlet while intakes that do require retune use tubing that can be as large as 4.5" in diameter. Make sure you know which type of CAI you're getting before you make a purchase.
If a Tune is not necessary, why should I get one?
While not every cold air intake requires a tune, it is highly recommended you do so. While CAIs that do not need a retune will flow better than the factory air box, the power increases and added benefits from an untuned CAI swap are minimal. However, with a tune you will see a significant increase in horsepower and torque as well as smoother throttle response. This will leave you with room to modify other engine components in the future and have your Mustang running the way it should. Also, if you want to see 20+ horsepower from your setup or are planning for further power modifications you will need the added airflow from a larger intake tube and a tune to make the proper adjustments.
More information on Tuners and how they will can be found here.
What Options do I have when purchasing a CAI?
All Cold Air Intakes draw air from the fender well, however, some vary in the way in which they accomplish this. For 2010+ Mustangs the main difference is whether the unit is open or closed box. Most intakes are open box but some companies such as AEM offer closed box intakes. The idea is a closed box keeps out more of the hot air from the engine bay while keeping debris from clogging up the filter. The difference between a closed and open box are negligible and come down to personal preference.
Some other companies offering Cold Air Intakes:
- Airaid
- SR Performance
- BBK
- JLT
- C&L
- Roush
- Steeda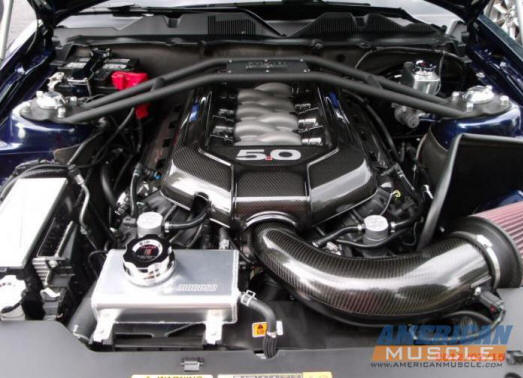 How do You Install a Cold Air Intake on a Mustang?
A CAI is one of the easiest mods you can do to your Mustang. Requiring as little as a screwdriver and one hour of time you can bolt on instantly noticeable horsepower and torque. A complete novice with a little time can replace their intake in short time with little effort.
As a general example you can view a guide to putting on a C&L Cold Air Intake and note that most CAIs follow a similar if not identical installation pattern.
A video example of an Airaid CAI being installed will give you a good idea on what does into the installation process, regardless of the manufacturer.
Does the Material my CAI is Made from Matter?
When it comes to choosing an intake by the material it comes down more to personal preference than performance.
- ABS plastic keeps the air flowing through the intake cool. This ensures minimal change in temperature caused by engine heat.
- Chrome finished intakes tend to be a more popular look than ABS plastic but draws in more heat. This may cause the air passing through the intake to reach higher temperatures.
- Carbon fiber offers both the styling value of chrome with the cooler intake temperatures of the plastic intakes.

The choice comes down to what you're willing to spend and what your goals for the car will be.
So, Why Should a Cold Air Intake be my Mustang's First Mod Again?
- Big gains in horsepower and torque right from the box
- Affordable gateway mod that will complement many future upgrades
- More mpg
- Comes with a reusable air filter
- Very easy installation
- Looks much better than the stock air box

A Cold Air Intake is the first Mustang mod you should buy and a perfect starting place for a novice looking for a place to begin customizing or the experienced enthusiast looking for more out of their Mustang. Be sure to check out our 2010 – 2014 cold air intakes.