Should I upgrade my 1996-2004 Mustang's Upper Intake Plenum and Throttle Body?
When Ford first came out with the 4.6L modular engine for the 1996 Mustang, it disappointed Mustang owners as it was a step down in many ways from the popular 5.0 engine. Ford quickly tried to remedy the situation in 1999 by introducing the New Edge Mustangs with the performance improvement intake manifold and improved heads. Thankfully for New Edge owners, there are still a number of mods that can give you even more of a performance boost. By now, most people are already familiar with the ubiquitous cold air intake. A couple of mods that are often overlooked by New Edge Mustang owners are the throttle body and upper intake plenum. The great thing about these is they are inexpensive and can be replaced by anyone who knows how to turn wrenches.
Advantages of Upgrading a 1996-2004 Mustang's Upper Intake Plenum and Throttle Body
• Air is moved into the engine with higher velocity. This opens your car up to better utilizing other modifications and creating a more efficient engine

• Parts are larger and less restrictive, allowing for more airflow and increased power

• Factory intakes are more receptive to soot and carbon buildup
1999-2004 Mustang Intake Overview
How does your Mustang's air intake actually work? The air entering your engine goes through a pretty long list of parts. It goes through the cold air intake,
throttle body
,
upper intake plenum
, intake manifold, cylinder heads, then finally into the combustion chamber. The intake manifold and heads were already improved in the New Edge Mustang, but the throttle body and upper intake plenum remain a choke point in the system. Not only are these parts too small, but the intake plenum also incorporates a 90 degree turn.
What are the advantages to an aftermarket throttle body and intake plenum?
Aftermarket parts, such as the SR Performance 70mm Throttle Body (96-04 GT) combined with the SR Performance Upper Intake Plenum (96-04 GT), will open up this area and help air move with higher velocity into the engine. Not only are these parts larger and less restrictive than the stock components, but let's face it, your New Edge, 1996-2004 Mustang could probably use a little TLC by now. On higher mileage cars, the inside of the intake will have soot and carbon buildup. This buildup can be up to and sometimes past the throttle body. You can see in these customer submitted examples, how much the combustion gases can dirty up your intake.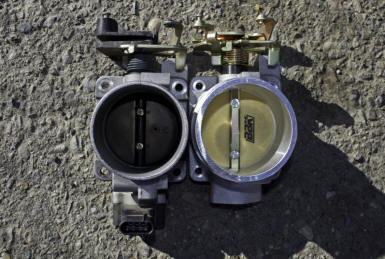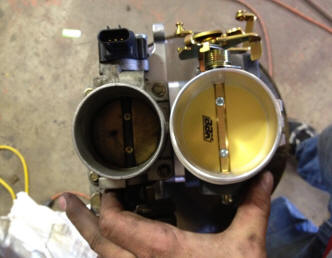 Examples of carbon buildup on the outer side of the throttle body
This kind of buildup not only makes your restrictive air intake even worse, it can actually make your throttle body stick and cause problems, such as rough idle. So do you and your Mustang a favor by replacing these parts with high quality aftermarket counterparts. If you would like additional information on how a throttle body works and which size to choose, you can take a look at Mustang Throttle Bodies – Is Bigger Always Better? (96-04) for a more detailed explanation.
FItment includes: • 1994, 1995, 1996, 1997, 1998, 1999, 2000, 2001, 2002, 2003, 2004, GT, V6, Mach 1, Bullitt, Cobra Mustangs