2010-2014 Mustang Grille Buyer's Guide
• Grilles come as either a direct replacement of the stock grille or an overlaying model that attaches on top of the stock grille

• Depending on the desired look, Mustang owners can replace the upper grille, lower grille, or both

• Aluminum constructed grilles are durable and lightweight, and come polished or with a chrome-plated finish

• For less obstructive patterns, Mustang owners should consider a grille delete, which will improve airflow and cooling
What Does a Grille Refer to on a Mustang?
A grille is located on both the top and bottom of the front bumper of your 2010+ Mustang and is sometimes referred to as an upper and lower fascia. Consisting of an opening of several slits or patterned holes, the grille lets air or water enter and leave but keeps larger objects out. Many Mustang enthusiasts will replace their factory grilles with better looking and stronger aftermarket models. If you want to better complement your car, or are looking for a new style altogether, replacing your front grilles are a great way to achieve the look you desire.
Overly vs. Replacement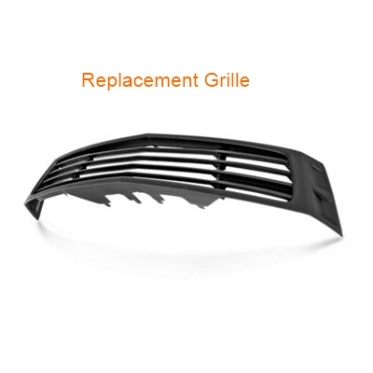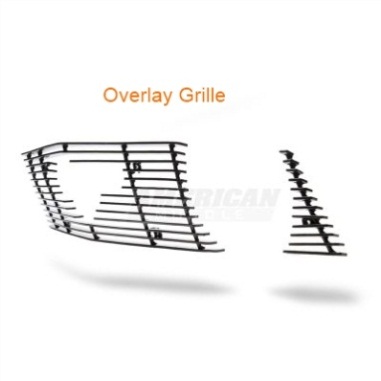 Grilles come as either a direct replacement for the stock grille from the factory, or an overlaying model that attaches over top the original. While installations of most grilles are extremely easy, you must decide if you want to completely replace the factory grille or simply cover it with an overlay. Be sure to check the product descriptions to ensure you're purchasing the desired type.
When choosing which grille type is right for you, the only thing to consider is installation time and difficulty. While overlay grilles are incredibly easy to put on, replacement grilles can vary in application. Some require little more than popping out a few screws and others may require a couple drill holes to hold the grille in place. Regardless, replacing your Mustang's grille is one of the easiest mods you can do and rest assured, they come with instructions for a perfect-fit installation.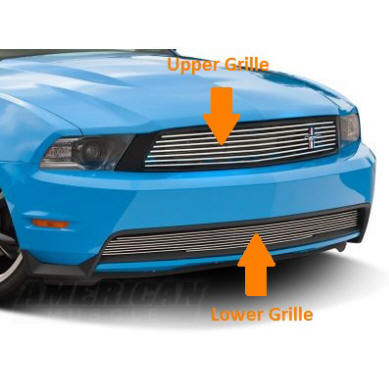 Choosing what to Replace
With the 2010+ Mustang you have the choice of replacing both the upper and lower grilles. You can also choose to replace on or the other, depending on what look you are going for. Many Mustang owners choose to replace both and go with a matching theme but whatever your choice, there are specific things to look for.
Obviously you want to go with a look that will match the style and theme of the rest of your car. So, what are some of the different choices you have?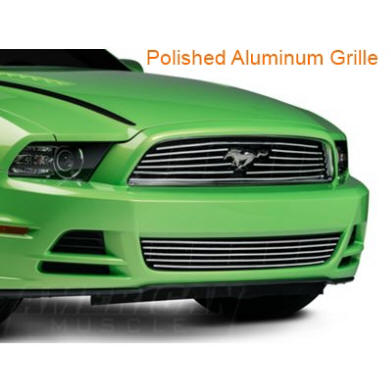 Mustang Grilles - Materials & Make
Many grilles are of an aluminum construction, but they are also sometimes made from OEM-grade plastic. Durable and lightweight, aluminum is an ideal material for replacing your stock plastic Grille. Aluminum can be powder coated and comes polished or with a chrome-plated finish. When a grille is described as being "Billet," this refers to being designed with bars or patterns and typically made from a solid chunk of aluminum for added strength and durability.
An advantage to aluminum grilles, though slight, is they tend to be more durable than plastic. Plastic grilles, on the other hand, are more scratch-resistant than their aluminum counterparts. When it comes time to choose, both materials are ideal and should allow you to choose the style you want first, then worry about what kind of construction it has.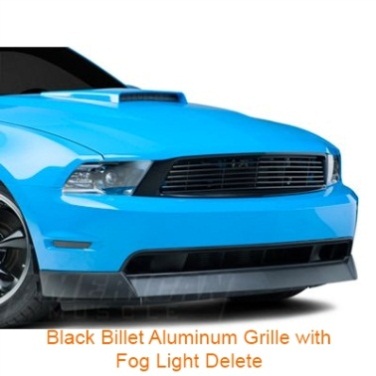 Mustang Grille Deletes and Removal Options
Some designs use less obstructive patterns that can improve airflow and cooling. If you're looking for better airflow, a grille delete or one that has a fog light delete for GT and GT500 models might be ideal for you. Some grilles will fit without replacing the fog lights but come with optional inserts to block off the lights, as well as emblems.
Another factor to consider is whether you want to keep your stock emblem, replace it or purchase a grille that removes the emblem completely.
Mustang Grille Fitment
Many grilles will fit over top of the stock grille in about a half hour using nothing more than basic hand tools. For an easy reference, check out this step-by-step installation guide for an overlay grille. Replacement grilles, such as the CDC Performance Grille for the 2013 Mustang, replace the stock setup completely and may require minor modifications but shouldn't take you longer than an hour or so.
FItment includes: • 2010, 2011, 2012, 2013, 2014, GT, V6, GT500, Boss Mustangs