This Mustang Parts Installation Guide Works For

Black Boss C-Style Side Stripe (05-14 All) 26145

Fitment Includes:

- V6 2005, 2006, 2007, 2008, 2009, 2010, 2011, 2012, 2013, 2014
- GT 2005, 2006, 2007, 2008, 2009, 2010, 2011, 2012, 2013, 2014
- GT500 2007, 2008, 2009, 2010, 2011, 2012, 2013, 2014
- Bullitt 2008, 2009

Matte Black Boss C-Style Side Stripe (05-14 All) 26148White Boss C-Style Side Stripe (05-14 All) 26146
Installation
Step 1:
Spray the front fender with a generous amount of the soap & water mixture as shown.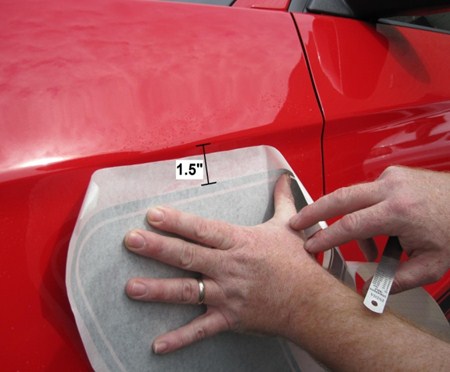 Step 2:
Peel the adhesive backing from the vinyl and position on the front fender using the following measurements:1.5" From the body line on the fender.4.5" From the wheel well to the flat edge of the vinyl.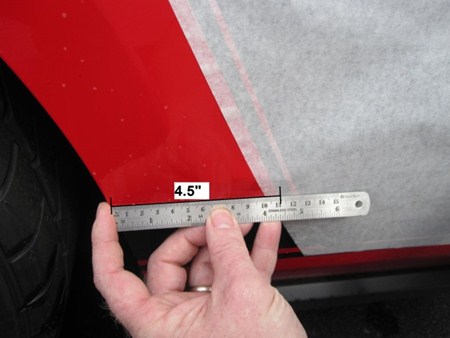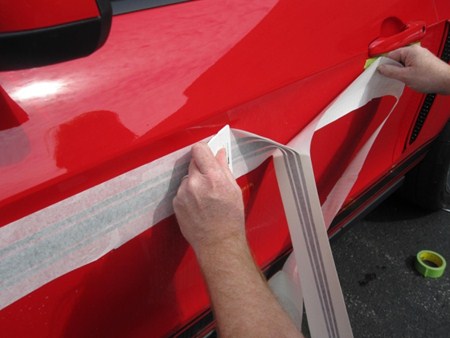 Step 3:
Once your measurements are correct, work your way back on the fender & door to install the rest of the vinyl. Make sure to keep the paint surface well lubricated so you can adjust the vinyl once it's installed. Use the supplied plastic squeegee to remove any air bubbles.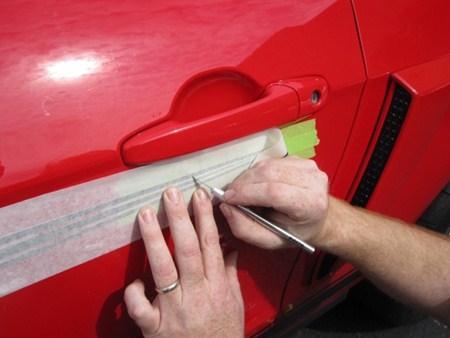 Step 4:
Before laying the vinyl over the door handle opening, lay down some masking tape flush with the bottom of the handle and over the opening. Lay the vinyl over the tape (making sure that you still have a 1.5" gap from the vinyl to the body line) and use a sharp razor blade to carefully cut out the vinyl for the handle opening. Be careful not to cut through the masking tape and into the paint.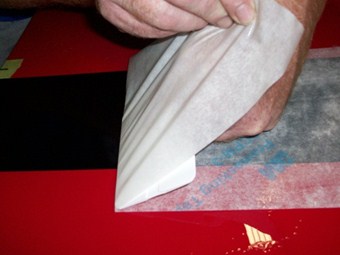 Once you have the handle opening cut out, pull the vinyl up and remove the masking tape. Then reinstall the vinyl over the paint. Finish installing the side stripe by laying the lower portion over the rocker panel of the car. Use the supplied squeegee to remove any air bubbles. Once the vinyl has had some time to dry, peel the protective coating from the vinyl and use your razor blade to cut out the door to fender opening.
Step 5:
Generously soak the lower quarter panel in the soap & water solution and lay the vinyl down using the side marker light cutout as a guide.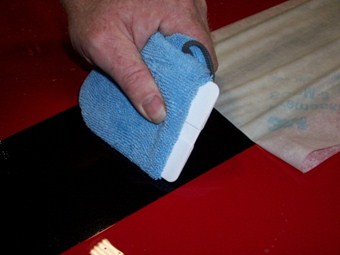 Step 6:
Once the vinyl has had some time to dry, peel off the protective coating, starting at the rear of the vehicle. Use a sharp razor blade to cut any excess vinyl at the wheel well opening and either cut it flush or tuck it inside the wheel well as shown.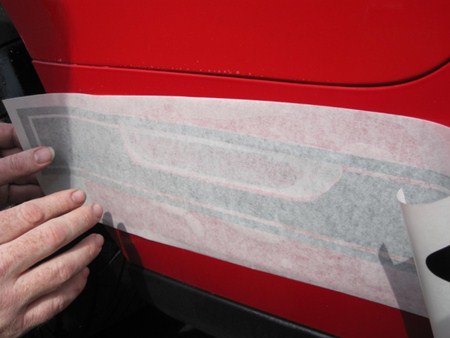 Repeat Steps 1-6 for other side of vehicle to complete the installation of your Mustang Boss Stripe Kit.