Installation
INTRODUCTION:
Ford Racing Performance Parts has developed a Closed Crankcase Ventilation kit for it's engine dress-up/rocker arm cover kits. This kit is 50 states "Street Legal". The Ford Racing Closed Crankcase Ventilation kit will provide a PCV system that will control crankcase vapors.
OVERVIEW:
All new passenger cars and trucks sold in the USA since 1968 were required to have a factory installed "closed" PCV system. This kit can be used on 1968 or later "Street Vehicle" that requires the use of a closed crankcase system. This system eliminates crankcase vapors from entering the atmosphere, and also helps keep dirt from entering the crankcase.
The PCV valve allows the manifold vacuum to purge vapors from the crankcase; this vapor is then introduced into the combustion chamber via the intake manifold and is burned with the fuel/air mixture. Clean, fresh filtered air flows into the crankcase from the air cleaner through the fresh air closure hose maintaining control of crankcase pressure.
PARTS INCLUDED IN KIT:
PCV Grommet (M-6892-E)
Breather Cap Grommet (M-6892-D)
Crankcase Breather – Closed, Push-in (M-6766-G302)
Valve Covers
INSTALLATION INSTRUCTIONS:
STEP 1: Install the appropriate grommet(s) into the valve cover openings, as required, for your engine layout.
CAUTION: THE GROMMET(S) MUST SEAL PROPERLY, ESPECIALLY IN CAST ALUMINUM COVERS. (See Figure 1.)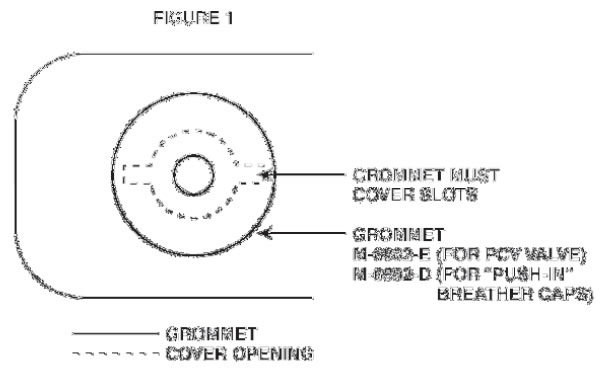 STEP 2: Install the PCV valve, with the base of the valve, into the grommet.
STEP 2A: Install closed breather cap in opposite bank rocker cover using the breather cap grommet. Confirm that all openings are covered by the grommet.
STEP 3: Re-connect PCV hose to PCV valve and to PCV vent nipple (usually at base of carburetor spacer) for non EFI. (See Figure 2)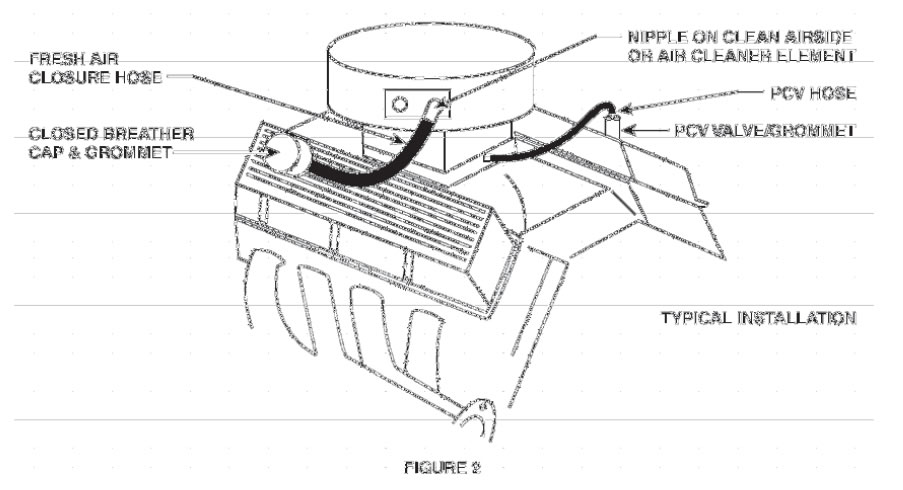 STEP 4: Install a "Fresh Air" hose, (5/8" I.D. PCV compatible material**), from the clean air side of the air cleaner element to the "closed" breather cap nipple.
CAUTION: DO NOT CONNECT ANY HOSES TO THE SAME FITTING AS THE POWER BRAKES. INSTALL BREATHER ASSEMBLY INTO THE OPPOSITE VALVE COVER FROM THE PCV VALVE. MOST AIR CLEANERS HAVE A PROVISION PROVIDED FOR THE "FRESH AIR" HOSE TO CONNECT TO. IF YOUR AIR CLEANER DOES NOT, CHECK WITH THE MANUFACTURER FOR THE PROPER HARDWARE. FORD RACING AIR CLEANER ASSEMBLIES HAVE THE PROPER FITTINGS SUPPLIED FOR CLOSED CRANKCASE VENTILATION SYSTEMS.
**PCV HOSE MATERIAL DESCRIPTION:
NITRO RUBBER, RAYON REINFORCED, NEOPRENE COVERED FORD ENGINEERING SPEC. ESE-M2D147-A