Installation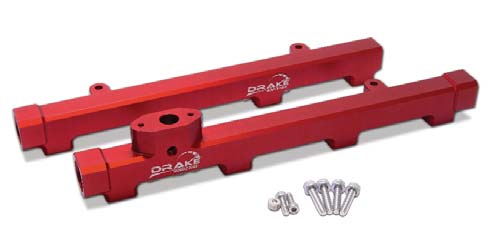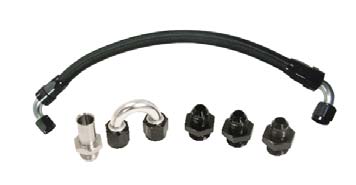 - WARNING! -
Do not smoke, carry lighted tobacco or have an open fl ame of any type in the area where installation is taking place. Highly fl ammable mixtures are always present and may be ignited. Do not carry personal electronic devices such as cell phones or audio equipment when performing installation. Failure to follow this warning may result in serious personal injury.
- WARNING! -
Do not attempt installation before relieving fuel pressure as outlined in step 1 below.
- WARNING! -
Please review these instructions carefully. If any part of this procedure seems out of your scope of capabilities, please seek a certifi ed mechanic to perform this installation.
INSTALLATION
Step 1. Relieve fuel pressure by removing the fuel pump module fuse as shown in illustration 1. Start the engine and allow it to run until it stalls. After engine stalls, crank engine for approximately 10 seconds to ensure fuel injection pressure has been relieved. If engine fi res, repeat cranking until engine does not attempt to start. Turn ignition switch to off position.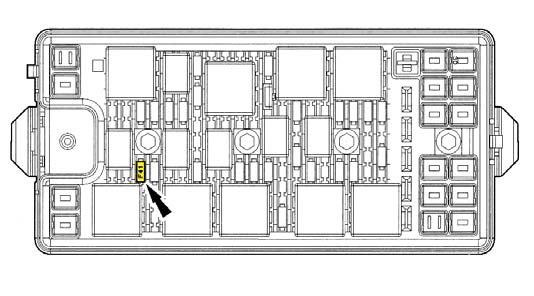 Illustration 1
Step 2. Disconnect negative battery cable from battery.
Step 3. Remove fuel supply spring lock coupling as shown in illustrations 2 & 3, using the appropriate tool (Ford Tool number 310-S039 or equivalent).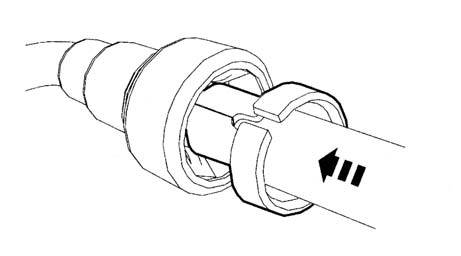 Illustration 2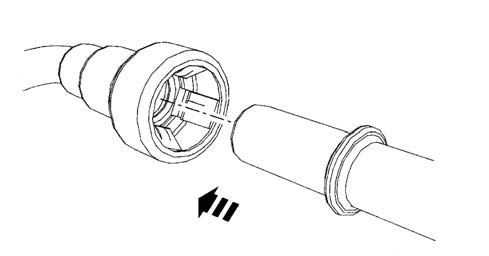 Illustration 3
Step 4. Remove the fuel rail pressure and temperature sensor from the rail by disconnecting the electrical connector and vacuum hose as shown in illustration 4.
Illustration 4
Step 5. Remove wiring harness retainers and vacuum hose retainer located on fuel rail mounting studs by pulling up with slight pressure. Push harness aside.
Step 6. Disconnect the electrical connectors to the 8 injectors.
Step 7. Remove the 4 fuel rail mounting studs.
Step 8. Place clean dry rags around base of fuel injectors. Remove the fuel rails and injectors as an assembly from the engine.
Note: There will be residual fuel that will come out of rail assembly upon removal of assembly. Make sure spilled fuel is absorbed by rags.
Step 9. Cover injector holes with clean rags to prevent debris from entering engine.
Step 10. Remove clips from fuel injector/rail assembly and gently remove injectors from assembly.
Step 11. Place fuel injectors in corresponding holes in new fuel rails. Use a drop of clean engine oil on o-rings to facilitate installation.
Step 12. Removing rag from injector holes as required, install rail/injector assemblies in the appropriate locations.
Step 13. Using the supplied hardware, install the new fuel rail mounting hardware on the manifold.
Step 14. Reinstall fuel rail pressure and temperature sensor in sensor boss on left hand fuel rail. Reconnect vacuum hose and electrical connector.
Step 15. Install fuel rail line kit (Drake Muscle Cars Part Number 7R3Z-9F972- HS) as shown in illustration 5. Do not overtighten! An AN wrench kit is recommended to prevent marring the fi nish of the fi ttings. Reinstall the fuel supply spring lock by pushing the connector into the new fi tting until it locks in place.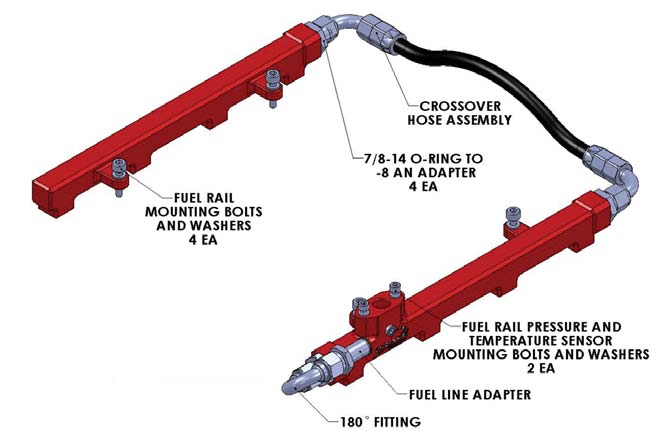 Illustration 5
Step 16. Reinstall the fuel pump module fuse and battery cable. Place rags around fuel rails in case of leaks.
Step 17. Turn on ignition until fuel system reaches operating pressure. Check for leaks. Tighten any fi ttings that may be leaking. If there are no leaks after a few minutes, make sure there is no residual fuel on engine surfaces and remove rags.
Step 18. Drive vehicle for approximately ½ hour and recheck for leaks. Tighten any fi ttings where necessary.
Step 19. Recheck for leaks any time hood is opened or if the smell of gas is detected. Do not drive if a leak is suspected!