Ways to Drop Weight From Your Mustang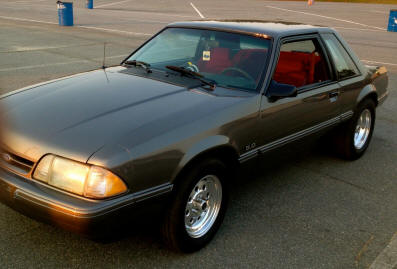 Many hot rodders understand horsepower is not a cheap commodity. Loading up on aftermarket parts can become quite expensive very quickly. One less costly, and at times a free alternative, is weight reduction. Most of us have heard the old formula: 100 lbs of reduced weight equals 1/10 second faster in the quarter mile. The formula—though more a generalization—is fairly accurate and there are numerous ways to drop weight safely from a Mustang. Reducing the overall weight can also increase the gas mileage by 1-2% per 100 pounds.
Two Main Reasons for Weight Reduction:
1. Faster ¼ mile times and quicker acceleration
2. Improved gas mileage
Mustang Aftermarket Weight Reduction
Reducing Front End Weight on Your Mustang is Vital
One great area to shed some pounds off your Mustang is the front, or nose of the car. Reducing weight from the Mustang's front end will usually yield the most noticeable results, as it allows better weight transfer at launch. You want weight over the rear tires for grip and you want the front as light as possible. One popular bolt-on for reducing front end weight on a Mustang is a tubular K-member. A Chrome-moly tubular K-member for the 96-04 Ford Mustang can shed 30-40 pounds on average! It will also provide more clearance for those tight fitting aftermarket headers. Buying a complete front end kit, which includes tubular A-arms and a coil over kit, can drop roughly 70 pounds! On the 79-93 foxes, using the mild steel kit can roughly cut 60 pounds. And of course tubular chrome moly looks really cool. Many of these kits include your choice of coil spring rate for a wide array of applications.
Drivetrain Weight Reduction
Another area it is very important to drop weight is the drivetrain. Reducing the rotational mass from the engine and drivetrain can prove to be advantageous on several levels. Not only does it drop some of the vehicles overall weight, it relieves some stress from the engine and drive line. There are several aftermarket companies that offer aluminum flywheels and driveshafts for both the 5.0 and 4.6 liter Mustang engines. These products can also improve the revving capability of the engine and thus get you into the heart of the power band quicker. This modification is very desirable for a road race or auto-cross application as an aid to where the engine revolutions are continuously climbing and hanging in the upper portion of the power band.

TIP: Fox Body owners can lose around 30 pounds of rotational weight by deleting the ac compressor and smog equipment from the engine. Of course if you're required to pass emissions the car will not be street legal.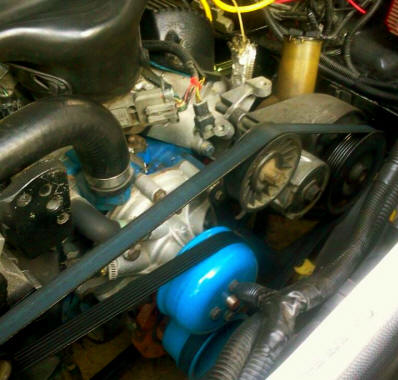 Free Mustang Weight Reduction Modifications
On the subject of weight reduction one cannot neglect the things that aren't important to safety, or the function of the car. Depending on your goals, there are a few key areas that could handle a diet. For instance, the 6 disc changer that comes stock in the new edge Mustang could be deleted to save a few pounds. Remember, every ounce adds up. Most modern aftermarket stereo head units are capable of interacting with a smartphone to play all of your favorite tunes anyway.
Mustang Rear Seat Delete Kits
Many mustang owners never use their rear seats. This is another area where dead weight can be cut loose. Many aftermarket rear seat delete kits look aesthetically perfect. Just loosing the rear seats can free up to 50 pounds.
How much weight can rear seat delete kits support?
Rear seat delete kits are intended for weight reduction and are made from the least amount of material possible. The rear seat deletes will not support any weight whatsoever.
Removing the Spare Tire and Jack
I wouldn't recommend removing the spare tire or jack and tire iron before a long road trip. However, before a race you could drop right around 40 pounds with these items. Whether one plans on minute or extreme weight reduction plans, it will always produce a faster car. The extent of how much one is willing to live without, or sacrifice depends on how addicted to speed they are. In other words, how much does one covet that ¼ mile time? Whether it is an empty shell of a Mustang with nothing more than a driver seat and some gauges, or a street car that one cannot part with, weight equals an increase in overall speed. And ¼ mile times are the Holy Grail. So, for the money, put your car on a diet and see what gains you make.
FItment includes: • 1979, 1980, 1981, 1982, 1983, 1984, 1985, 1986, 1987, 1988, 1989, 1990, 1991, 1992, 1993, 1994, 1995, 1996, 1997, 1998, 1999, 2000, 2001, 2002, 2003, 2004, 2005, 2006, 2007, 2008, 2009, 2010, 2011, 2012, 2013, 2014, LX, GT, SVO, Cobra, V6, Mach 1, Bullitt, GT500, Boss Mustangs