Mustang Long Tube Headers - The Short Story
• Long tube headers will improve sound quality and can give your engine up to 20-30 RWHP, depending on your setup and other supporting modifications

• Long tube headers are available in either chrome, polished or ceramic finishes

• With the long tube headers, it is necessary to modify your mid-pipe

• To maximize the full performance of this upgrade, you will want a Bama custom tune to recalibrate your Mustang's computer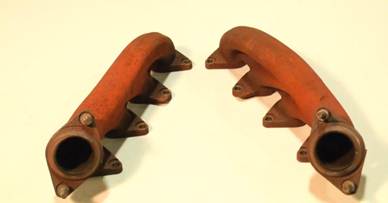 Power Gains From Long Tube Mustang Headers
If you are looking for some serious advice to gain some serious power out of your Mustang's exhaust, you have come to the right place! The best thing you can do is get yourself a set of long tube headers. Not only will they make your Mustang sound like a beast, but they will give you gains upward of 20-30 HP with the required tune. Long tubes help your engine remove exhaust gases better than stock manifolds or shorty headers, which creates optimum performance and optimum sound. Installing the required Shorty H-pipe or X-pipe will continue to help expel those exhaust gases, ultimately offering the best HP/TQ gains possible!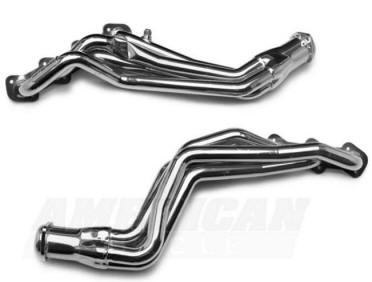 There are a several factors that come into play when doing this particular performance upgrade:
Choosing Long Tubes Based on Finish
Not only is power and performance important, but so are looks. Getting rid of those stock rusty looking and restrictive manifolds will leave you wishing you had done so long ago! Long tubes offer a fearsome, race car appearance that will intimidate anyone who sees. They are available in several different finishes; the two most popular types to take into consideration are Chrome and Ceramic. Deciding which to purchase depends on the end goal you have in mind for your Mustang.
• Chrome / Polished – If your main goal is looking good with a side of performance, these are the headers for you. They offer show quality styling that can be buffed regularly. This finish exhibits a mild cooling effect, keeping engine temps down and increases overall horsepower.

• Ceramic – If you are looking for the best of the best, you want to go this route without question. They're the more expensive option, but offer the ultimate bang for your buck! They have the most favorable corrosion resistant characteristics and reduce under hood temperatures more than any other finish on the market, which results in maximum horsepower and extended life for your headers.
Long Tube Mustang Headers & Mandatory Mid-Pipe Modification
Long tube headers have tubing that is much longer than stock manifolds or a set of shorty headers. A standard length mid-pipe will be too long and won't bolt up properly to Long Tubes. That being said, you'll be required to replace your factory mid-pipe to a shorty length mid-pipe. It's recommended to stick with the same brand mid-pipe as your headers to ensure a perfect fit and a hassle free installation. Header/mid-pipe combos will bolt up to any stock or aftermarket catback exhaust, giving you endless exhaust options!
Notice below the difference in length between the Shorty X-pipe (designed for the 96-04 GT and BBK Long Tube Headers) and the Standard Length X-pipe (designed for 99-04 GT stock manifolds or BBK shorty headers):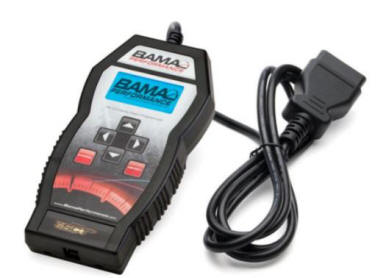 Custom Tuning Your Mustang With New Headers
To utilize the full performance power of this upgrade, you will also need a Bama custom tune to recalibrate your Mustang's computer (ECU). This will clean up air/fuel ratios and optimize your power gains. Using a 93 Octane Race Tune combined with these exhaust mods and a CAI, you have the potential of gains of 40-55 HP!
Our Bama Tuning Specialists can make these ECU adjustments for you, getting your Mustang up to speed quickly. We offer several devices that include 3 Free Custom Tunes - Street, Performance and Race. Purchasing one of these devices automatically enrolls you into our Free Tunes for Life Program, where you can request updated tunes for any additional mods you make, at any time.
There are lots of decisions to be made when doing exhaust modifications to your Mustang. You really can't go wrong no matter which path you choose. Just remember, you will need a the same brand Shorty Mid-pipe when installing Long Tube Headers and you can use any brand cat-back of your choice. The required tune for your new powerful beast will sweeten the deal, transferring all available HP and TQ gains hidden within your Stang to the pavement!
FItment includes: • 1994, 1995, 1996, 1997, 1998, 1999, 2000, 2001, 2002, 2003, 2004, GT, V6, Mach 1, Bullitt, Cobra Mustangs