Magnaflow vs. Flowmaster: Which Mustang Exhaust is Better?

When shopping for the right exhaust, you've probably have some tough choices to make when it comes to different companies and the sounds those systems produce. Two of the more popular companies on the market today for exhaust systems are Flowmaster and Magnaflow. Both companies are widely popular with Mustang enthusiasts and produce high quality parts.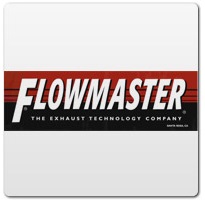 Flowmaster Mustang Exhaust
Flowmaster offers every component of your exhaust system including hardware. They offer combined kits and also individual exhaust components. Constructed from stainless steel, they offer long lasting construction with impressive finishes available in multiple options such as chrome, matte black, or silver. In addition to hi-flow mufflers, Flowmaster has high flow exhaust systems that are perfect for aggressive streetcars, all the way to track-only and competition built Mustangs.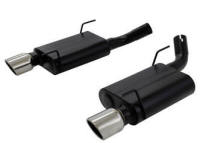 Offering close to 50 different types of muffler styles such as the American Thunder Series or the Force II Systems in chambered or laminar flow mufflers, your options can seem endless. Depending on your needs and preferences Flowmaster has all your choices in available options. To be sure on your final choices Flowmaster has exhaust sound clip videos for nearly every exhaust piece.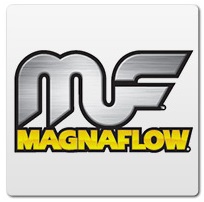 Magnaflow Mustang Exhaust
Magnaflow also offers great quality and multiple performance benefits. Fully polished finishes with dyno tuned proven performance numbers. Delivering a smooth, deep tone is a main selling point for Magnaflow and will have passersby searching for your Mustang as you drive down the road. Magnaflow offers direct fit exhaust system or fully customizable kits for your convenience. With different finishes such as full stainless steel for a true rust free exhaust, to a more efficient exhaust with a stainless steel coating.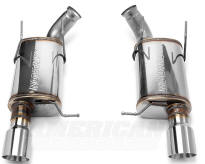 To ensure to muffler or other exhaust components you want Magnaflow offers a huge list of their components on several makes and models of Mustangs. Magnaflow offers exhaust parts for nearly all 1979-2014 Mustangs that include video overviews, giving you a true feel and understanding of each different system before you make a purchase.
Making the Selection For Your Mustang - Choosing Between Flowmaster and Magnaflow
The choice you make really comes down to personal preference of style, finishes, and sound. It is recommended that when looking for a new system you do some research on sound and specific dyno results (if performance is solely your focus). Both Magnaflow and Flowmaster do a great job at offering a wide range of compatibility and sound variations for the average daily driven Mustang to the drag strip monster. Listening to exhaust sounds and finding what system fits your needs are the two ways you'll want to use when finding the perfect exhaust for your Mustang.