How to Upgrade a 1999-2004 V6 Mustang's Exhaust
Key Points
• Upgrading to a dual exhaust will increase efficiency and power

• Y, H, and X exhaust mid-pipes provide different engine sounds and performance benefits

• Eliminate the possibility of a "drone" by avoiding mid-pipes and cat-backs with straight through mufflers or resonators

• Short headers give you less of a power boost over long tubes, but can accommodate a turbo upgrade and are easier to install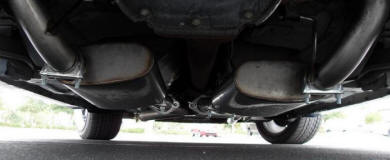 Single vs. Dual Cat-back Exhaust
There is no question in the Mustang community that an aftermarket exhaust, whether going true dual or a single piped setup, will increase the car's efficiency and power while creating a totally new exhaust tone. Choosing between single or dual exhaust mainly calls for an understanding on your future goals for the car. Before you can choose a cat-back exhaust, you must decide between single or true dual exhaust. The conversion process lies in the replacement of your mid-pipe with either an "X" or "H" pipe in replacement of the stock "Y" setup. Once you've made a decision to keep or replace your stock mid-pipe, you can then select a cat-back that is compatible with your exhaust setup. If you choose to go true dual, you can use a GT cat-back with little or no modifications necessary.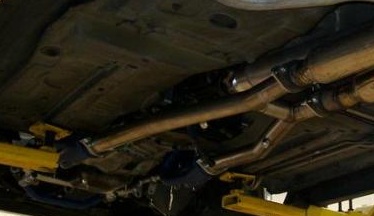 V6 Mustangs: Y, H and X Exhaust Mid-pipes
If you are one of those people who are not looking for maximum performance, but would rather your Mustang give a mean snarl back when you stab the pedal, you might want to save a few bucks and replace the single exhaust setup with another, better sounding and performing single, Y-pipe setup. That way, you save a few bucks on the parts and install cost but still achieve a throatier, more muscular sound. A Y-pipe runs from both headers into a single pipe. This single tubed exhaust then extends over the rear axle and out the back of the car. This is the style a stock V6 comes with, albeit the stock setup is much more restrictive and hinders your ability to make more horsepower. Keep in mind when ordering mid-pipes, "off-road" refers to the elimination of catalytic converters and should only be used at the track.
While an aftermarket replacement single-piped exhaust will sound great and grab you a few extra ponies, when compared to true dual, most v6 Mustang owners choose to go with a dual exhaust comparable to that of the GT. Pushing exhaust from two headers into a single pipe just doesn't make sense if you're trying to make more power. Going true dual frees up horsepower and torque while creating a meaner, GT inspired sound. The extra piping allows exhaust gasses to flow more freely through the system and creates optimal back-pressure, depending on how much power you are making and the size of the exhaust piping. You also then have the opportunity to choose between an H-pipe for more of a low pitched growl or an X-pipe for a louder, raspier sound. Both X and H pipes require a true dual setup and should net you a noticeable increase in power and sound without replacing additional exhaust components.
Avoiding the Common V6 Mustang Drone
Many V6 Mustang enthusiasts are concerned with creating a loud droning noise. If this drone is a concern, make sure to avoid mid-pipes and cat-backs with straight-through mufflers or resonators. Resonators will "resonate" the noise and can cause more of a drone when installed on the 3.8 liter V6. Another source of exhaust drone or popping can be caused by piping that is too large in diameter. Ideally, most V6 Mustangs should utilize between 2-2.5 inch mandrel bent piping. Larger piping (2.5 inch) can accommodate more horsepower but too large a diameter can actually hurt performance and power numbers. Again, it's all about your current and future plans for the car.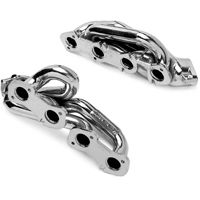 Shorty or Full Length V6 Mustang Headers?
Performance wise, unless you are packing a power adder and some major performance work, long tubes are not going to give you huge performance numbers over shorty headers. However, both shorty and long tube headers will change the exhaust note. Long tubes will require relocation of the o2 sensors and possibly a re-tune of the computer to compensate for the change. Shorty headers are a direct replacement for the factory design and typically require no additional parts or tuning.
As far as power is concerned, long tubes will give you more consistent performance throughout the power curve, whereas shorty headers do the most for you in the mid-range rpms. For anything less than a heavily modified V6, there won't be much difference in power so keep your selection based on the long-term goals for the car (don't forget, if you plan to go turbo you can only reuse shorty headers!) and the finish material the headers are coated with.
FItment includes: • 1999, 2000, 2001, 2002, 2003, 2004, GT, V6, Mach 1, Bullitt, Cobra Mustangs