Mustang PI Intake Manifold w/ PI Head Swap Overview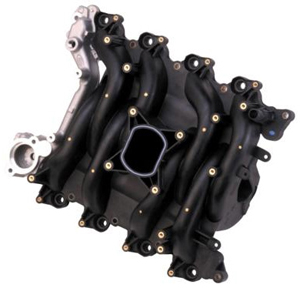 What is it that changes when upgrading from the 1996-1998 NPI heads and intake to the 1999-2004 Mustang GT's PI heads and PI intake manifold that makes the swap so complicated? The NPI heads that came stock on all 96-98 GT's use a different internal design therefore creating the need for a new intake manifold. When you are upgrading your intake and your cylinder heads you'll also need to pick up some additional parts depending on your year.
New Hoses:
The difference in design causes issues with hose and bracket location's on 1996-2000's. The new intake manifold has a longer aluminum reinforced runner that extends the hook up to the thermostat housing. This requires the need for a new hose kit like that on the 1999-2004 GT.
New Brackets:
If you own a 1996-2000, you will also need a new alternator bracket from 2001-2004 GT to relocate it. This bracket makes install easy allowing all your hoses to fit properly and relocates the alternator for proper thermostat fitment.
What about PI Heads for my Mustang?
The 1999-2004 GT came stock with this higher compression, cooler running PI head. The 2001-2004 GT also came stock with the aluminum reinforced intake manifold and together they produce nearly 40 more HP compared to NPI set ups.
Materials needed for PI Intake Manifold & PI head swap on a 1996-1998 Mustang GT
• PI Intake Manifold

• PI Heads

• Heater/Coolant hoses from 1999-2004 GT

• Alternator Bracket from 2001-2004 Mustang

• Gasket Set for PI cylinder heads

• Intake gasket

• Thermostat gasket

• Fresh coolant
Avg. 6-8 hour job w/head swap Avg. 1.5-2 hours w/out head swap
Materials Needed for PI intake manifold on PI head equipped Mustang or stock 1999-2004 Mustang GT
• PI Intake Manifold

• Alternator Bracket from 2001-2004

• Gasket Set for PI cylinder heads

• Gasket set for thermostat

• Fresh coolant
Avg. 6-8 hour job w/head swap Avg. 1.5-2 hours w/out head swap
FItment includes: • 1994, 1995, 1996, 1997, 1998, 1999, 2000, 2001, 2002, 2003, 2004, GT, V6, Mach 1, Bullitt, Cobra Mustangs