Mustang Tuning Chips
The 4-Bank SCT Eliminator Chip is an actual electronic device that plugs directly into the J3 port on your stock ECU.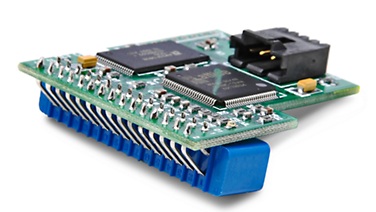 Mustang Tuning Chip Features:
• Holds a total of four (4) custom tunes, plus a setting for your stock tune.

• Has a no-run/anti-theft setting.

• The selector switch allows you to change tunes "on the fly."

• For a professional look and to put the switch at your fingertips, you can get one of our custom bezels. This is the perfect option for when you need to change tunes quickly (i.e. if you use nitrous or drag race).
The downside to a tuning chip is that you have to remove it from your car and sent it back to us in order to edit or add tunes.
Mustang Handheld Tuners
Handheld Tuners are programmers that are used to flash, or overwrite, the existing tune on your Mustang's computer. The tuner is plugged into the OBD II port, located underneath the dash on the driver's side. There are two types of handheld tuners: custom (such as the SCT Livewire, X3 Powerflash and X-Calibrator 2) and strategy (such as the DiabloSport Predator).
What's the difference? Good question!
Strategy Tuners
A strategy tuner – such as the DiabloSport Predator – contains generic tunes designed for cars that are completely stock. Some of the features of a strategy tuner include:
• limited user adjustability, so experienced Mustang enthusiasts can change tune settings to account for mild bolt-on modifications.

• Offers some selection for MAF and fuel injector changes.

• Can adjust for varying track and weather conditions.
There are downsides, however, and they include:
• You have to really know what you're doing before you adjust any parameters.

• The adjustable parameters are limited.

• The first time you plug in the tuner, it locks to your VIN number, so it can only be used on one car. If you want to tune more than one Mustang, you will need to buy a unit for each car.
Note: If you bought the tuner for one car, and have since gotten a new one, as long as you flashed the original car back to stock, you can have the tuner tuned for your new Mustang.
Custom Mustang Tuners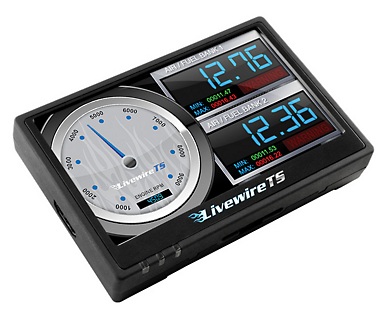 With a custom chip or tuner – such as the SCT 4-Bank Eliminator Chip, X3 Powerflash, X-Calibrator 2, and Livewire – our in-house, SCT-certified programmer has the ability to adjust anywhere from 1000 to 3000 variables, depending on the year and model of your Mustang. Some of the benefits of a custom tuner include:
• Each tune is created specifically for your car, taking into account each and every modification you have done.

• Allows for highly modified cars – i.e. Super- and Turbo-charged – to be custom tuned.

Note: Some Turbo- and Super-charged set-ups require "dyno" tuning.



• Allows the user to make the same end-user adjustments as a strategy tuner (Air/Fuel ration, gear ratio, Final Spark Value, etc.).

• Can adjust for varying track and weather conditions more precisely than a strategy tuner.

• Additional tunes can be purchased and emailed to you, and you can download them from your computer to the tuner.

• Custom handheld tuners download the stock tune the first time you plug them in, so you can switch back to stock when you need to.

• Locks to your VIN number, so no one else can use it. So, hypothetically speaking, if it were to get stolen, the thief would have to call SCT to unlock it, which would lead to them getting caught.
As with any product, weighing the pros and cons is important. With a custom tuner, there are few cons:
• Only holds a limited number of tunes (4 for the Chip).

• Super- and Turbo-charged Mustangs cannot be tuned for by AmericanMuscle.com. The tuner can be purchased, but you will need to find an authorized SCT dealer with a dynamometer for a dyno tune.

• The list of modifications you give us prior to programming must be an exact, precise list. You cannot guess, or you run the risk of damaging your car.

Note: If you bought the tuner for one car, and have since gotten a new one, as long as you flashed the original car back to stock, you can have the tuner tuned for your new Mustang.



• Switching between tunes can take several minutes, so you cannot switch on the fly.
Custom/Strategy Hybrid Tuners
If you're looking for the careful programming of a custom tuner, but also want the ability to change some parameters yourself, then you'll want to go with the SCT Livewire or SCT X3 Powerflash tuners. These tuners are part of a new breed of hybrid tuners that combine the best of both worlds!
Both tuners come with stand-alone tune adjustments that allow you to tweak both your custom tunes and the included strategy tunes. Either one is perfect for both die-hard modders that want to fine-tune their programmer for racing, and those just entering the world of Mustang modification. Even beginners can easily compensate for items such as gear and tire size changes.
Other Improtant Information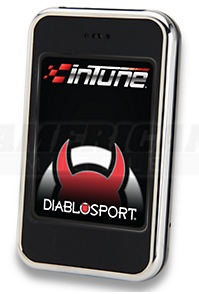 Octane: What Octane gas you use is important, and we recommend purchasing a tune for the highest octane available in your area. The higher the octane, the more power and gains you will see.

Example: a stock 2001 GT might see roughly the following results:
• 87 octane: 2-3 horsepower gain

• 91 octane: 17 horsepower gain

• 93 octane: 20+ horsepower gain
All three of these tunes will have the engine running more efficiently, but dyno results will be very different. If finding the right fuel is a concern for you – for example, if you live in an area where there is little choice in octane – order more than one tune. You can get one for 87 octane, for emergencies, and one for 91 or 93.
NOT ALL BRANDS OF GAS ARE CREATED EQUAL! You should always use a quality name brand gas for the best results and horsepower gains such as Sunoco, Exxon, Mobil, or Shell. Low quality generic brand-x fuels, convenience mart, and discount wholesale fuels could cause pinging in a tuned car. Saving 5 or 6 cents a gallon at the pump of a low quality gas station will cost you in the long run. Studies have shown that even in non-tuned cars that gas mileage from 2 gas stations right next to each other can vary by up to 60 miles per tank!
Speedometer Calibration
If your Mustang is a 1999 or newer, your gauges are controlled by the computer. This means that the speedometer can be calibrated with custom tunes for gear ratio and odd tire size changes.
If you have an older Mustang (pre-1999). Your speedometer is mechanical. It is controlled by a rotating cable that runs from the transmission into the back of the speedometer. Because the computer has nothing to do with the speedometer in pre-1999 Mustangs, you cannot use a tuner to accommodate for gear ratio and tire size changes.
Note: 1996-2004 Mustangs can calibrate their speedometer with a Speed Cal. Pre-1999 Mustang owners can also calibrate for gear changes by replacing the speedometer driver gear at the transmission end of the cable.
Mustang 2005+ Cold Air Intakes
If you have a 2005+ Mustang with an aftermarket cold air intake, we need to know the exact brand and model of the kit. Because 2005+ Mustangs use a slot/drop in style MAF, the system is very sensitive to airflow changes. Most 2005+ Cold Air Intakes use the stock MAF electronics, but change the size of the MAF housing. This can distort the MAF Transfer Function.
Note: The MAF Transfer Function tells the computer how much air is coming into the engine.
FItment includes: • 1979, 1980, 1981, 1982, 1983, 1984, 1985, 1986, 1987, 1988, 1989, 1990, 1991, 1992, 1993, 1994, 1995, 1996, 1997, 1998, 1999, 2000, 2001, 2002, 2003, 2004, 2005, 2006, 2007, 2008, 2009, 2010, 2011, 2012, 2013, 2014, LX, GT, SVO, Cobra, V6, Mach 1, Bullitt, GT500, Boss Mustangs