Synthetic Polymer vs. Carnauba Wax – Which is Better for Your Mustang?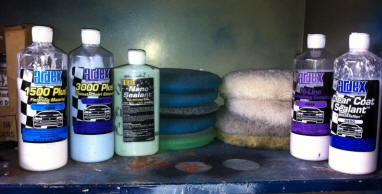 Nothing looks better than a Mustang that has been freshly detailed, so why not preserve that impeccable appearance with a nice coat of wax? Detailing a car can take hours and adding a coat of wax will pay off after all your hard work. Knowing the difference between waxes will better assist you in choosing the right one to apply. Climates, car color, and the amount of time you want to invest into protecting your Mustang's paint or polishing your car all affect which type of wax you should use, but the two main options are a synthetic polymer or a carnauba wax.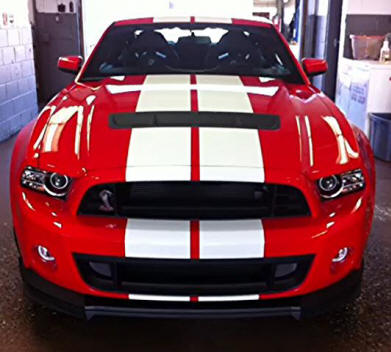 Synthetic Polymer Mustang Wax Explained
A synthetic polymer is a wax primarily consisting of man-made materials, as opposed to the more natural carnauba wax. They are considerably new to the detailing scene and are made to try and imitate the glossy wet shine that a carnauba wax presents. Synthetic polymers are more commonly referred to as paint sealants and are usually easier to work with than a natural wax. Paint sealants are easier to remove and don't tend to leave behind as much residue.
What are the advantages of a synthetic polymer wax over carnauba wax?
There are a few good things about choosing a paint sealant, or synthetic polymer instead of carnauba wax. They can come in the form of a spray that is very easy to use and they have a higher melting point. The higher melting point is very important when applying wax to your Mustang during the hot months and particularly to dark colored cars. When wax melts is start to make the painted parts on your Mustang appear cloudy and can be quite a task to get rid of in the heat. With the technology used today, synthetic polymers can protect a car for months especially if it is garage kept. Choosing this wax is like putting a thin coat of armor on you cars surface. Generally, synthetic waxes offer a little less shine for a little more protection.
Advantages of Synthetic Polymer Wax
• Tend to be easier to work with
• Are usually cheaper
• Are formulated for specific purposes (clear coat sealant, swirl remover, etc)
• Lasts the longest and offer more protection
Disadvantages of Synthetic Polymer Wax
• Will not meet the shine of carnauba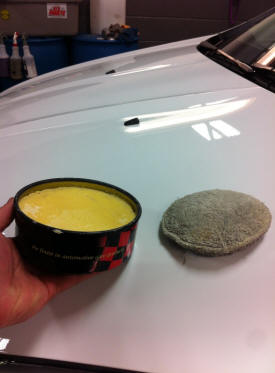 Carnauba Mustang Wax Explained
A carnauba wax is derived from a plant found mostly in South America. It is a hard material so it takes some added ingredients to make it into a paste. Carnauba will give your Mustang a nice deep luster that is unmatched amongst polymers. It will leave a "wet" look that will outshine any paint sealant. This particular wax will need to be applied more frequently than a polymer so try to preserve that showroom shine by either keeping the car in a garage or other shelter from the elements.
What are the advantages and disadvantages of a carnauba wax compared to a synthetic polymer?
Carnauba wax can be a bit pricier because of the flawless finish it produces. No shine will quite compare to a quality carnauba so in this case you get what you pay for. Detailing enthusiasts will certainly tell you that there is nothing that can match the shine of a carnauba wax, but some high quality synthetics offer a unique shine of their own. Many professional detailers prefer to apply a paint sealant first—especially for darker colored cars—then a while after, apply a coat of carnauba to really make it shine.
Advantages
• Produces a shine that cannot be beat by any synthetic polymer
• Will make your car look it's best
• Preferred wax amongst Mustang enthusiasts
Disadvantages
• Does not last as long as synthetic polymers
FItment includes: • 1979, 1980, 1981, 1982, 1983, 1984, 1985, 1986, 1987, 1988, 1989, 1990, 1991, 1992, 1993, 1994, 1995, 1996, 1997, 1998, 1999, 2000, 2001, 2002, 2003, 2004, 2005, 2006, 2007, 2008, 2009, 2010, 2011, 2012, 2013, 2014, LX, GT, SVO, Cobra, V6, Mach 1, Bullitt, GT500, Boss Mustangs