Stock vs. Aftermarket 2005-2014 S197 Mustang Axles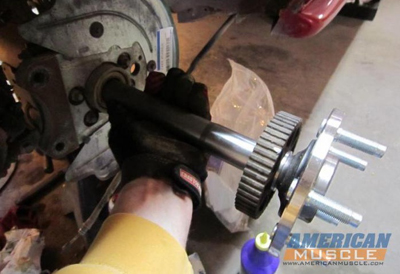 Facts about Stock and Aftermarket Axles
• The more splines, the larger the axle is, which increases its strength considerably

• Stock axles are adequate for daily-driving and slight horsepower modifications, but if you plan to push more than ~500 rear wheel horsepower, you should strongly consider purchasing an aftermarket axle

• When considering which aftermarket axle to buy, you must check that your rear differential will be compatible with your upgrade

• For drag-racing purposes, consider a set of rear axles that have C-clip Eliminators
Factory 28 Mustang Axles vs. 31 Spine Mustang Axles
The more splines the larger the axle is, increasing its strength considerably. A 31 spline axle for the 8.8 is about 30% stronger than the 28 spline axles. Now, even though the newer 31 spline axles are stronger, they are still mass produced with minimal quality control so they roll off the assembly line at a reduced cost. Many Ford OE axles are made of SAE 1055 or SAE 1541 carbon steel and are hardened. This means only a portion of the depth is hardened while the rest of the axle steel remains unhardened.
If you are going to be pushing more than 500 rear wheel horse power and are planning to do some drag racing you will want to strongly consider a high quality aftermarket axle that has been built for the drag strip. Axles that are built to be subjected to the high torque and demanding stress loads are a must for any serious racer.
Choosing New Axles For a 2005-2014 Mustang
When looking at aftermarket axles for your particular Mustang, you will also want to check that your rear differential will be compatible with your upgrade. Moser, Superior and Ford Racing are all excellent brands to choose from. You can either replace your axles with aftermarket versions that have the same amount of splines, or upgrade to an axle with more splines and a larger diameter for added performance. If you choose to use the same number of splines it is easier install them yourself. If you are choosing to upgrade in size you will need to change the rear end differential.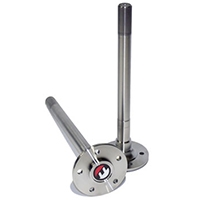 Mustang Axles & C-Clip Eliminators
If you are planning on doing a lot of drag racing then you should look into an aftermarket set of rear axles that have what is called a C-clip eliminator. Your factory axles are held into the rear end differential with C-clips that fit into a groove on the end of the axle. If these factory C-clips or the grooved end of the axle break then the axle can come out of the housing tube resulting in the whole wheel flying away from the car. NHRA rules ban C-clip axles on any Mustang running 10.99 or quicker. The C-clip eliminator consists of a new axle bearing and a retainer plate that bolts to the end of the axle housing keeping the axle from coming out of the end of the housing in the event that it breaks.
So, before the next time you dump the clutch on the starting line at the strip, consider upgrading those axle shafts.