1999-2004 Mustang Headlight Options
• Smoked lenses—Create an aggressive front end. Doesn't allow for maximum light exposure

• Clear lenses—Allows maximum light exposure

• Housing come in black, chrome, and clear reflective corners

• Two projector style headlights are available, which are offered with smoked or clear lenses
Prepping Your Mustang for New Headlights
Headlights are one of the easier parts to change on your 1999-2004 Mustang and picking the right style will give your car the look you desire. Both headlights can be swapped out in under 30 minutes and require no tools at all. More details can be found in the installation section. All headlights are sealed from the factory but it is recommended to seal them again yourself with silicone to prevent any moisture problems you may endure in the future. It also helps to keep wax on the lens to prevent dirt from settling and it also protects the clear coat that covers them.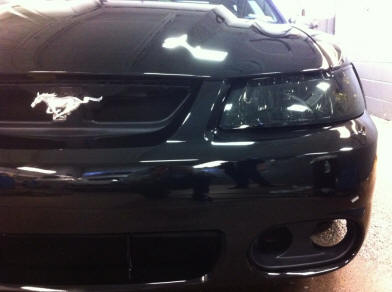 Headlights Change a Mustang's Overall Appearance
Something as simple as headlights can really change the appearance of the front end of your ride. Another reason to pick up a new set of headlights is if your existing ones have seen better days and have that cloudy, worn out look on the lens or if they have a problem with moisture getting inside of them which will cause the lens to look wet at all times. In either case, when this happens to headlights it only allows a fraction of the light they are producing to come out of the housing causing you to see much less.
When selecting the right headlight determine what you really want out of them first. Do you want the best lighting possible? If so, I'd suggest staying away from anything with a smoked lens because it doesn't allow as much light to escape as a clear lens would. But, if you are looking for something to add to an aggressive front end, a smoked lens may be exactly what you want. Or, if you're going for more of a more radical or euro appearance there are headlights out there for you as well. One of the greatest advantages to owning a Mustang revolves around the aftermarket support for all generations of the vehicle. There are plenty of options to suit your needs.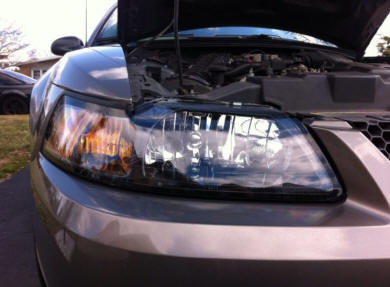 Different Headlight Styles & Options
There are a couple of styles of headlights for the 99-04 body style with a couple variations of each. There is a standard replacement which offers the option of black housing, chrome housing, clear reflective corners, and a smoked or clear lens. The chrome housing headlights were offered in the early years of this body style until the black housing replaced it. Black housings also come standard on all cobra models. There is a headlight offered with clear reflective corners for someone looking to get rid of the amber color reflectors. With clear corners your turn signals will still light up orange because the color is ultimately determined by the bulb which itself is orange in color.
Mustang Projector Headlights
There are also two different styles of projector headlights which achieve a unique look for the front of your mustang. Each of these styles is offered with a smoked lens or a clear lens version. Projector headlights are used in most new cars today. Projectors differ from regular headlights in a couple different ways which are actually quite simple. Regular style headlights use lens refractors to actually reflect the light from the headlight housing to the road ahead whereas projector headlights use what looks like a small concave circle that projects a beam onto the road. The Raxiom projector headlights feature halo and led accents. Halo accents are rings around the actual projector that light up and they are accompanied by 3 small LED lights.
To keep a more uniform look it is best to go with the same style tail lights as your headlights. All headlights, regardless of style, still use the standard 9007 headlight bulb and the 3157A turn signal bulb.
FItment includes: • 1999, 2000, 2001, 2002, 2003, 2004, GT, V6, Mach 1, Bullitt, Cobra Mustangs