What Does a Panhard Bar do For a 1999-2004 Mustang?
The Purpose of a Panhard Bar - 1999-2004 Mustangs
• Provides lateral stability to the rear axle

• Increases handling predictability and cornering

• Lowers the Mustang's rear roll center, which prevents the inside of rear tires to lift off the ground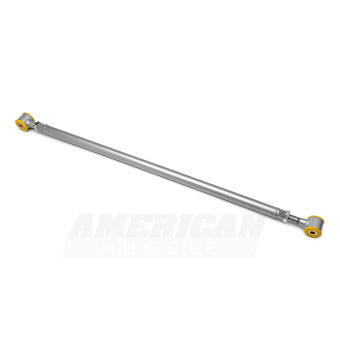 A panhard bar will greatly improve your Mustang's handling, whether it is your daily driver or a weekend, car-show-only kind of ride. It is the perfect solution to solving the common problems found in the 1999-2004 Mustang's four link suspension. Ford decided against putting a panhard bar on this model from the factory, most likely to save money. Now, you can find a panhard bar on all 05+ model Mustangs.
A Mustang's Panhard Bar Explained
The main purpose of a panhard bar is to provide lateral stability of the rear axle, which what was intended to be the job of the upper control arms, but they are just not enough. A 1999-2004 Mustang's rear axle can move up to 2 inches side-to-side under harsh conditions and this piece of equipment completely eliminates that movement. It will significantly improve the vehicles cornering abilities, as stabilizing the rear axle strengthens the overall rear suspension and holds the intended geometry.
Some additional benefits to expect, aside from stable cornering and overall handling predictability, are lowering the vehicle's rear roll center. This prevents the inside of the rear tires to lift off the ground when you go around corners, further giving you more stability. Since the standard four link suspension tends to have some side-to-side movement, having rear-steer is also common. This is where the rear axle is actually turning by itself which in turn calls for you steer the vehicle more in order to keep it straight. With that being said, keeping your car straight is very important. It will improve your launching and, when the tires break loose, it will keep the car straight and controllable.
Will a Panhard Bar Work on my Mustang?
As mentioned, a panhard bar can be installed on any Mustang regardless of whether or not it is a daily driver or strictly a track car. There are a good amount of benefits to consider investing in one. It was improve your rides overall handling and cornering abilities, and there is a reason why Ford made them standard on all model Mustangs from '05 and up.
Panhard Bar Installation and Fitment
The panhard assembly mounts to the chassis on both sides right above the rear. The adjustable rod extends from the passenger side of the panhard assembly to a bracket that is installed on the bottom mount of the shock. The panhard bar will clear any car with a factory exhaust setup or an aftermarket following the same pipe routing as a factory setup.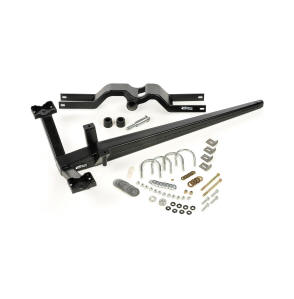 Does Every Mustang Need One?
Why not? It is always nice to purchase a part and notice the gains right away. This is one of them. Also, a common problem with lowering a Mustang's ride height is that it can cause the rear axle to be off centered. By purchasing an adjustable panhard bar you will be able to perfectly center the rear.
Complementary Suspension Upgrades
To get the most out of a panhard bar, I would recommend investing in a set of upper and lower control arms. When selecting an upper control arm it is recommended to stay with a rubber bushing instead of a spherical design that is all metal. By purchasing control arms you will eliminate even more of the lateral movement of the rear and further improve your handling and launching abilities. Another part to consider would be a torque arm. This eliminated the need for upper control arms completely and offers more traction, improved launching, and even more handling predictability.
FItment includes: • 1999, 2000, 2001, 2002, 2003, 2004, GT, V6, Mach 1, Bullitt, Cobra Mustangs