Installation
Kit Includes:
Chin Spoiler
10 Pin Fasteners
Time Required:Approximately 30 minutes
Notes:
The suggestions in this installation guide are there for your self-assurance that the spoiler is secured properly. The basic installation will achieve proper sturdiness in attachment, the suggestions are there as ideas and should not be considered absolutely necessary in the installation process.It will make the installation process easier if you raise the front end of your Mustang, but this is not required. I simply drove the front end of my car onto higher ground; this gave me plenty of room to work. If you do choose to raise your car, be absolutely sure that the car is well supported and sturdy.Failure to follow proper instructions may result in loss of this spoiler; Classic Design Concepts will not refund or issue you a new spoiler if the original was not properly installed.
Installation Instructions:
Paint the chin spoiler if desired – this is not necessary, as the chin spoiler is black and matches the factory side skirts on V6 Mustangs.
Clean the area where you will attach the spoiler.
Remove the (2) lower screws from inside the wheel well that attaches the front bumper, (4) in total.

Attach both ends of the chin spoiler to the car by fastening the screws removed in step 3 through the spoiler, and back into the original holes. This step can be made easier by turning the wheel to the right for the driver side install and to the left for the passenger side.

Align the spoiler correctly on the front bumper so that there are no gaps present.
Using masking tape, secure the spoiler in position. Be absolutely sure the spoiler does not move along the bumper during the drilling process.

Using your drill with the ¼" bit, drill through the 10 holes in the chin spoiler into the bumper.
**Make sure to angle the drill towards the rear of the vehicle to prevent drilling through the front side of your spoiler or bumper.

Push fastener pins all the way through the spoiler and through the bumper. Some people choose to use screws and locknuts rather than the fasteners for extra security. If you choose that method, DO NOT over-tighten your screws as this will make the spoiler flare up in certain areas.
It is easiest to start in the middle of the spoiler and work your way to the outsides evenly.
This step is not necessary, but will further improve the sturdiness of the spoiler. Place super glue, or another adhesive, on the underside of your bumper where the fasteners come through. This will prevent the fasteners from rattling loose.
Test to make sure your spoiler is secure. Once you are confident it will not come off, you are finished.
Congratulations on your purchase and successful installment of the Classic Design Concepts 05 – 09 V6 Chin Spoiler. You have given your Mustang an aggressive front fascia appearance.
Before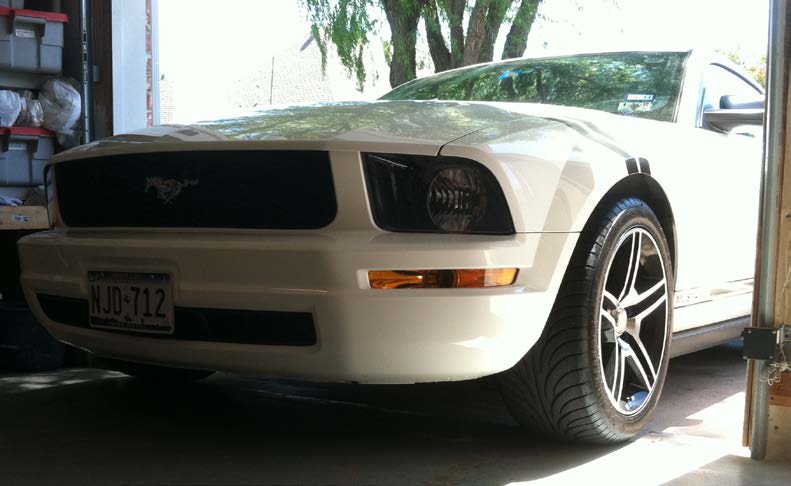 After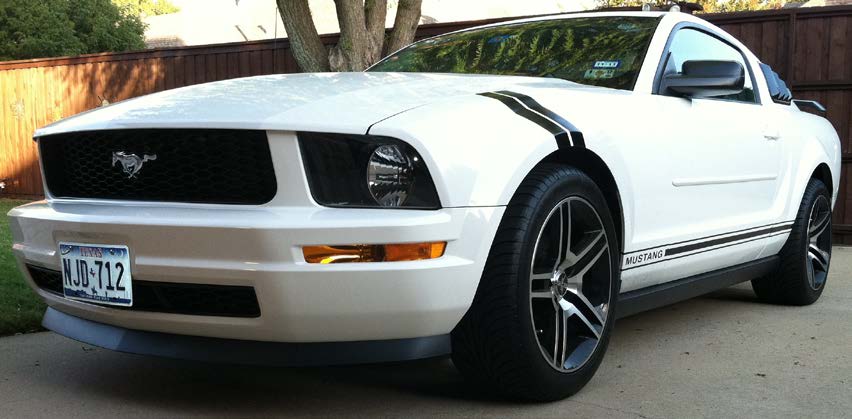 Installation Instructions written by AmericanMuscle customer Travis White 9.23.11