Fox Body Tire Buying Guide
In terms of Foxbody Mustangs, the original tires were sized as 225/60/R15 and were fitted on 15-inch rims (later on in development Ford went to 16 inch rims), which is pretty puny by today's standards. Logically speaking, a larger tire ought to provide greater grip and traction. So, with this in mind, what exactly can we fit?
Fox Body Tire Buying Guide
• The largest wheel a Fox Body can accommodate without modifications is a 16 or 17 inch wheel

• Tires can be chosen from three main categories: high performance, drag radials, or drag slicks

• Drag radials and drag slicks are not necessarily DOT approved, and are not recommended for street-only use

• The type of tire you choose should be dependent on your intended application and current power output
Max Fox Mustang Tire Sizes
The aftermarket has learned that the largest wheel a Fox can accommodate on all four corners without any rubbing or clearance issues is a 16 or 17 inch wheel shod with 245-width tires (ex: 245/50/R16). Running a larger tire/wheel combo can certainly be done, but not without modifying your Foxbody. Out back, problematic areas to note are of the fender lips, quad shocks (if equipped) and the exhaust hangers. In the front, the fender lips and lower control arm are the major restriction. Going larger than a 245-width tire can lead to rubbing/hitting any of the above.
Looking for different tire sizing calculations, or just want to see how much those new rims are going ot throw off your speedometer? A tire size calculator will help you solve fitment and spacing issues, as well as give you insight into measurements and differences between tires.
Types of Mustang Tires
Having gone over sizing, finally we can dig into the meat of the matter – actually picking a tire. Most would consider a Mustang a performance vehicle, therefore it is deserving of an equally performing tire. There are three main categories to choose from: high performance, drag radial or drag slicks. Each tire is designed very differently, so whereas one may excel on the drag strip, it will be awful on the road. Let's go through them.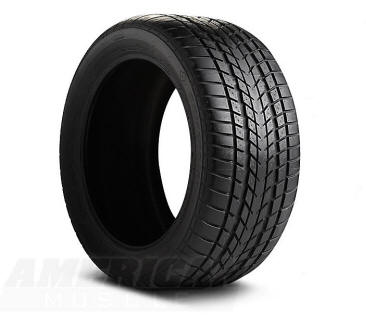 High Performance
High performance summer tires
are pretty straightforward. They offer good performance across the board and have great road handling characteristics, making them perfect for daily drivers and weekend course warriors alike. Better yet, should the asphalt suddenly become wet, your Pony will still be able to prance around without significant trouble. Due to the softer and sticker compounds used over traditional all-season tires, tread life is moderate. They won't last as long as regular all-season tires but nor will they be as short-lived as the tire types below.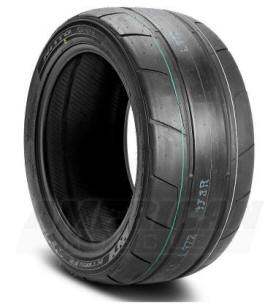 Drag Radials
Often branded as 'drive to the track, race, drive home on the same set of tires',
drag radials
are a cross-breed between slicks and street tires – the mule of the performance tire world, if you will. Drag radials typically deploy an even softer compound than high performance street tires yet maintain a sturdy enough sidewall that the vehicle can still turn a corner (however, the sidewall is softer than a performance street tire). Furthermore, separating drag radials from a full slick, despite looking eerily similar, is drag radials all come with a light tread pattern, thus allowing them to be driven on and off the track. However, a drag radial on the street will never perform as well as a regular tire, and if the conditions get mucky, things can become a hot mess quite fast. Drag radials are best suited for the track, with light driving on the street. Tread life for this hybrid is not great, as is to be expected with the stickier compound.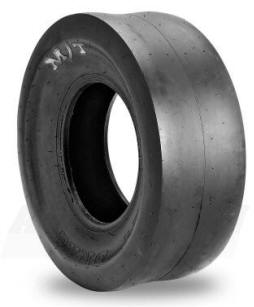 Slicks
: If you're all about launching hard and racing down a straight line, these bad boys are for you. They offer uncompromised and unparalleled traction but at the expense of everything else. Slicks are basically a big block of a very special rubber compound with no tread, maximizing contact area. Coupled with extremely soft sidewalls that deflect significantly under load (again, maximizing contact area), slicks cannot be beat for an all-out drag racing Foxbody. Take note, though, that slicks are only for track use. Because of their treadless and soft sidewall design, a wet road or simple corner will spell disaster. Tread life… what tread life?
DOT Approved Mustang Tires
The term 'DOT approved' means the Department of Transportation, based on certain test results (tread wear, hydroplaning characteristics, sidewall rigidity etc.) has approved a tire for street use. As the definition implies, all street tires sold in the United States are DOT approved. However, the same does not apply to drag radials or slicks. Certain drag radials and slicks may be DOT approved, but this certainly does not mean they are entirely suitable for the street. Exceeding the minimum and meeting the minimum are two entirely different things, and typically drag radials and slicks are in the latter category, thus not recommended for extensive street driving.
Choosing Which Fox Body Tires Are Right For Your Mustang
What type of tire to shoe your Pony with should be entirely dependent on the intended application. Outfitting a daily driver pushrod 5.0 with slicks is not appropriate, nor is having your 9.xx-capable drag monster at the tree wearing some low-profile Sumitomos. In terms of brands, you can't go wrong with any big name. Big name companies like Nitto, Mickey Thompson, Sumitomo, M&H etc, they all spend big coin and use the latest technology (despite my describing a slick as a 'block of special rubber', the compounds in today's tires are highly complex) to field the best possible tire.
FItment includes: • 1979, 1980, 1981, 1982, 1983, 1984, 1985, 1986, 1987, 1988, 1989, 1990, 1991, 1992, 1993, LX, GT, SVO, Cobra Mustangs