Building Your Mustang's Suspension For All-out Performance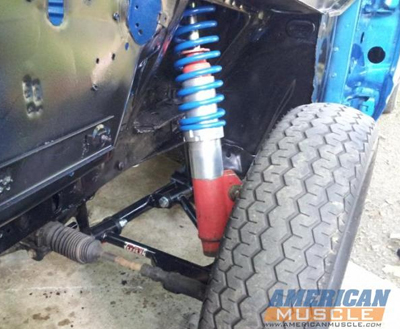 As always, there are a few basic entities that first must be addressed. In this case, there are two modifications that MUST be done before installation of anything else. In fact, even if you prefer to run a stock Fox over a turn-eating behemoth, these two modifications are still highly recommended.
Caster Camber Plates:

A major problem with the Fox Mustang generation is they came out of the factory with very limited ability to adjust wheel camber and no ability at all to adjust wheel caster. The stock slotted plates atop the front strut towers do not offer enough camber adjustment to prevent the front tires from pointing in towards each other as the car and its components age. The lack of caster provisions prevent the wheels from remaining level when the suspension is under turning loads, thus inducing further tire wear. The solution to this is, like always, available through the Mustang aftermarket. Maximum Motorsports, Steeda, QA1, J&M and BBK all offer precision-engineered pieces to repair this problem. Many coil-over kits specify that these systems must be used to accommodate their parts. Caster camber plates definitely are a must have. Using them guarantees proper front-end alignment for your car.

Bumpsteer kit:

An issue when modifying suspension (especially when the car is riding lower than stock) is bumpsteer. Bumpsteer occurs when there is a geometry mismatch between the outer tie-rod end and steering rack (typically occurs with lowered vehicles). Essentially what happens is that due to this mismatch of angles, when the car hits a bump, the tire will move in an extended arc and may at some point lose contact with the road. When the tire loses contact with the road, it will turn in the direction in which the last force acted upon it, thus the wheels turn involuntarily and the driver momentarily loses control. Steeda and Competition Engineering have devised effective and easy-to-install bumpsteer kits to restore proper geometry within the steering and suspension components. This too is a necessary piece when installing aftermarket coil-over sets. The coil-overs will change the geometry such that bumpsteer will be prevalent.
Choosing The Right Fox Body Suspension Parts
All right, now that we have covered the basics of bumpsteer and front end alignment, we can get on to the good stuff; it's time to get seriously into our suspension. First off, most coil-over kits require aftermarket control arms to be installed and sometimes even a new K-member. The reason being is the stock pieces do not offer the right geometry for proper fitment (again, going fast and turning well is all about the calculus!), never mind added performance. Aftermarket pieces correct the issues and usually offer weight-savings and increased strength.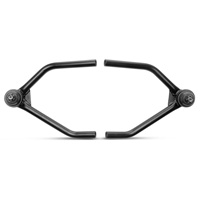 Fox Mustang Control Arms & K-members
QA1 control arms are a great choice when adding a coil-over setup to your 'Stang. They offer greater strength over the stockers and have been engineered to optimize performance with coil-overs (you can see they lack the spring perch found on regular control arms). Furthermore, not only are these pieces stronger, they are also lighter. A bonus power-to-weight gain to boot! The main advantages of these pieces are to work in harmony with the coil-overs and to properly secure them in their correct position to enhance the handling characteristics of the vehicle.
Depending on how serious you are with racing and exactly what your coil-over kit specifies, a new replacement K-member may be on the list to get. QA1 again comes up with a perfect solution, presenting us with their tubular K-member. It is manufactured to bolt right in with no hassle or modification. Like the control arms, added benefits are lighter weight and greater torsional strength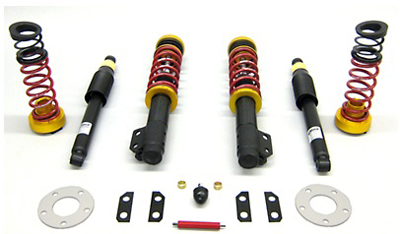 Mustang Coil-over Kits
Eibach's Pro Street coil-over kit is a stupendous way to maximize your Foxbody's cornering behavior. An estimated average Joe afternoon install time later, and these coils will have your Pony carving through the curves. The coil-overs are designed for maximum track AND street performance with full adjustability. This way you can drive the car to the track, make a few quick adjustments, thrash around at high speeds for a while and then saunter back home without causing your delicate derriere any unnecessary pain. Performance wise, better-turn in response, improved handling and increased cornering-grip can all be expected when running the Pro Street kit. It's a good thing we covered bumpsteer kits earlier, because these springs will lower the car between 1"-2.5", depending on how they have been adjusted.
What Does my Fox Body Need For The Best Possible Suspension?
To wrap everything up, a good coil-over kit essentially rectifies all the weak points originally found in the stock suspension architecture. Coil-overs are certainly more costly than standard strut/shock replacement, but their distinct performance advantages certainly make them a must for any Foxbody owner wishing to squeeze every last bit of performance out of their Mustang.
- CMC