Do Fox Body Mustangs Need Subframe Connectors?
Why bother upgrading a Fox Body Mustang's chassis and suspension you might ask? Despite the fact that, yes, you are correct, stiffening the chassis does not add any power but there are a few significant reasons as to why it should be done. To begin, Fox Mustangs are a unibody design. In laymen's terms, this means 'weak' (but not bad!). In technical terms, it means that the car does not implement a full frame running the full length of the car. Rather, a major section of the car relies on subframes (smaller, weaker framing) and the floor pans to provide rigidity and strength to the vehicle. Imagine a unibody to be constructed of two frame sections, and these two sections are connected via the floor pans.
Unibody (looking from the bottom up)

As you can see (despite this being a super basic rendering), there seems to only be two real frame sections – at the front and at the back. They are joined simply by the floor pans. For contrast, examine a full frame (or body on frame) design.
Body on frame (looking from the bottom up)

This design has frame rails running the whole length of the vehicle, interconnected in multiple ways. This means it is strong! Think truck frames. These days, they can haul up to 22,000 lbs.
The Lowdown on Fox Body Subframe Connectors
Now, Foxbody Mustangs are built using the first method, unibody construction. That 5.0L engine under the hood, even in factory trim at 225HP and 300 ft-lb of torque, is enough to twist and distort the subframes and floor pans with ease. Given enough time and a heavy enough foot, the subframes are guaranteed to deform. Start adding more horsepower to the equation without sufficiently bracing the chassis and a slight issue quickly becomes a big issue. How do you combat this? Again, aftermarket performance suspension parts have come to the rescue! The aftermarket has long since recognized this vulnerability within the Foxbody platform and consequently come up with an affordable and efficient way to dealing with this chassis twist and torsion. The solution you ask – subframe connectors (often referred to simply as SFC's by the young, hip forum homies, yo). Essentially, subframe connectors are going to link the front subframe with the rear subframe and attach to the floor pans, adding much needed structural integrity across the vehicle.
Choosing What Subframes Are Right For Your Mustang
When shopping for subframe connectors, there are a few factors to consider. Many reputable companies manufacture subframe connectors and produce high quality subframe connectors popular amongst modified Mustang owners. Furthermore, their parts are perfectly engineered to fit the exact geometry of Foxbody Mustangs (actually, any Mustang from 1979-2004). The benefit of this is less hassle when installing because they are designed to be a perfect fit – not a generic, multi-vehicle part. Amongst the options to consider are weld-in or bolt-on subframes connectors and full-length or partial-length. Decisions, decisions… let's address them, starting with the option of weld-on or bolt-on.
Weld-on vs Bolt-on Fox Body Subframe Connectors
As the name implies, the difference between these two are installation method. Weld-on's are trickier and more costly to install because they will need to be brought to a shop capable of welding them in. Usually this isn't free (unless you can weld). Bolt-on's, on the other hand, can be done by any Jim, John and Jack with a wrench and the ability to follow printed instructions. Performance wise, weld-on's are the number one choice and are highly recommended. Bolt-on's have ease of installation on their side, but they will not offer anything close to the rigidity and bracing that a proper set of welded SFC's will. For this reason, it is highly recommended to pick weld-on over bolt-on.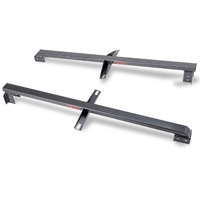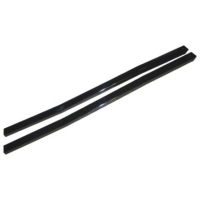 Full-length vs Partial-length Subframe Connectors
Some companies offer partial-length subframe connectors as a way to reduce the price of the connectors. Like bolt-ons, partial-length subframe connectors won't give your 1979-1993 Mustang the same stiffness as full-length. In fact, the idea of a partial-length SFC is a little redundant. The point of subframe connectors is to tie the front and rear subframes together. Opt for full-length instead.
The Finale
What will happen once you've equipped your 1979-1993 Fox Body with the much needed subframe bracing? As said before, you won't make any extra power, but you may go a little faster. SFC's help with traction by transmitting power from the engine to your Foxbodie's wheels instead of some power being wasted by twisting the frame. They also help the car corner better and overall will give a much solider feel. They lay the foundation for a much more powerful car, without fear of tearing the frame in two.
- CMC