True to the classic stereotype of American muscle cars, Foxbodies (87-93) are real good at thundering down a straight track. However, when a corner comes into view, the modified-MacPherson setup is unsure of how to cope. The result: skittish behavior around corners and over bumps, particularly prominent at higher speeds. The dated components and lack of adjustability in the stock Fox suspension system leave a lot to be desired. The good news is, there are many solutions to fixing this. The best part, you won't need to take a second mortgage on your house in order to upgrade. Read on to learn what options are available to correct these handling issues.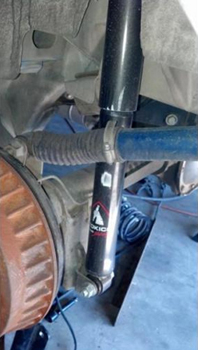 Why Upgrade?
There are many reasons to upgrade. Some people would like their car to be a drag king. Others, an auto-cross master (track racing). The majority just want an improved ride over the stock components. All of these situations are entirely feasible and use different suspension components to attain the desired result. To get the ball rolling, we'll start with over viewing a basic suspension upgrade to restore ride quality to your Pony. From there we can motor on to more complicated and performance-enhancing applications.
Restoring your Pony's ride – OE Upgrades
As mentioned, the majority of owners are just seeking to restore the ride quality of their Mustang. Over the years, wear and tear, use and abuse will take its toll on the stock suspension components. As such, performance, handling and even braking will suffer. Replacing the worn components with today's modern counterparts is a sure fire way to improve handling, ride characteristics, poise and perhaps most importantly, safety of the car. Let us take a look at what is available in terms of retaining the stock strut and coil setup. There are three main components to examine; the struts, coil springs and end-links.
Struts
The world of struts has come a long way since the implementation of those barbaric struts installed back in the 80's. Offerings from Bilstein, Lakewood, Tokico and KYB are widely popular replacement struts and range from an economical basic strut to an all-out road warrior piece. These aftermarket companies produce high quality struts for every type of application.
KYB : KYB offers 2 models of front struts – the AGX series and GR2 series. The GR2 are rated as an OE-quality replacement, perfect for those looking to improve their ride without breaking the bank. The AGX series is their higher end version. It offers improved performance over the basic GR2 and boasts full adjustability to fine-tune the struts dampening effect dependent on your preference.

Tokico: Similar to KYB, Tokico employs a two stage offering. Commonly referred to as Tokico 'Blues' (hence their blue color), Tokico's HP series is an entry-level performance strut designed to maximize stock ride like characteristics but add an additional edge when tracking through curves. Their next level is the D-Specs, also featuring an adjustable dampening system. This allows for the driver fully customize the performance characteristics of the strut. Dampening rates fit for comfort to drag racing can be activated, all thanks to the well-engineered valves inside the strut.

Lakewood: Lakewood is largely known in amongst the drag racing pool, but they too have developed a mild street/strip strut for the Foxbody. Lakewood has engineered a nice blend of performance without sacrificing comfort or poise with their 70/30 labeled struts.
All of the aforementioned struts range in price from a mild $60/piece to a moderate $140/piece, offering varying levels of performance in parallel with price. The next set of struts are nearly double the price of the costliest listed above. However, these struts are considered to be king amongst Mustang modifiers. Let us introduce (his royal majesty)…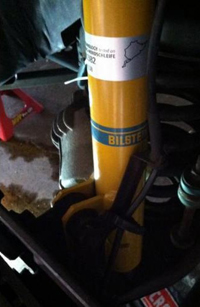 Bilstein: As stated, these bad boys are heavy hitters. They'll cost you a pretty penny or two, that's for sure. Accompanying that price tag comes undisputed performance, recognition and popularity amongst the aftermarket Mustang crowd. Bilstein HD's (Heavy Duty), of all the struts listed, are the most orientated to vehicle handling and performance. Due to this, their ride can be stiffer compared to the other struts. However, if you're looking to carve corners like your car is on rails, you can't go wrong with Bilstein HD's. Among stock geometry suspension setups, Bilstein HD's are the highest performing.
When buying and installing new struts it is strongly recommended to replace the mounting hardware as well. MOOG provides a quality front strut assembly mounting kit with all the necessary components to get the job done right.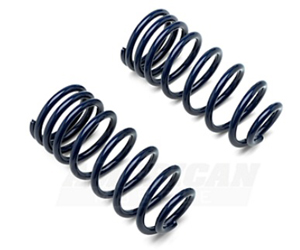 Coil Springs
The second suspension component that needs to be addressed (on the front end) are the coil springs. After years of use, the coils will certainly have lost some of their 'bounce'. Replacing the old-worn out springs with new coils are the preferred solution. They will rectify your Pony's off-balance stance and add a new 'spring' to its step at very little cost. Just make sure to select the right spring set according to your car's trim and equipment. i.e: AC equipped cars may use a slightly different spring to accommodate the added weight of the charging system. Coil springs are also called lowering springs as you can select a set that will drop the front end of your Foxbody and fill in the gap between your tire and the fender.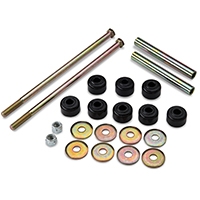 End-links
The last components to be examined are the stabilizer bar end-links. What are these end-links? They attach the front stabilizer bar to the lower control arm, one on each side. Often overlooked, these simple components can play a big role in handling and overall feel over the car. Over time, the stock bushings wear and the links themselves can even break. Replacing these with a simple OE replacement kit is highly recommended. If you're looking for a slighter stiffer, better performing ride, opt for a kit with polyurethane bushings.
Forward and Onwards
Replacing the Big Three (struts, coil springs and end-links) up front, using any of the parts listed, are guaranteed to give your car a whole new ride – even if you have selected simple OE replacement components. Any of the above parts will make a capable road machine; fun to drive but uncompromising in comfort. If you're looking to go one step further and take your road warrior to a track monster, check out the next section: Part 2: Building a track monster.
- CMC