Rear Suspension Upgrades For Maximum Performance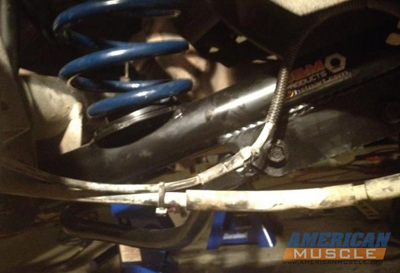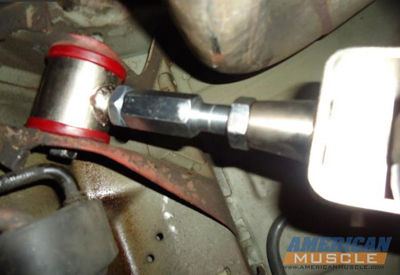 Choosing Mustang Upper & Lower Control Arms For Your Fox Body Build
Aftermarket control arms offer a plethora of improvements over the stock pieces. First off, they are more durable and provide greater strength and rigidity. This means you will experience greater traction under hard acceleration, as the power from your 5.0L engine is better transferred to the ground instead of some being wasted along the way. Furthermore, revised geometry and design allow for a bind-free suspension system. A major restriction point of the Fox Bodie's stock setup is that when pushed to the limit, it will endure suspension bind. These revised control arms introduce full fluidity and ease of motion into the suspension system, again helping traction in hard launches and maintaining traction (i.e: keeping good tire/asphalt contact) during hard cornering. Furthermore they also have been engineered to deal with the wheel hop issue, as explained in the previous article, Part I: The basics. This means the quad shocks are no longer necessary which in turn frees up some space in the wheel well to allow for bigger wheels (this is good for the drag guys). An added bonus is despite their superior strength, they actually weigh less than the stock pieces. Perhaps a pound saved is a horsepower earned…
Let's sift through the existing options.
J&M: J&M employs a patented 3-piece 'Poly ball' bushing designed to stiffen for hard launches and power transfer but yet when corning, retain compressibility to maintain tire-to-ground contact. J&M is so sure of their product, this bushing design comes with a lifetime warranty. Solid reviews make J&M components a welcome upgrade.
Steeda: Well renown in the Mustang community, Steeda Autosport has adjustable and non-adjustable versions to offer of their top-quality upper control arms. The adjustable can be adjusted while on the car, no removal necessary, to alter the pinion angle to optimize traction for any given condition. Included are Steeda's 3-part bushing, designed to maximize traction but retain stock comfort levels.
BBK: BBK control arms come as a complete package, both upper and lower. Utilizing polyurethane bushings and precision welding, BBK control arms are a bargain. As a bonus, they come finished in a durable black powder coat.
QA1: QA1 features adjustable upper control arms. Like Steeda's, they are fully adjustable while on the car. Simply turn the specified jam nut and you can dial in your differential-to-pinion angle to your liking. The QA1 pieces are manufactured using a tubular steel design to save weight while maintaining superior strength over stock pieces.
Maximum Motorsports: While on the expensive end, Maximum Motorsports is popular with aftermarket Mustang modifiers. Excellent design and implementation have made them and industry leader in aftermarket suspension parts. The proper bushings on each end of the arm insure maximum performance in all conditions, without sacrificing ride quality.
All of the manufacturers above have fabricated top-quality Mustang parts that will install hassle free and in as little as a few hours depending on how handy you are with a wrench. It is important to note that these aftermarket control arms can be used with the stock-style shock and coil setup (remember, all these controls arms eliminate the need for quad shocks).
At this stage, the Mustang should be riding pretty well. Vast improvements in ride and handling should be noticeable. The final step to modernize this ancient live-rear… err to modernize as much as possible this ancient live-rear is introduce coil over kits into the equation. Coil overs, particularly in the rear, are best suited to Fox Body Mustangs destined for track use. When installed in the back end of a Fox Body, they are not known for great street manners(coil overs in the front are not as bad) as they are for their proven track ability.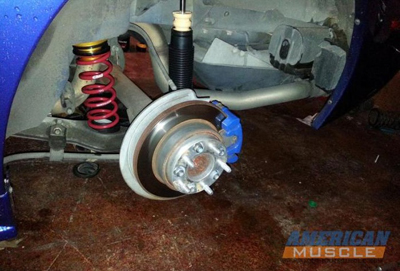 Mustang Coil Over Kits
The Mustang aftermarket has developed some great kits for any Mustang from 1979-2004. Many come complete with everything necessary to upgrade the backend to a modern coil over architecture. Mounting hardware, 12-way adjustable shocks and springs rated at 150 lbs are one example of a suspension package designed to maximize traction both at launch, for the drag guys, and to maximize grip while cornering for the autocross crowd. Coil over kits are definitely the most expensive rear suspension upgrade (they require aftermarket control arms as well), but for the Mustang owners that are real serious about racing, they are the way to go, hands down.
Maximizing a Fox Body Mustang's Rear Suspension For Performance
An aftermarket rear control arm system can really do wonders to improve and upgrade your Foxbody's ride and handling performance. Straight line launches will experience better power transfer, hard cornering will maintain grip and better contact with the road, all the while the pieces under load will swing smoothly without restriction. Add in a coil over kit and the Foxbody will be at its peak performance, handling wise. It is impossible to take a live rear axle and have it operate like a modern independent suspension system. However, a good combination of control arms and coil overs will yield the closest thing possible to a modern IRS and maximizing the Fox's ability to plant the rear tires in all driving conditions.
- CMC