Fixing a Fox Body Mustang's Rear Suspension - Part 1
Like always, the Mustang aftermarket has done all the legwork. They've done the research, perfected the design and made available many a product to Mustang enthusiasts looking to improve their car's handling. Upgrading the rear will increase driving comfort, performance and give the car a whole new stance.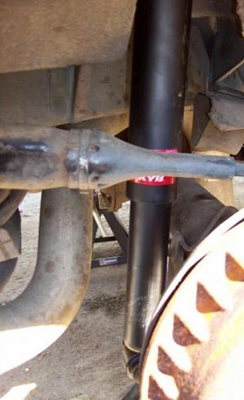 Mustang OEM & Street Performance Upgrades
Many Foxbody owners are just looking to upgrade their stock components with some of better quality to improve ride comfort. Replacing the stock shock absorber, coil spring and quad-shock (if equipped) can procure a mountain of difference. Increased comfort, safety and even performance gains will be noticed when swapping the old parts out of your Mustang for a modern equivalent.
Fox Body Shock Absorbers
Standard OE: If you're looking for budget parts to cure the old shock ailments, consider the KYB GR-2 series. The GR-2 series is a very inexpensive way to restore ride quality to the back end of the vehicle. They are a direct, hassle free OE-spec replacement shock absorber.
• When replacing shocks, you can choose between restoring the factory ride quality, or upgrading to a mild or high performance oriented shock.

• Generally a bit stiffer than stock shock absorbers, those that offer a mild increase in performance are great for Mustangs that see both the track and daily driving action

• High performance shocks are noticeably stiffer than stock, but give you the best in terms of performance and handling. They are also adjustable and allow you to customize them for your particular use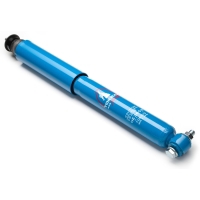 Mild Performance:
If you're seeking a better turning Pony but enjoy retaining both kidneys, look no further than Tokico HP ('blue') series or Lakewood 50/50 rear shock absorbers. The Tokicos are highly popular choice for enthusiasts looking for mild street performance. Lakewood too is renowned for their Mustang parts. Both will increase vehicle traction, weight and power transfer. Expect the ride to be a little stiffer than standard absorbers but by no means at all uncomfortable. In fact, a gain in comfort should be noticeable!
High Performance:
God gave us two kidneys for a reason. One to keep for regular body functionality, the other to pawn off in a trade for some serious go-fast parts. If you really want your Mustang to turn, accelerate and stop to the best of its ability, all the while keeping your spine in one piece, enter QA1 and Bilstein - both indisputable suspension component champions. Both companies offer a high-performance adjustable rear shock absorber to really wring out every last ounce of performance to be had from the stock suspension geometry. Both the HD (Bilstein) and QA1 components boast full adjustability, allowing you as the driver to modify the absorber response and handling to your liking. Furthermore, like the others, they require no modification to install. Watch out fellas, the big boys are out to play.
Mustang Coil Springs/Lowering Springs
The second player in the solid-rear game are the coil springs. Unlike shock absorbers, there aren't too many differences between springs. For the shock absorbers listed above, a stock MOOG coil spring will definitely do the trick. Just make sure you pick the one to match your car. Different style Foxes (coupe, hatchback) used springs with different rates and capacities due to weight and distribution differences amongst the different body styles.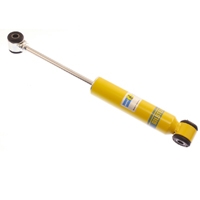 Your Mustang's Quad Shocks
The final element of the rear suspension to be addressed are the quad-shocks. First off, what are they? Well, in 1984, Ford introduced the quad-shock, a horizontally-orientated shock absorber connected at one end to the upper frame and at the other end to the main shock absorber bracket. The purpose of it was to control wheel hop which is most prominent under hard acceleration (wheel hop is actually the wheel/axle system bouncing up and down very quickly due to torsional forces from a hard launch. Imagine driving over continuous rail-road crossings.). Replacing the worn quad shocks are a good preventative measure that wheel hop will always remain under control. Wheel hop gone bad (the next hit series alongside 'girls gone wild') can result in severe damage to the rear end of the car. The number one benefit of new quad shocks will be increased traction. KYB and Bilstein both offer replacement quad shocks.
Final Thoughts
An aftermarket rear control arm system can really do wonders to improve and upgrade your Foxbody's ride and handling performance. Straight line launches will experience better power transfer, hard cornering will maintain grip and better contact with the road, all the while the pieces under load will swing smoothly without restriction. Add in a coil over kit and the Foxbody Mustang will be at its peak performance, handling wise. It is impossible to take a live rear axle and have it operate like a modern independent suspension system. However, a good combination of control arms and coil overs will yield the closest thing possible to a modern IRS and maximizing the Fox's ability to plant the rear tires in all driving conditions.
- CMC
FItment includes: • 1979, 1980, 1981, 1982, 1983, 1984, 1985, 1986, 1987, 1988, 1989, 1990, 1991, 1992, 1993, LX, GT, SVO, Cobra Mustangs