Headlights: The Bright Way to Style Your 1994-1998 Mustang
In 1994, Ford made the switch to the SN95 platform and with that came brand new styling. The Foxbody platform was gone and the curves of the SN95 were here to stay. With the new body style, Ford switched to a two piece headlight with a more aerodynamic front end. Upgrading your factory lights is a great way to change the look of your Mustang and replace the worn out factory lights. For the 1994-1998 SN95 Mustang, there are quite a few choices: Raxiom Projector Halos, Factory OE and Cobra Style or Smoked OE and Cobra Style, all with black and chrome housing options.
1994-1998 Mustang Headlight Options
• Raxiom Projector Halo Headlights—Available in either smoked or chrome, the Projector Halo headlights provide great style and increased nighttime visibility

• Factory or Smoked OE Style—Available in Cobra style of GT/V6 Style, the two sets of replacements can improve hazy, outdated factory lights

• Black and Chrome Housings—Housings can change the look of your Mustang while keeping the visual benefit of a clear lens
Raxiom Projector Halo Headlights For Mustangs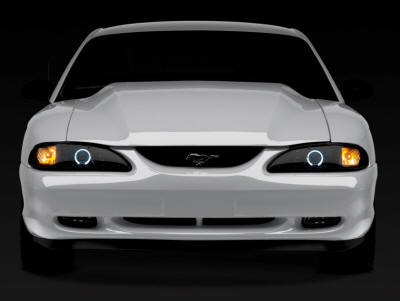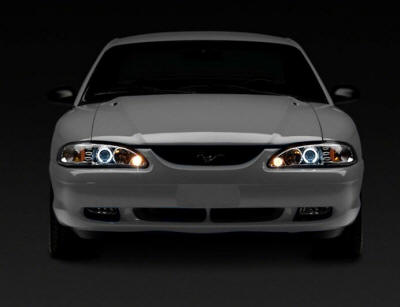 One-piece Projector Headlights will really enhance the look of your Mustang. With both smoked and chrome options, there's a choice that'll be sure to fit your individual taste. The projector lenses light up the road ahead with a bright focused beam of light that not only looks great, but improves your night visibility. The halo accent is a unique focal point of these headlights and it's an accent not found on many other replacements. One huge benefit is that Raxiom lights feature an "Industry Leading 2 Year Full Warranty" so you can install a set of new modern headlights without any worries. You also don't have to worry about your bulbs as standard bulbs are included with your new lights.
Factory or Smoked OE Style Mustang Headlights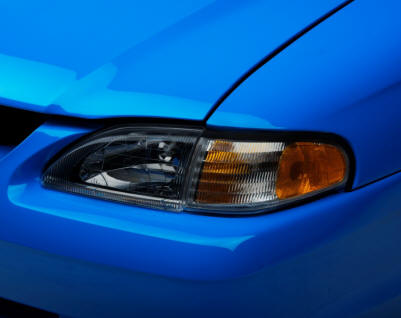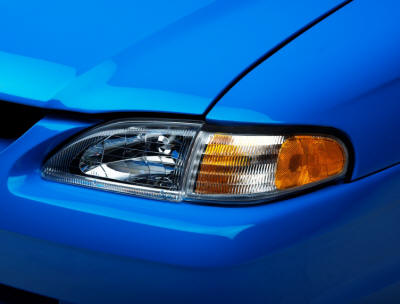 If you like the OE factory look, you still have a couple style options: the Cobra style or the GT/V6 style. The Cobra headlights have always been appreciated and will forever be a popular choice. Most factory headlights will become hazy and often fade to yellow over time. With a new set a GT/V6 replacements lights, they will bring your pony back to life. Installing a new set of lights is also a great opportunity to upgrade to new bulbs, such as the Raxiom light bulbs. In addition to the two OE replacements, we offer both styles with a smoked lens rather than clear, creating a sleek look while preserving the factory design for your Stang.
Black and Chrome Housings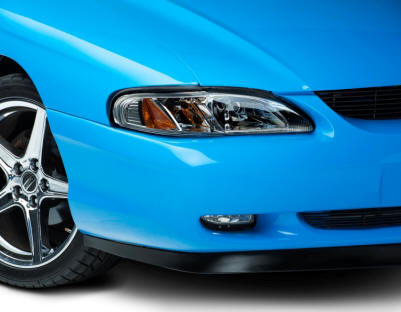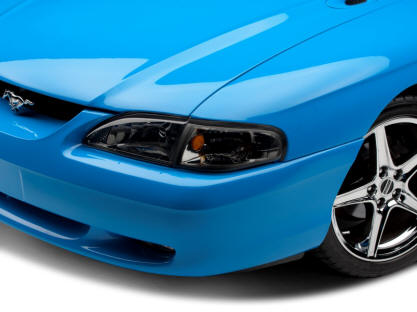 One feature you want to pay attention to when choosing a new set of headlights is the type of housing used. Chrome and black housings help to change the look of your car while keeping the benefit of a clear lens. Headlights with a black housing will offer a stealthy dark appearance, but will still provide all the visual benefits of a clear lens. Chrome housings will really help your Stang make a statement and will be sure to bring lots of wanted attention to your Mustang's front end.
Additional Lighting Upgrades For Mustangs
Even after upgrading to a new set of headlights, there are still some mods you can make that will help your Mustang stand out from the crowd and get you noticed more by other drivers. Improve the appearance and safety of your Mustang by installing the Raxiom LED turn signal conversion kit, which replaces the stock incandescent bulbs with bright LEDs. When you install any smoked lenses on your car, the light output will diminish slightly. To counterbalance the lens, you can upgrade to the higher output bulbs as previously mentioned. You can complete your Mustang's front end overhaul with a set of smoked or chrome Fog lights for an all-out aggressive appearance. There are plenty of individual combinations that will complement a set of new headlights!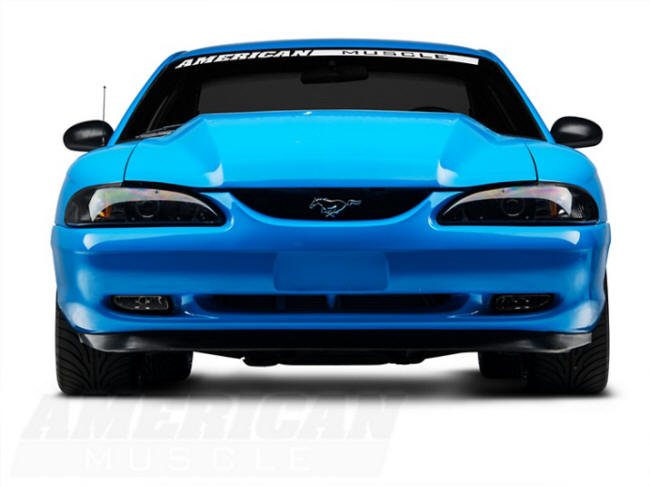 FItment includes: • 1994, 1995, 1996, 1997, 1998, GT, V6, Cobra Mustangs